To call the Good Omens miniseries "long-awaited" would be an understatement. Written by Terry Pratchett and Neil Gaiman, the novel was an immediate hit when it came out in 1990, telling a darkly funny story about the Biblical apocalypse. Since then it's become a cult classic, viewed as a high point in both authors' celebrated careers.
After years of rumors about possible movie adaptations, we're finally getting a BBC/Amazon miniseries. Gaiman is the showrunner, with a full-length trailer arriving on March 6, 2019. Starring David Tennant and Michael Sheen, expectations are high.
https://youtu.be/hUJoR4vlIIs
Good Omens cast
Fans have speculated about a Good Omens adaptation for more than 20 years, so the miniseries could never satisfy everyone's dream casting choices. That being said, the lead actors are very promising. David Tennant will play the demon Crowley alongside Michael Sheen as the angel Aziraphale, and early rehearsal photos show both actors sporting a new look. Apparently Crowley is a redhead?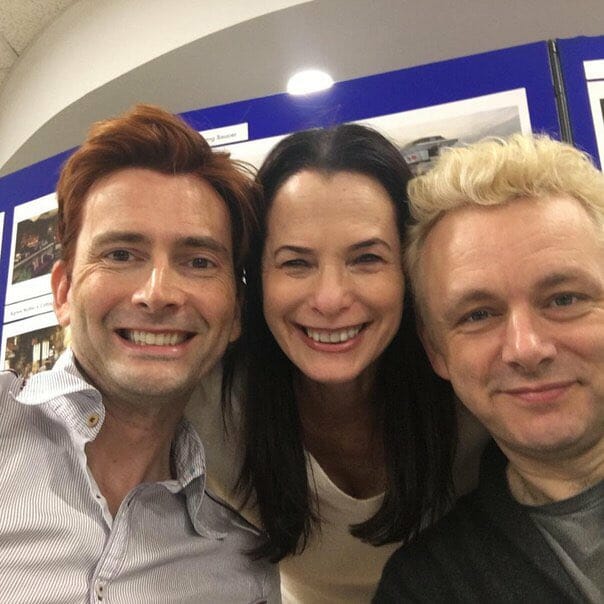 On Sept. 18, Gaiman posted the first photo of Tennant and Sheen in costume. Crowley sports a rock chic look, while Aziraphale wears a quasi-historical costume.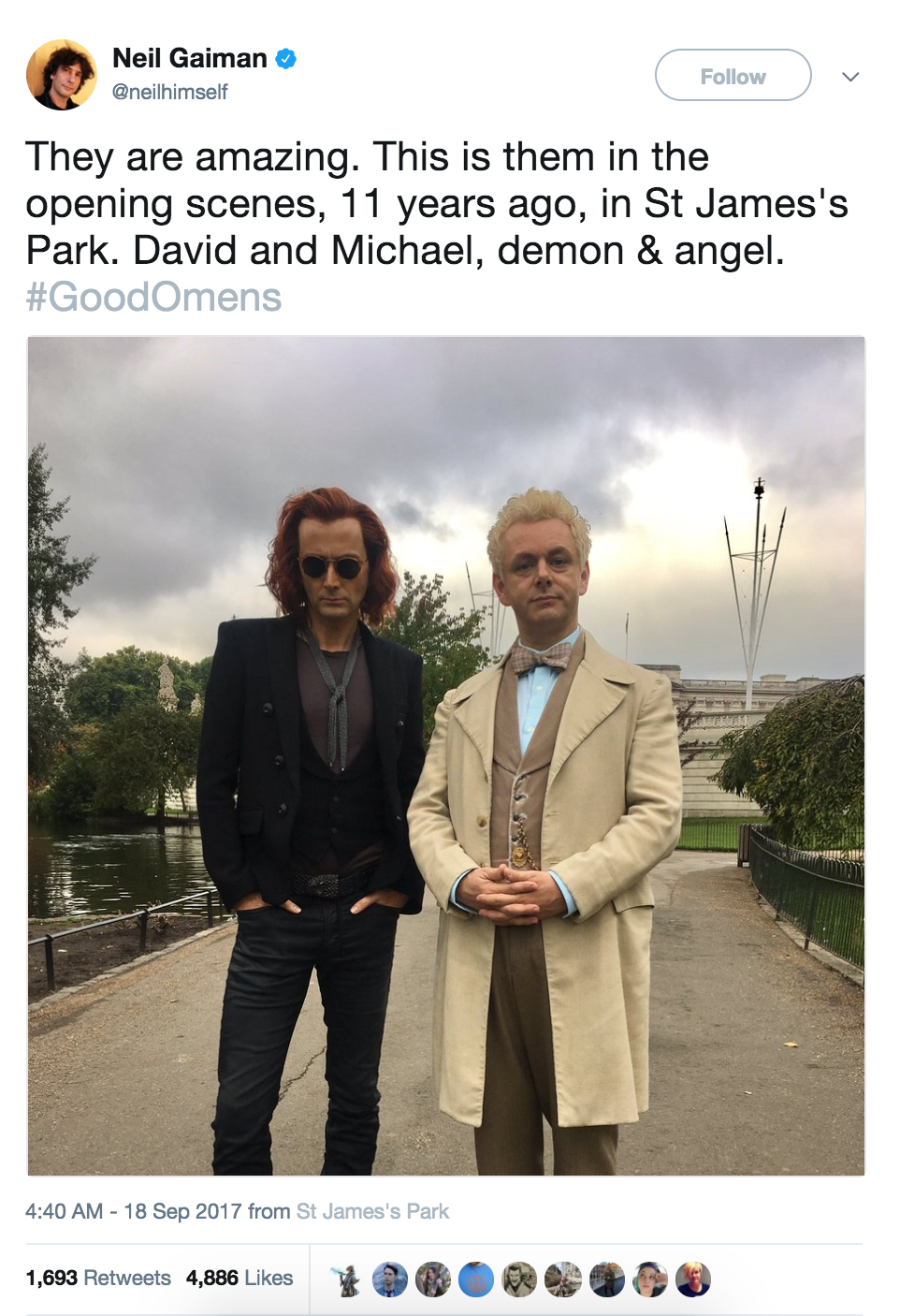 As many fans hoped, the Good Omens TV cast is more diverse than the book suggests. Anathema will be played by Puerto Rican actress Adria Arjona (Emerald City's Dorothy Gale), while the secondary character Sister Mary Loquacious will be a familiar face to British viewers: Nina Sosanya. Ned Dennehy and Ariyon Bakare play the Dukes of Hell, Hastur and Ligur, and Better Call Saul's Michael McKean is Mr. Shadwell.
Miranda Richardson will play the psychic medium Madame Tracy, with British actor/comedian Jack Whitehall as witchfinder Newton Pulsifer. The BBC has also announced the child actors playing the antichrist Adam Young and his gang, "the Them." Adam will be played by Sam Taylor Buck, Amma Ris is Pepper, Ilam Galkoff is Brian, and Alfie Taylor is Wensleydale. Adam's parents will be played by Daniel Mays and Sian Brooke (who recently played Eurus Holmes in Sherlock.)
British theater and TV actress Anna Maxwell Martin will play Beelzebub, a gender-flipped role from the book. The adaptation is also playing fast and loose with casting for the Four Horsepeople of the Apocalypse, with Mirielle Enos playing War, Yusuf Gatewood playing Famine, Lourdes Faberas playing Pollution (an apparently gender-nonbinary character), and Brian Cox voicing Death.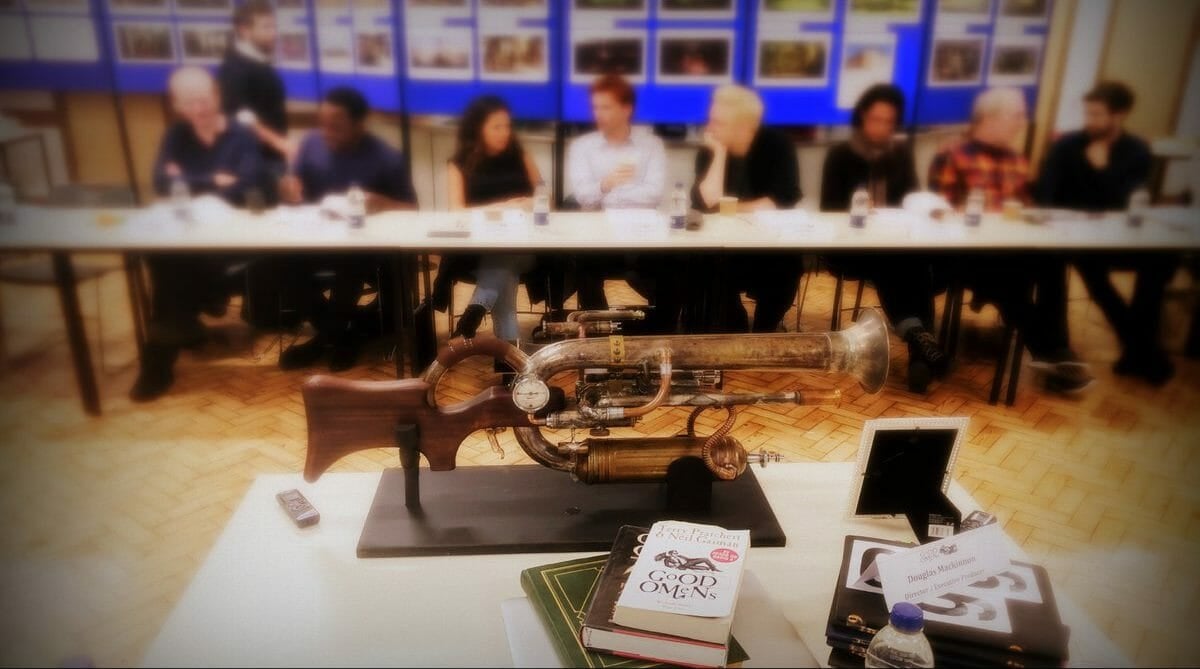 READ MORE:
Jon Hamm will play the archangel Gabriel, God's messenger on Earth. He only gets a passing mention in the book, but Gaiman and Pratchett always planned to expand the cast-list if they made an adaptation. Speaking to Variety, Gaiman said Gabriel "is everything that Aziraphale isn't. He's tall, good-looking, charismatic and impeccably dressed. We were fortunate that Jon Hamm was available, given that he is already all of these things without even having to act."
On Nov. 30, Gaiman posted our first look at Jon Hamm as the archangel Gabriel, looking characteristically handsome in a powder-blue outfit.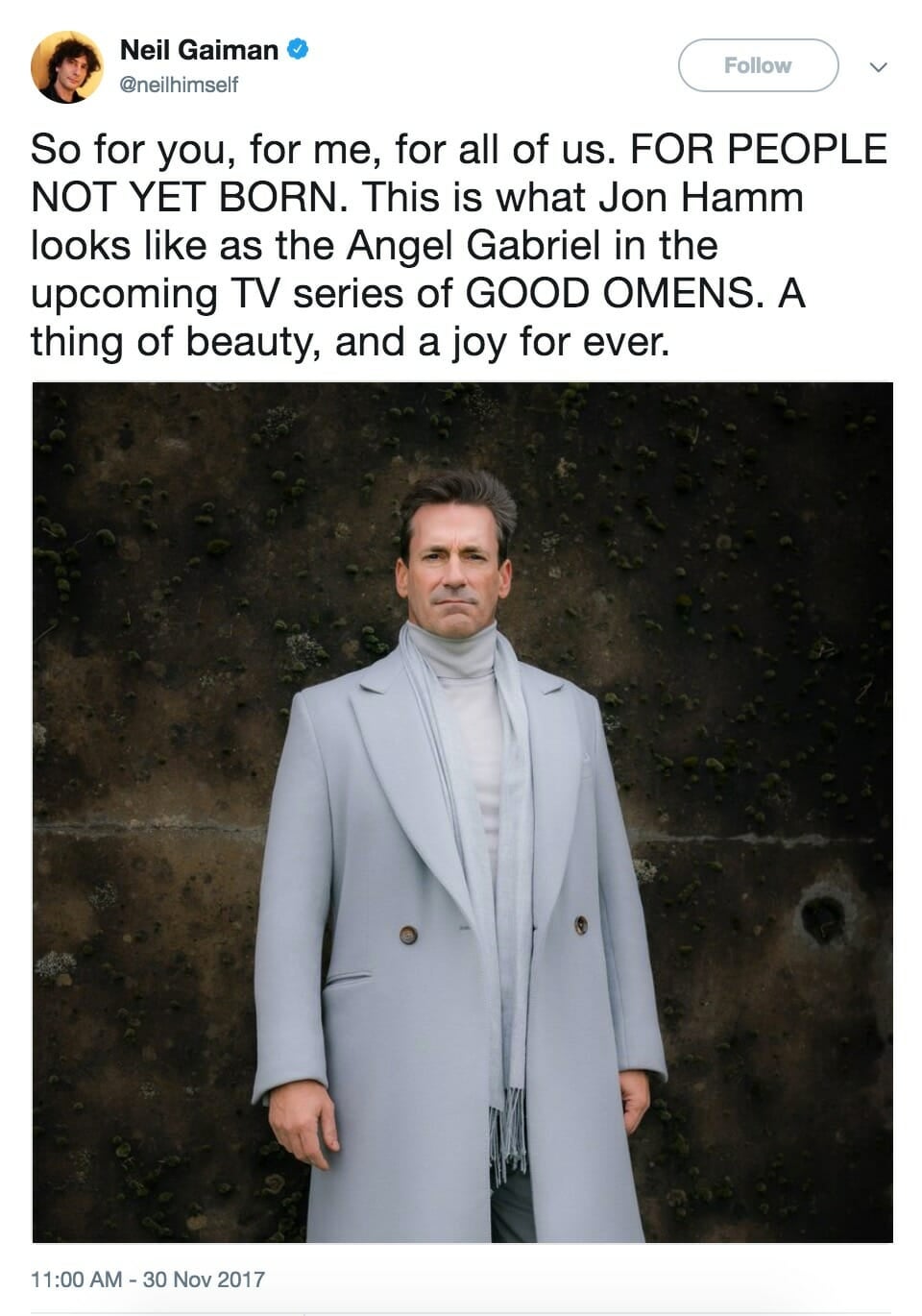 Actor Reece Shearsmith will play William Shakespeare. Gaiman personally made the announcement on social media and shared a photo of Shearsmith in costume at what looks to be Shakespeare's Globe, a reconstruction of the Globe Theatre originally built by Lord Chamberlain's Men, Shakespeare's playing company, in 1599.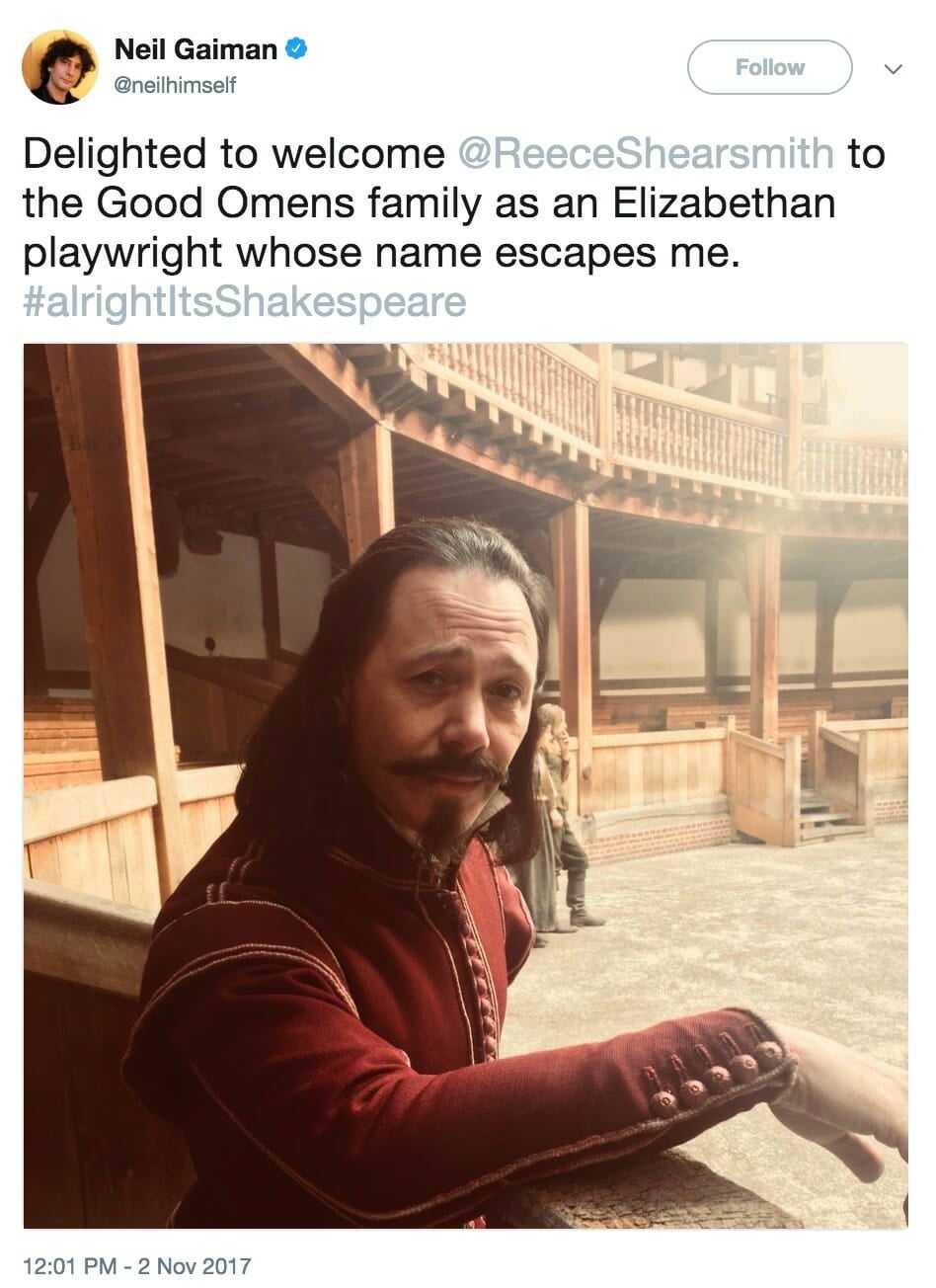 Josie Lawrence will play the witch Agnes Nutter, reprising her role from the BBC audio drama. We're also going to see a few geek-famous faces in cameo roles, including Mark Gatiss (Sherlock, Doctor Who) as a "mysterious book-buyer."
Neil Gaiman just revealed the show's secret guest star: Nick Offerman, looking unrecognizable without facial hair. He's playing the father of Warlock Dowling, the boy who accidentally gets swapped for the antichrist, Adam.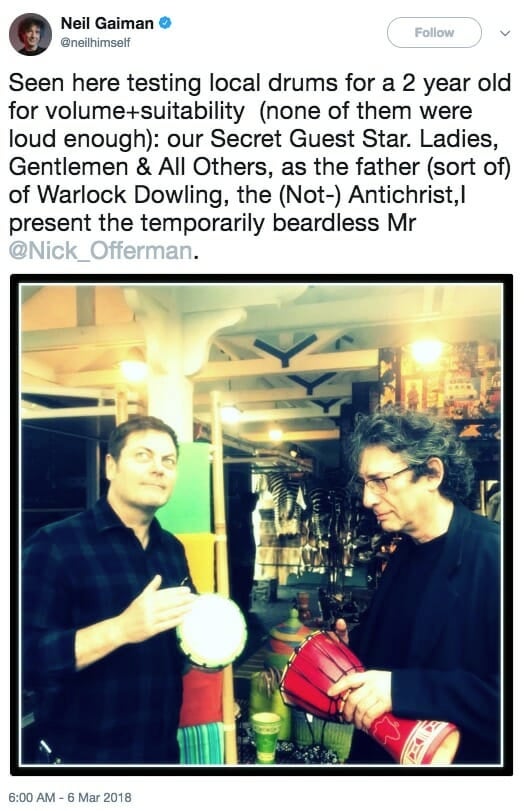 British TV star David Morrissey has joined the cast as Captain Vincent.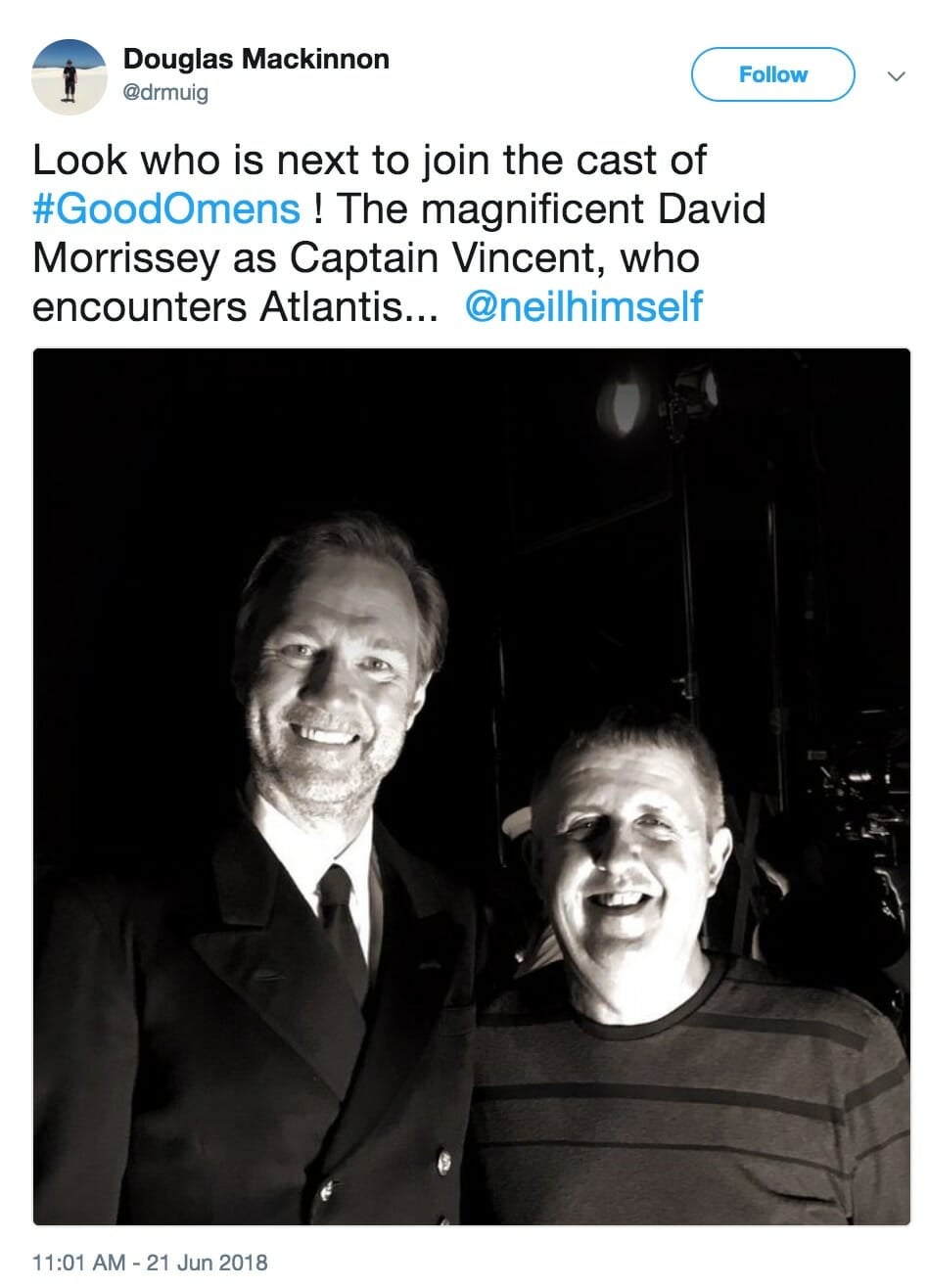 Neil Gaiman confirmed on Twitter that Pollution, who was depicted as a man in the book, will use non-binary gender pronouns in the show. Non-binary people are still sorely underrepresented in pop culture, the most prominent example being Asia Kate Dillon as Taylor Mason in the Showtime series Billions.
Benedict Cumberbatch will play Satan in Good Omens' sixth episode, according to Gaiman.
Good Omens news
A behind-the-scenes video unveiled on July 20 gave fans their first look at Good Omens, which revealed glimpses of several characters' costumes and locations.
Your very first look at the beginning of the end. #GoodOmens: Coming to @PrimeVideo in 2019. pic.twitter.com/PcPDKSSFoE

— Good Omens (@GoodOmensPrime) July 21, 2018
Posting from the set in February, Neil Gaiman shared some photos of workplace motivational posters on the walls of Hell. Naturally, they're printed in Comic Sans.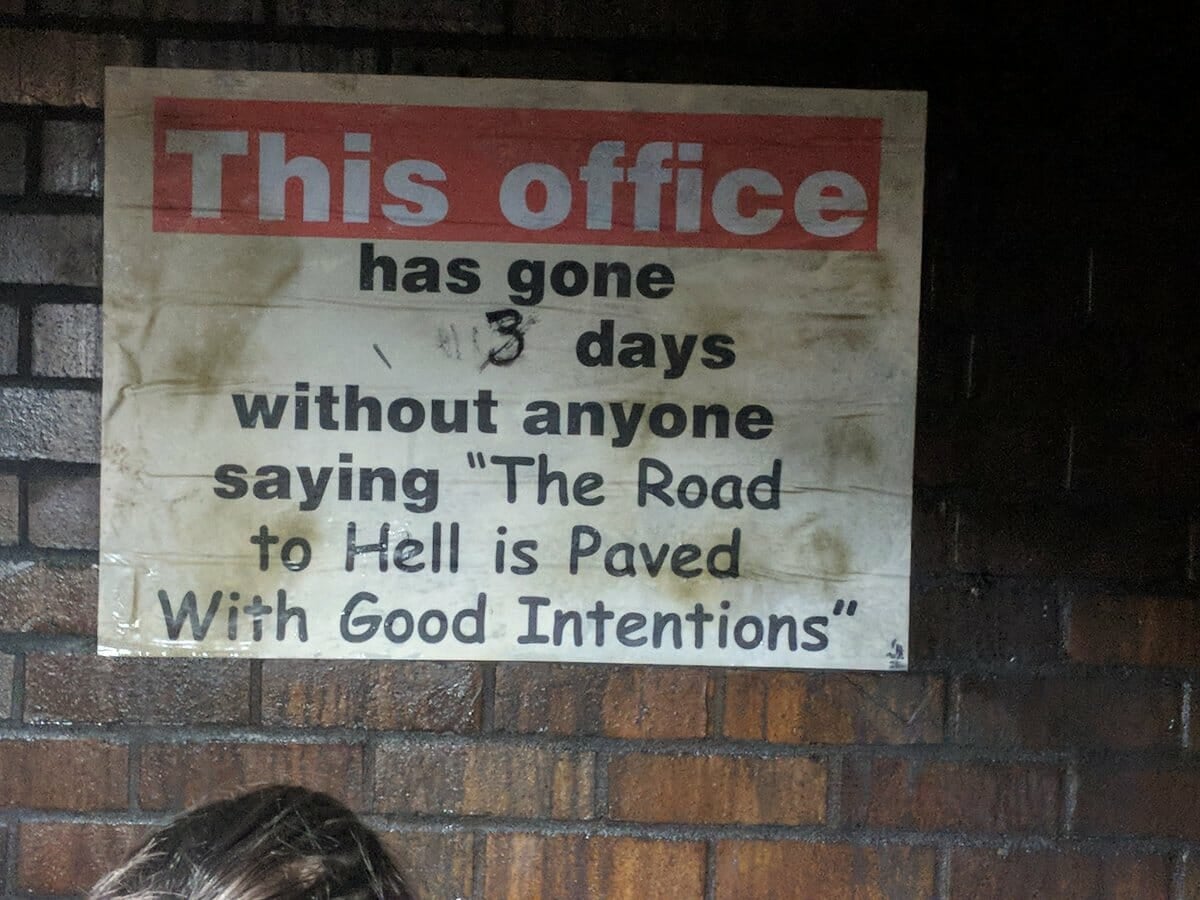 Good Omens trailer
Here's the full-length trailer, showcasing everyone in the main cast.
https://youtu.be/hUJoR4vlIIs
Good Omens release date
Gaiman announced at the Television Critics Association winter 2019 press tour that all six episodes of Good Omens will drop on May 31.