July 12 marked six years since fans finally got to read A Dance With Dragons, the fifth book in George R.R. Martin's A Song of Ice and Fire series. And although he didn't directly acknowledge it, Martin ended up sparking a mystery this week nearly as big as the book's cliffhanger.
Fans are especially keen to pay attention to Martin's LiveJournal, where he frequently posts about his movie theater, big events in science fiction and fantasy literature, and announcements about other projects he's working on including the Game of Thrones prequels and executive producing Who Fears Death for HBO. But it's also the place where he's promised to eventually announce the publication date for his long-awaited novel The Winds of Winter. Aside from a handful of hints and a giant update in January 2016, Martin hasn't said much about his progress.
But a post that appeared on LiveJournal on Wednesday night has fueled speculation in all directions. The post, titled "Alas, Valyria," is short and mystifying, and his mood was tagged as "enigmatic," which the Oxford Dictionary defines as "[d]ifficult to interpret or understand; mysterious."
The post is just one line and features an illustration that appears in The World of Ice and Fire of Valyria in its prime by Ted Nasmith. The post also has the "a song of ice and fire" tag, something Martin hasn't attached to a post since January.
"Alas, alas, that great city Valyria, that mighty city! For in one hour is thy judgment come," Martin wrote on LiveJournal Wednesday night and again on Twitter on Thursday morning.
Alas, alas, that great city Valyria, that mighty city! for in one hour is thy judgment come. pic.twitter.com/yMJVtCgPGF

— George RR Martin (@GRRMspeaking) July 13, 2017
The line is inspired by Revelations 18:10, which in at least one translation of the Bible is word-for-word except that Martin wrote "Valyria" instead of "Babylon."
Nobody knew what he meant, but some fans guessed that Martin had something to reveal literally in an hour's time. They started to collectively refresh Martin's LiveJournal page for news of anything—including the one thing they've been hoping for—while others prepared for another nonstarter. This could be it, or it could be another yanked football—the second time this week if you interpreted Martin's new executive producer role as a sign that The Winds of Winter was complete.
Martin still has yet to reveal anything about what he means by his blogpost as of publication time, leaving fans disappointed. Though, to be fair, you could argue he just riffed off a Bible verse applicable to his doomed and mysterious ancient empire and never promised anything to begin with, so all of the disappointment is actually on fans reading into it.
GRRM: in one hour I will release details
Fandom, exactly one hour later: pic.twitter.com/Qx8XyFKRwL

— sorsha supremacist (@motelsonthemoon) July 13, 2017
But if it does mean something, what could it be?
He's about to announce an HBO spinoff about the Doom of Valyria
While hype for The Winds of Winter quickly took over fans, the most likely announcement appeared to involve a successor show that could serve as a prequel to Game of Thrones. After Martin previously ruled out the two most popular ideas for a spinoff—Robert's Rebellion and Dunk and Egg—a show detailing the Doom of Valyria was among the more popular options.
It could showcase a brand new world (one with dragons) and only have the smallest of ties to Game of Thrones: The Targaryen family is from Valyria and left after one of Daenerys' ancestors had a prophetic dream about the Doom 12 years before it happened. The event has already inspired an animated pilot by a fan. A cataclysmic (and supernatural) even that's stumped the greatest scholars of Westeros could make for a great show as well as a fantastic resource for those fascinated with Martin's world-building.
What works against it is that HBO, just hours before Martin's post went up, shot down the idea that any of the successor shows were anywhere close to being announced.
"This franchise is really rich and very exciting," Bloys told the Hollywood Reporter Wednesday. "It is going to be really, really hard for anybody to match the level that this show has set in terms of quality and filmmaking. So the idea was, if we're going to try it, let's take a couple of shots and see. My hope is at least one lives up to the level of quality [David] Benioff and [D.B.] Weiss have set. But again, it's also very early in the process. I haven't even seen an outline for them."
Bloys, interestingly enough, also contradicts Martin in the Hollywood Reporter interview. Martin said that he was working closely with all four writers confirmed by HBO and confirmed a fifth writer was working on a development, but Bloys repeated what the original HBO release said: There are four writers and Martin is co-writing with two of them.
It could also involve Valyria in another way: a story that takes place in the World of Ice and Fire but doesn't directly involve his fantasy epic. (He's done this with Dunk and Egg and the many stories he's already released on the Targaryen family.)
His announcement would have coincided with the Game of Thrones season 7 premiere
The idea that Martin would do something big surrounding the Game of Thrones season 7 premiere is based off an interview with Liam Cunningham (Ser Davos Seaworth) published in February.
"There's going to be a launch and something special happening this year for the premiere," Cunningham told the Irish Independent. The bad news is, there will only be seven episodes and the final season starts again, as far as I know, in September."
Although it's extremely unlikely that Cunningham would have advanced information on The Winds of Winter, fans quickly lept to that idea. He could've also been referring to the Game of Thrones Concert Experience, which had already been announced and running by that point—and showed up to perform at the season 7 premiere. (Or he could've been alluding to the disastrous season 7 premiere announcement; the less we say of it the better.)
And anyway, HBO shot down Martin's direct involvement with the launch Cunningham referred to. Speaking before a performance, HBO president Casey Bloys paid tribute to Martin, "who could not be here tonight."
Casey Bloys opens program, tells aud that George RR Martin is absent. #GoTPremiereLA @HBO pic.twitter.com/8dCE450IKL

— Chris Gardner (@chrissgardner) July 13, 2017
He's about to leave LiveJournal
Martin's been blogging on LiveJournal since 2005, and while other writers and bloggers left long ago for other platforms, Martin has long endured on LiveJournal. (This shouldn't be too surprising considering he still writes ASOIAF on a DOS Word Processor; he has a second computer for other things.)
A couple months ago, the astute sleuths of r/asoiaf noticed that Martin's Twitter bio had changed. His first tweet told people to follow him on LiveJournal, and his bio even read, "Please Follow Me on Live Journal."
Now it reads a little differently: "New blog format coming soon! Till then… grrm.livejournal.com."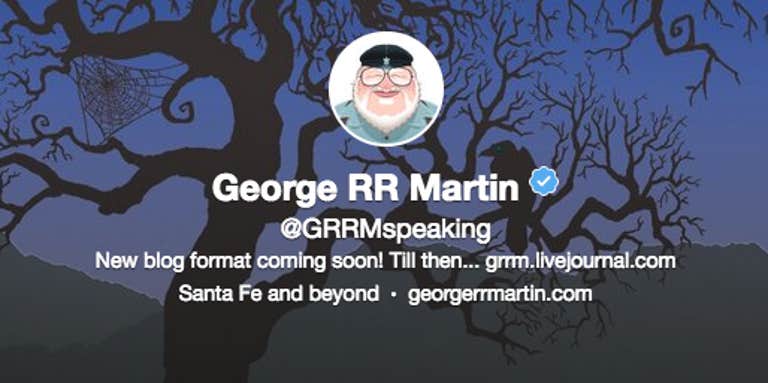 He's about to announce the publication date of The Winds of Winter
Get hyped? Not so fast.
Vanity Fair has a strong and well-reasoned argument that Martin becoming more involved with other project could mean that he finished writing The Winds of Winter (and potentially A Dream of Spring, the final book in ASOIAF), pointing to Cunningham's tease, and Martin alluding to working so much lately he's fallen behind his reading and movie viewing. Martin later kind of shot down the idea that he would be writing on any TV show until he finished The Winds of Winter.
But we can point to another Martin blogpost as to why his Valyrian message probably isn't about what we're hoping. In December 2014, Martin launched the "12 Days of Westeros" on his Twitter account, which until then had almost exclusively been publishing links to his LiveJournal. It led fans to hope that he would announce the publication date for The Winds of Winter. (We were such sweet Summer children back then.)
As it began, Martin debunked the idea that the promotion, as he called it, would lead to anything. It was just a fun thing that he let his publishers do on his Twitter account, and he reiterated a vital point about The Winds of Winter: The publication date won't have any strings attached because he knows how long fans have been waiting.
"Look, I've said before, and I will say again, I don't play games with news about the books," Martin wrote at the time. "I know how many people are waiting, how long they have been waiting, how anxious they are. I am still working on WINDS. When it's done, I will announce it here. There won't be any clues to decipher, any codes or hidden meanings, the announcement will be straightforward and to the point. I won't time it to coincide with Xmas or Valentine's Day or Lincoln's Birthday, the book will not rise from the dead with Jesus on Easter Sunday. When it is done, I will say that's it is done, on whatever day I happen to finish."
Nearly three years later, fans are still waiting.
But really, what does it mean?
It could be everything and nothing, and refreshing Martin's LiveJournal until a post magically pops up won't do anyone any good. Until he reveals otherwise, maybe a cryptic blog post is just a blog post.