For the last 10 years, one of the ways Tony Kim has expressed his fandom is through fashion. 
Kim, creator of Crazy 4 Comic Con, is drawn to unique geek fashions that allow him to be creative or subtle when displaying his passion for fandoms like Star Wars and Doctor Who. While this includes apparel like jackets and hats, shirts are Kim's default option. One look at men's geek fashion shows no lack of T-shirt options for him to choose from, but what is seen today hardly looks different from what you could have found in stores a few years ago. Men's geek fashion doesn't appear to have evolved very much at all.
"Unfortunately, while there are many more options and prints, there hasn't been a lot of changes to men's fashion. The standard black tee seems to dominate and I think that gets old," Kim told the Daily Dot. "You really have to go on Etsy or Pinterest to find innovative ideas since the mainstream is still cranking out the men's basic tee."
When fans think of a problem in the realm of geek fashion, it's often the lack of representation for women that comes to mind. For years women looked for small shirts in the men's section because there just weren't any pop culture options made in women's cuts. Over the last five years the geek fashion market has slowly started offering apparel specifically for women. The fashion industry and the companies that hold these licensees like Lucasfilm and Marvel finally began listening to their female fanbases. While many of these options are online and not in stores, they are slowly making their way onto shelves as companies like Hot Topic take notice.
It wasn't just women's tees that popped up either. Women demanded more stylish, unique options like leggings, skirts, dresses, and jewelry leading to the wide-range of choices now available. This is very different from what's seen in the men's department, which appears to have basically stayed the same. 
"While men were the main recipient to geek fashion up to this point, it is clearly a geek girls market with Her Universe, Black Milk, and others. What really frustrates me is the lack of sophisticated clothing for geek guys. Sure the typical black tee might be ok for a day at the con but what about something more professional for work or a night out on the town?" Kim said. "That's why I have resorted to making a lot of my own geek inspired dress shirts themed after comics, Doctor Who, and Game of Thrones. We don't want to look like teenage boys but reflect who we really are—professional, mature, confident, and driven."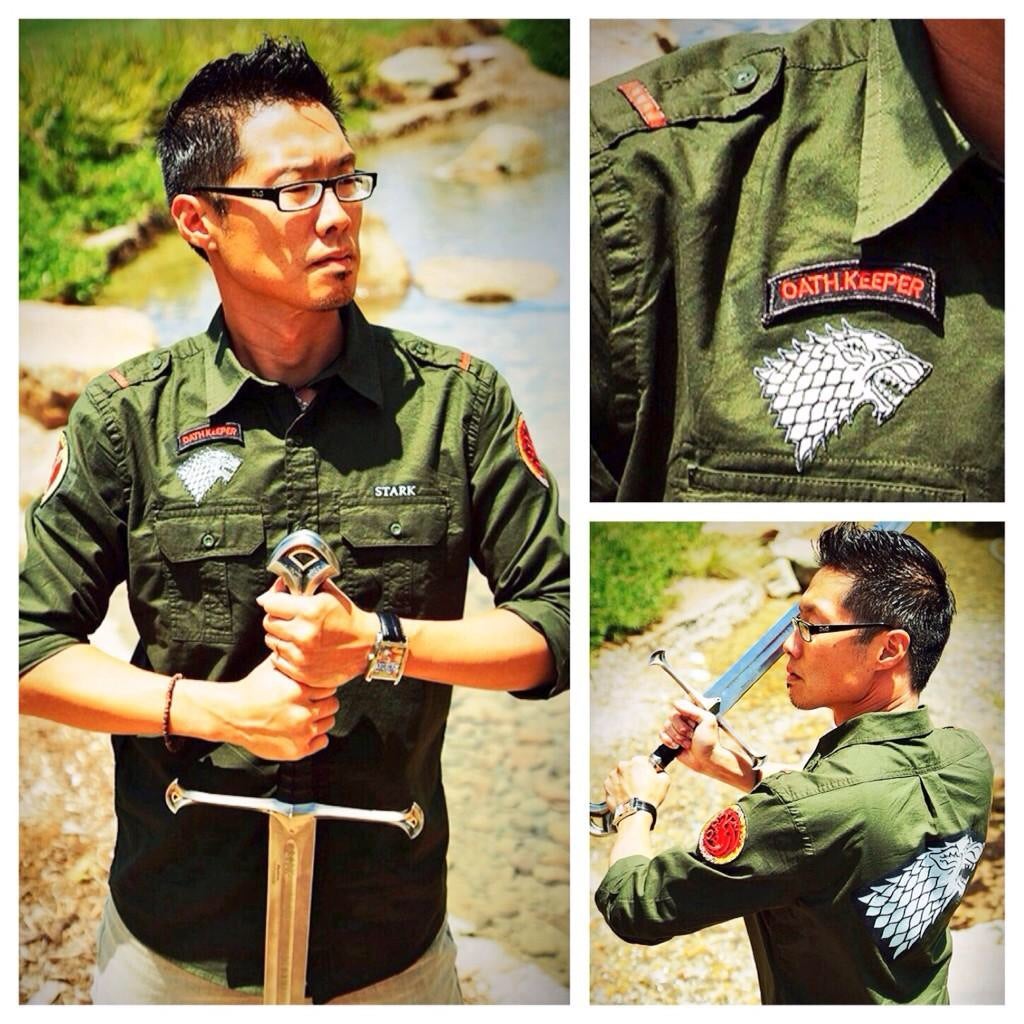 Shirts made by Tony Kim. Photos via Tony Kim
Kim isn't alone in seeing little change and wanting more variety, especially professional options. Chris Sully of Nerd Fu buys mostly T-shirts and hoodies at the moment and told the Daily Dot he hasn't seen much of a change in men's geek fashion over the last few years. Even though he'd love more options in hats, button-down shirts, and polos, he said unless guys want a tee, hoodie, or tank top they're out of luck and have pretty limited choices.
"It's really a shame that no one has really stepped up and started creating some original styles for men…" Sully said. "I could really go for something different—button-down shirts, hats, watches, jackets, etc. As it goes now, when I want to represent Nerd Fu in a more professional manner, or simply dress up a bit for parties, I go with a Nerd Fu T-Shirt and blazer."
Eric Binfet, who generally sticks to tees, has also seen minimal changes in men's geek fashion. Binfet would love to see polos and ties with tactful logos to create classy geeky business casual options that would be acceptable in a professional environment.
"Guys have shorts and pants, short sleeve shirts, long sleeve shirts, and ties. That's about it. The online marketplace has helped with variety for the women's market, however the men's market doesn't seem to have grown the same way, probably since we have a bunch of T-shirts available in stores," he said.
Looking at sellers of geek fashion, online retailers including Her Universe, Cozday Clothing, and Gold Bubble Clothing only offer options for women at the moment while Black Milk Clothing has started offering some unisex items. WeLoveFine and ThinkGeek stand out for offering a bit more variety. While the majority of their men's items are tees they also sell some polos, work shirts, and jackets. A more mainstream seller like Hot Topic separates it's pop culture guys section online into only three main categories: hoodies and sweatshirts, sleepwear, and tees and tanks. Girls on the other hand get five categories in their section which includes the three for guys along with leggings, skirts, and dresses.
So why aren't more companies in the fandom fashion world making different styles for men? It might be that while many geek guys seem to want more options, companies aren't hearing about it. Hot Topic's SVP of merchandising and marketing Cindy Levitt told the Daily Dot they try to equally fulfill the wants of both men and women, and don't really hear anything from guys about wanting more geek fashion options.
"Our guys live in T-shirts, pullovers, and hoodies, so we provide them a wide assortment of these with art that's exclusive to us and different from what you'll see broadly out in the market," Levitt said. "The reality is that there's more you can do to interpret pop culture into women's fashion—in dresses, skirts, tops, and jackets. But it's not really as simple for guys—without looking costume-y. But yes—we think there's room for expansion in this area."
Black Milk Clothing's head of marketing Cameron Parker also sees room for expansion. Since many current men's styles are casual, he sees a gap for a more premium range of men's geek gear. Parker said his company doesn't really hear from guys asking for men's sizes or cuts though. Beyond their unisex options, guys will wear some of their other items such as leggings in their current cuts due to their stretchy material. Men trying items like leggings might be one way to increase variety.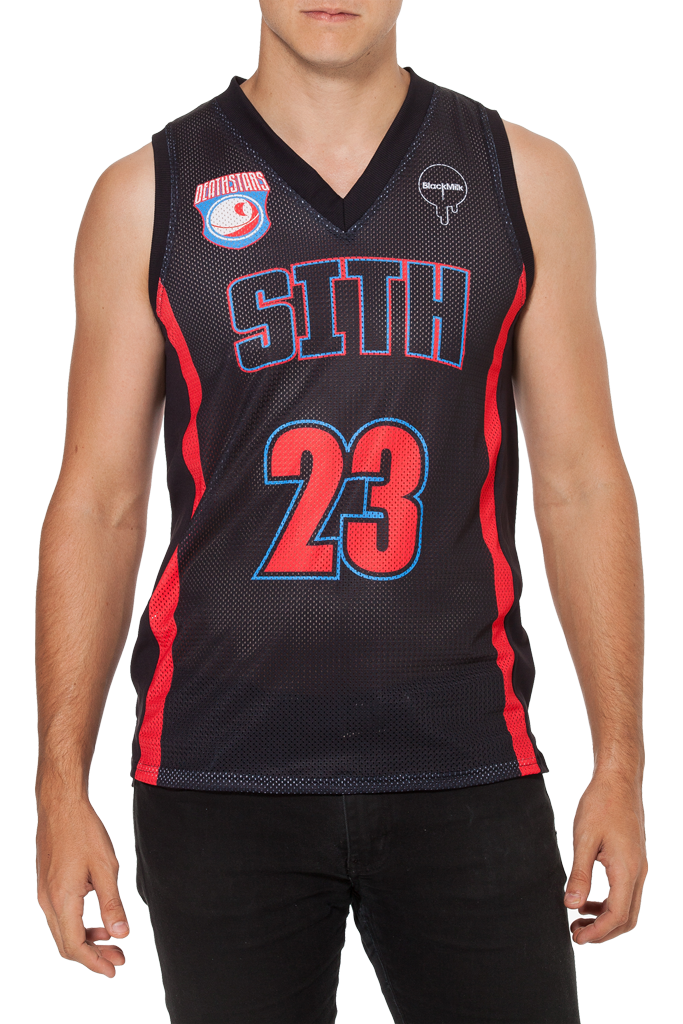 Photo via BlackMilkClothing.com
"It would definitely be great to see some of the stigmas around guys' fashion disappear. Clothing like leggings are still seen as traditionally female and some guys out there might be hesitant to jump on something labelled 'unisex', but ultimately if you like it we think you should just rock it," Parker told the Daily Dot.
On the other hand, ThinkGeek's director of licensing Mike Kochis does have men occasionally asking for more options. He realized last year that there's been a gradual shift in more women's fashion items being offered than men's items. Men still have more T-shirts but women have more options when it comes to accessories and other forms of apparel. In fact someone at this year's Comic-Con approached him asking for more variety of men's jackets. 
"Not to mention that the male jewelry and accessories category is underserved. To help begin to fill that need, earlier this year we launched a third-party line of male focused Game of Thrones jewelry and that has done incredibly well for us," Kochis told the Daily Dot.
Geek guys see other problems beyond variety when it comes their fashion. Steve Araujo agrees with fellow Nerd Fu writer Sully about a need for more options, but has also noticed an increasing trend of clothing being made with mainly slim guys in mind. It seems the issue of sizing is not just one faced by women in geek fashion. Travis of Travis The Grimm feels that men have variety and there has been growth over the last few years in accessories like belts, wallets, and boxers, but quality in design between men and women differ.
"While men do have lots of options [like] hoodies, swim trunks, boxers, shirts, etc., I feel like geek fashion for women is designed a bit better and that women can express it in more ways—leggings, hair bows, jewelry etc." Travis told the Daily Dot. "Ashley Eckstein of Her Universe is a great example of that. While her company is aimed toward women, I find myself buying some of the Her Universe hoodies here and there simply because the designs are spectacular!"
None of this is to say that men don't want shirts at all. Leonard Sultana for example told the Daily Dot he wouldn't mind seeing more variety, but options like accessories or jackets aren't his thing.
There will always be a demand for tees and while it seems like women still have the bigger fight in gaining continued representation in the realm of geek fashion, it can't be ignored that many men would like to have more professional, non-tee options for themselves. If girls can get stylish skirts and dresses that are subtle for the workplace, why can't guys have professional-looking polos or button-downs?
"I love how empowering geek clothing has become for women and I hope men's clothing can catch up," Kim said. "We need a Nerdolution! Until then, I guess I will just keep making my own."
Photo via Black Milk Clothing/Facebook