Last year's GaymerX, an event in San Francisco that welcomed gamers of every gender and sexual identity, proved to be an overwhelming success. The gaming convention, which focused on LGBTQ video game culture, was attended by more than 2,300 people.
Based on the response, there was little doubt it would be back in July 2014, bigger and better than before. GaymerX2 launched a Kickstarter campaign last week with the goal of raising $10,000 for its new venue at the InterContinental San Francisco hotel. In just 24 hours, the campaign exceeded its goal and with 25 days left to go it has already collected over $16,000. It also fulfilled two stretch goals, one for free gender pronoun sticker add-ons to badges and another for full-color programs with original art by queer designers.
Matt Conn, founder of GaymerX producer MidBoss Games, told the Daily Dot he was surprised by how quickly people backed the convention.
"It shows just how powerful the queer geek community is and how hungry they are to be treated seriously—but I did think it would have taken more than a day!" Conn said.
The convention will not only be in a larger space this year, it's adding a third day. As for content, there will be more of what attendees saw last year in regards to games, cosplay, and academia, along with bigger stars like WWE's Darren Young, sci-fi author John Scalzi, and lead writer of Bioware's Dragon Age series David Gaider. This year IndieCade will also be curating a room of indie game developers and there will be a wedding for two men who proposed to each other at last year's GaymerX.
One thing that will be the same is the tone, Conn said.
"We were really proud of the vibe and atmosphere that our attendees brought to the convention—one of fun and jovialness, but also one of respect and tolerance and a willingness to learn more about how we can fight for queer rights in the gaming world," he said.
Game companies often face negative reviews and homophobic comments when incorporating a LGBTQ element like same-sex romance into games. Some gay gamers don't feel safe sharing their opinions with other gamers and turn to anonymous discussions, like confession blogs, to avoid abuse.
"We want to show the queer and gay geeks of the world that they're not alone—that no matter where they live, no matter how bullied they feel, there are always other people out there just like them," Conn said. "No one should ever feel like they're an outcast or what they're doing is wrong if they're not hurting anybody, and there's nothing wrong with being a gay geek. Our differences are what make us original, and for gay geeks, I want them to know that it's cool to be a queer geek, and there's tons of other people out there who support you."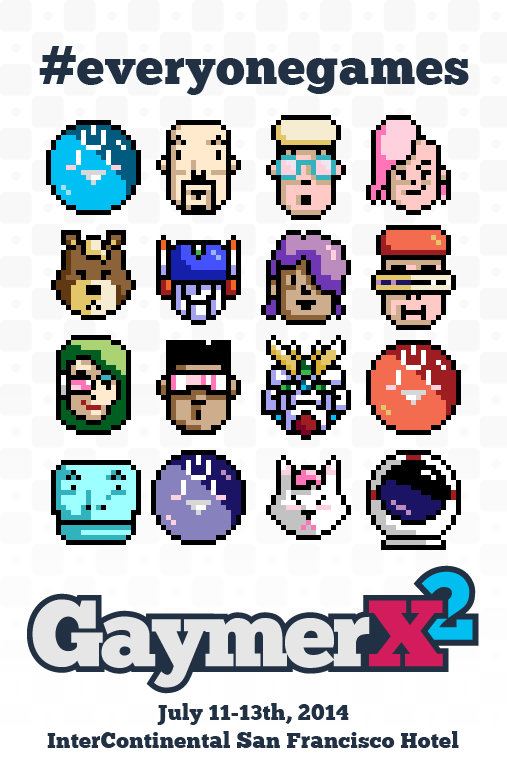 The GaymerX team has been one of the most consistent groups calling for more acceptance and understanding of LGBTQ gamers, and increased representation of LGBTQ characters in video games. They've used Kickstarter in the past as a way to support discussions, raising money for the first convention and backing a LGBTQ gamer-focused documentary. MidBoss Games also used crowdfunding for its first game, the cyberpunk adventure Read Only Memories, last year. Read Only Memories is expected to be demoed at GaymerX2 in July.
"Because we're doing something that goes against the grain of mainstream gaming culture, it's really important that if you like the work that we're doing, even if you can't make it, that you tell a friend or throw in a dollar. Kickstarter is all about momentum, and we would love to make GaymerX2 the best, geekiest, and most fun gaming event for queer geeks ever," Conn said.
Photo by Jason Tester Guerrilla Futures/Flickr (CC BY-ND 2.0)