Warning: This episode contains spoilers for the latest episode of Game of Thrones, "A Knight of the Seven Kingdoms."
The characters of Game of Thrones rarely have cause to sing, but when they do, we listen. There's often a story—and several ties to A Song of Ice and Fire—worth paying attention to behind the tune, and the latest song to debut on Game of Thrones is no different.
In a quieter episode full of character moments, an unlikely cast of drinking buddies got a moment to sit down before the end of the world. Brienne of Tarth had just been knighted, and there's no more wine. To pass the time, Tyrion Lannister requested a song. Davos Seaworth, Brienne, and Tormund Giantsbane all turned him down, but sure enough, Podrick Payne starts to sing. It's a song full of sorrow—and certainly echoes a song from Return of the King—and one foreboding doom as a montage visits most of the characters at Winterfell in moments of contemplation.
We later hear the song during the episode's end credits, which is performed by Florence and the Machine.
It's a haunting moment in the episode—one that really sticks with you. But book fans are finally getting more on a song that has been mentioned a time or two yet has never been heard or read until now.
The sad story behind "Jenny of Oldstones"
Like "The Rains of Castamere" and "The Bear and the Maiden Fair," "Jenny of Oldstones" (or "Jenny's song," as book readers know it by) has its basis in ASOIAF. It was believed (but never confirmed) to be about Jenny of Oldstones, the peasant woman who married Duncan Targaryen, the eldest son of Aegon V Targaryen and one of Daenerys Targaryen's ancestors.
"Jenny of Oldstones" was a favorite of the Ghost of High Heart, a mysterious woman who had prophetic dreams who Arya Stark encountered in A Storm of Swords—and whose role is somewhat fulfilled by Melisandre in season 3. The Ghost of Heart always wants to hear "Jenny's song" from Tom of Sevenstreams in exchange for her dreams, but Arya never figures out what is being sung; Arya describes the song as "soft and sad." Arya is convinced that Sansa, who Arya believes knows all of Westeros' songs, would have a better chance of identifying it than her.
Another time it's played, once again heard by Arya, the dwarf woman who requested it cries in response.
Looking at the lyrics of Podrick's song
Until now, we only knew a single line from the song. It appears in the epilogue for A Storm of Swords, and it's a lyric that Merrett Frey hears being sung as he arrives in Oldstones. "High in the halls of the kings who are gone, Jenny would dance with her ghosts," he hears.
We get a partial rendition of the song from Podrick Payne, but the full set of lyrics is revealed in Florence and the Machine's cover of the song. Although George R.R. Martin wrote the first line of "Jenny of Oldstones" through the books, showrunner D.B. Weiss penned much of the rest of the song.
"High in the halls of the kings who are gone,

Jenny would dance with her ghosts.

The ones she had lost and the ones she had found,

and the ones who had loved her the most.

 

The ones who'd been gone for so very long,

She couldn't remember their names.

They spun her around on the damp old stones.

Spun away all her sorrow and pain.

 

And she never wanted to leave.

Never wanted to leave.

Never wanted to leave.

Never wanted to leave."
Florence and the Machine's version only features "Never wanted to leave" four times during the first chorus (while Podrick sings it six times), but the second verse, which only appears in Florence and the Machine's version, is even more prescient. While it was written long before we hear it on Game of Thrones in Westeros' timeline, it's an encapsulation of their final night in Winterfell—a group of characters who would never have been caught drinking together before the dead came matching their way.
"They danced through the day and into the night

Through the snow that swept through the hall.

From winter to summer then winter again

Til the walls did crumble and fall.

 

And she never wanted to leave.

Never wanted to leave.

Never wanted to leave.

Never wanted to leave."
Speaking to Entertainment Weekly, Bryan Cogman (who wrote "A Knight of the Seven Kingdoms") said that the song is "about it being warm and having fellowship together and how they wish it could last longer, but it's not going to."
The potentially surprising in-universe writer of "Jenny of Oldstones"
In the show, we already know who wrote "Jenny of Oldstones": one line was taken from Martin and Weiss wrote most of the rest. But in-universe, it's a bit more complicated.
Although Aegon V Targaryen (who some book fans might know better as Egg of Dunk and Egg fame) didn't force his children into incestuous marriages, he still wanted to make political alliances with those marriages. His eldest son Duncan (named for Ser Duncan the Tall) chose to marry Jenny of Oldstones over the woman he was betrothed to. And when it came down to it, Duncan gave up his claim to the Iron Throne to remain married to Jenny of Oldstones. Duncan Targaryen's life came to a tragic end: he died at Summerhall after it mysterious caught on fire, which also happened to be the same day that Rhaegar Targaryen was born.
We don't know what happened to Jenny of Oldstones and whether she was also at Summerhall that day. But one theory that's prevailed over the years is that Rhaegar Targaryen is the person who wrote "Jenny of Oldstones." (When discussing Rhaegar with Jon, Dany even mentioned that "he liked to sing" at the end of the episode.)
Rhaegar's reputation as a singer long precedes him, and in several stories told by living characters in ASOIAF, Rhaegar is said to have performed a song that made just about every woman who heard it weep; one of those times, the woman crying is suggested to be Lyanna Stark. But it also might contain another, more vital message: the song of ice and fire, the very prophecy that swirls around Rhaegar's children.
Of course, Game of Thrones doesn't go into that much detail, and for all we know, we hear the entirety of the song between Podrick Payne and Florence and the Machine. But if only for a moment, book fans finally got at least one more snippet of Martin's world in Game of Thrones before the end of the series.
Need more news from beyond the Wall? Sign up here to receive our weekly Game of Thrones newsletter from in-house expert Michelle Jaworski.
READ MORE:
---
NOW HEAR THIS:
How linguist David J. Peterson created the Dothraki and Valyrian languages for Game of Thrones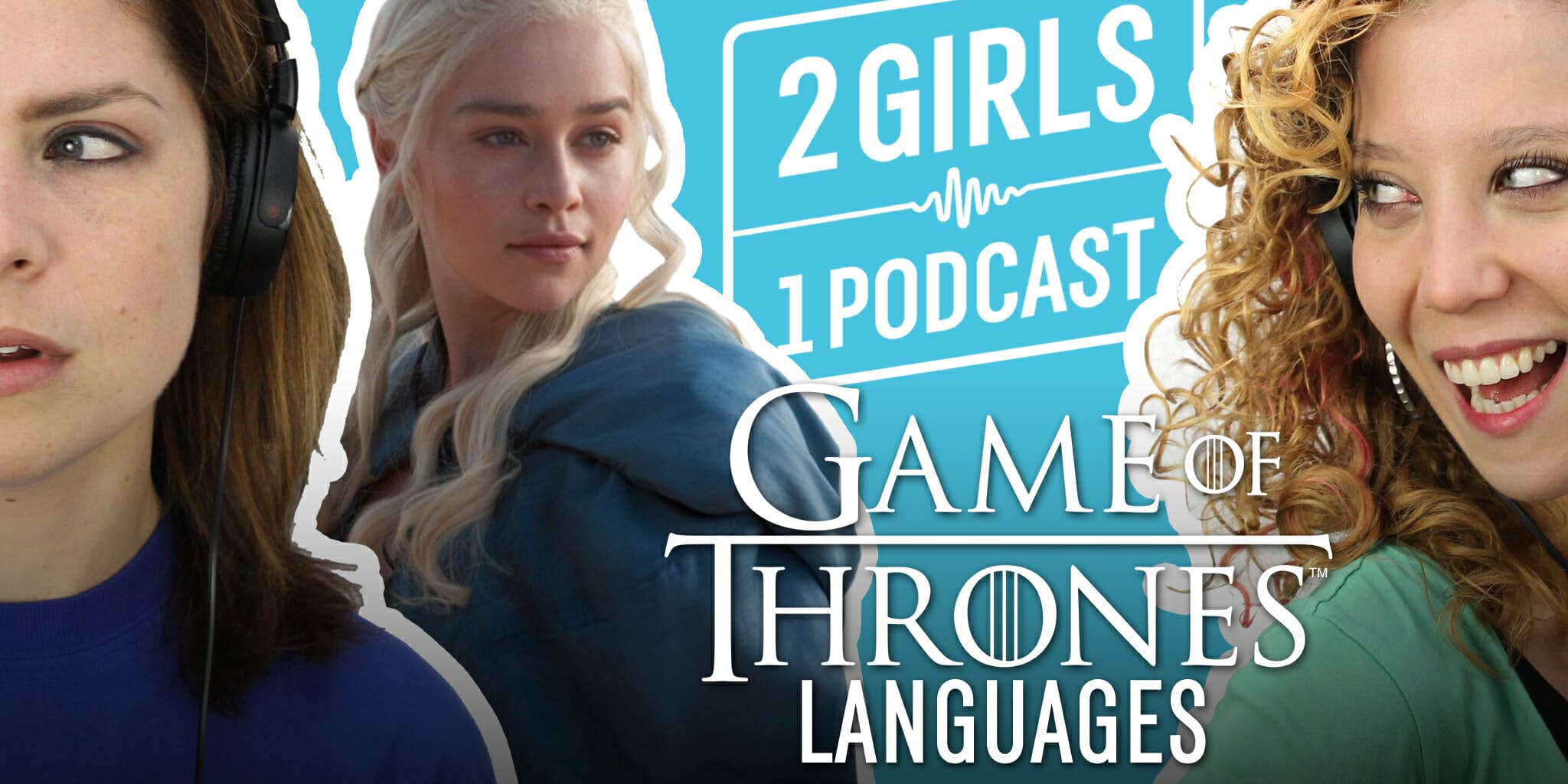 Introducing 2 GIRLS 1 PODCAST, a weekly comedy show where Alli Goldberg and Jen Jamula (two actors who perform bizarre internet content on stage) have hilarious and humanizing conversations with Bronies, top Reddit mods, professional ticklers, video game archaeologists, dating app engineers, adult babies, cuddling specialists, vampires, Jedi, living dolls, and more.
Subscribe to 2 GIRLS 1 PODCAST in your favorite podcast app.
---