Since the beginning, Tilted Towers has been one of the most popular locations for players to drop in Fortnite. It's a distinct location, usually has an abundance of loot, and you can bet there will be other players hanging around to get some early kills in on. Well, no more.
As part of the events leading up to Fortnite season 9, Tilted Towers was destroyed in a barrage of molten projectiles from the guts of the long-simmering volcano further north on the map.
The event began with the long-awaited opening of the vault door at Loot Lake. Via this tweet from PC Gamer, you can see players all converging and dropping into the depths below. What awaits them is a mysterious dark orb preceded by some stone pillars housing what looks like some new weapons and tools. The location itself is draped in shimmering white and gray, kind of like the Black Garden from Destiny.
Witness the end times. The drum gun is back. Tilted Towers and Retail Row are pits of smoke and fire. Polar Peak is ready to collapse.

What the hell is gonna happen in Fortnite Season 9? https://t.co/dNShpPtYcK pic.twitter.com/6MXlt00GyB

— PC Gamer (@pcgamer) May 4, 2019
It doesn't look like the players were able to destroy the orb, and we're not sure that was even possible. Regardless, the players began to float back up towards the sky and were shot out high into the air on the Fortnite map. Only this time, the volcano was fully erupting and sending large projectiles out across the map. There were three shots, one of which took out Retail Row. The last shot split into four projectiles and effectively decimated all but one structure at Tilted Towers. The second shot formed a crack in Polar Peak, which we'd imagine will begin to grow in the near future and bring about more topographical change.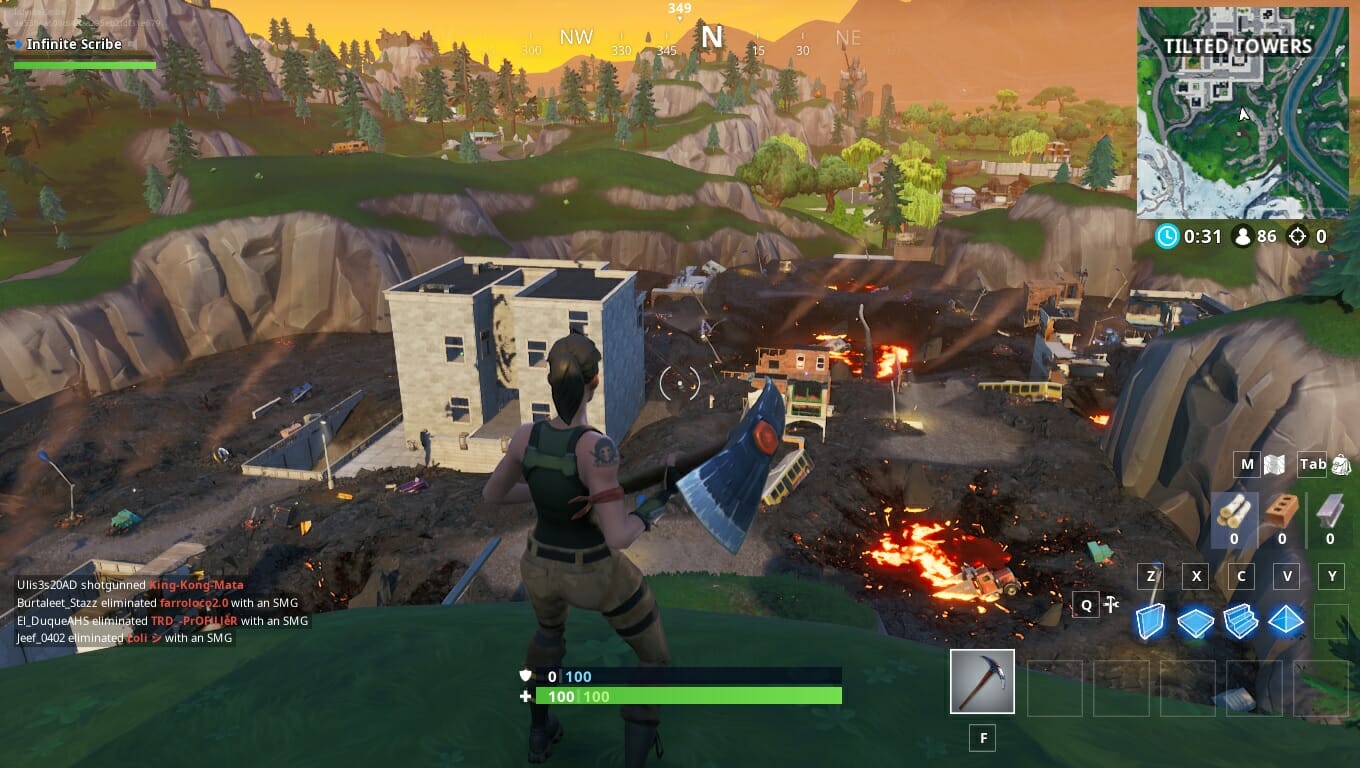 Tilted Towers is now a shell of its former self. One building still stands about one story tall, but everything else has been laid to waste. There's even a hole filled with magma that's already swallowed up a bus.
The internet was quick to react in quiet and not-so-quiet disbelief.
Tilted Towers is Gone Nooooo #Fortnite #Event #FollowMe pic.twitter.com/d8lNEWmrhd

— ZooMcFly (@FuTur_TSM_Msfts) May 4, 2019
the moment #TiltedTowers got deleted from the #Fortnite map… pic.twitter.com/zyRSexW82O

— Chaos (@Chaosxsilencer) May 4, 2019
https://twitter.com/badboykola/status/1124752689160568832
#Fortnite

Tilted Towers: *exists*

Volcano: pic.twitter.com/D6fUCjziex

— EmeraldPoint (@EmeraldPoint_) May 5, 2019
We've expected that some big map changes would come to Fortnite in time for season 9. The last few seasons have introduced entirely new biomes, like the frozen and desert areas. This just shows that nothing is sacred on the Fortnite map. It's also drastically reduced the visual and logistical appeal of Tilted Towers, so there's certainly a possibility Epic Games could rebuild Tilted in some new form for the new season. We'll have to wait to find out. In the meantime, check out everything else we know about Fortnite season 9.
READ MORE: