We are truly living in a futuristic world: Whenever you want, you can watch two fish play Super Street Fighter II Turbo.
After the wild success of Twitch Plays Pokémon earlier this year, the gaming community began to explore ways to capitalize on the craze of unorthodox ways to conquer video games old and new. Things took an odd turn earlier this month with Fish Play Pokémon, in which a fish slowly and unknowingly (we think, anyway) tackled the game.
Now, two goldfish in Canada are battling it out in the classic fighting game Super Street Fighter II Turbo.
"Aquarius" and "Robert the Bruce" have taken turns assuming the roles of Ryu, Chun-Li, and all of your other favorites as they duke it out in a game that they could never hope to emulate in real life. 
Developed by Ontario-based programmer Andrew Hill, the game works by having the fishtank separated into nine different zones, with each corresponding to a specific command. Since it is possible for the fish to straddle two quads at the same time, combined commands can be input, allowing for the game's trademark complex moves like sweeping kicks.
Statistics for each day of gameplay are updated on Hill's FishPlayStreetFighter Imgur album. Despite their handicap of being fish, the two fighters have managed a pretty impressive display so far (and we're very certain that either one of them could conquer Pierce Brosnan in a game of GoldenEye). As of this writing, Aquarius is ahead of Robert the Bruce by one match.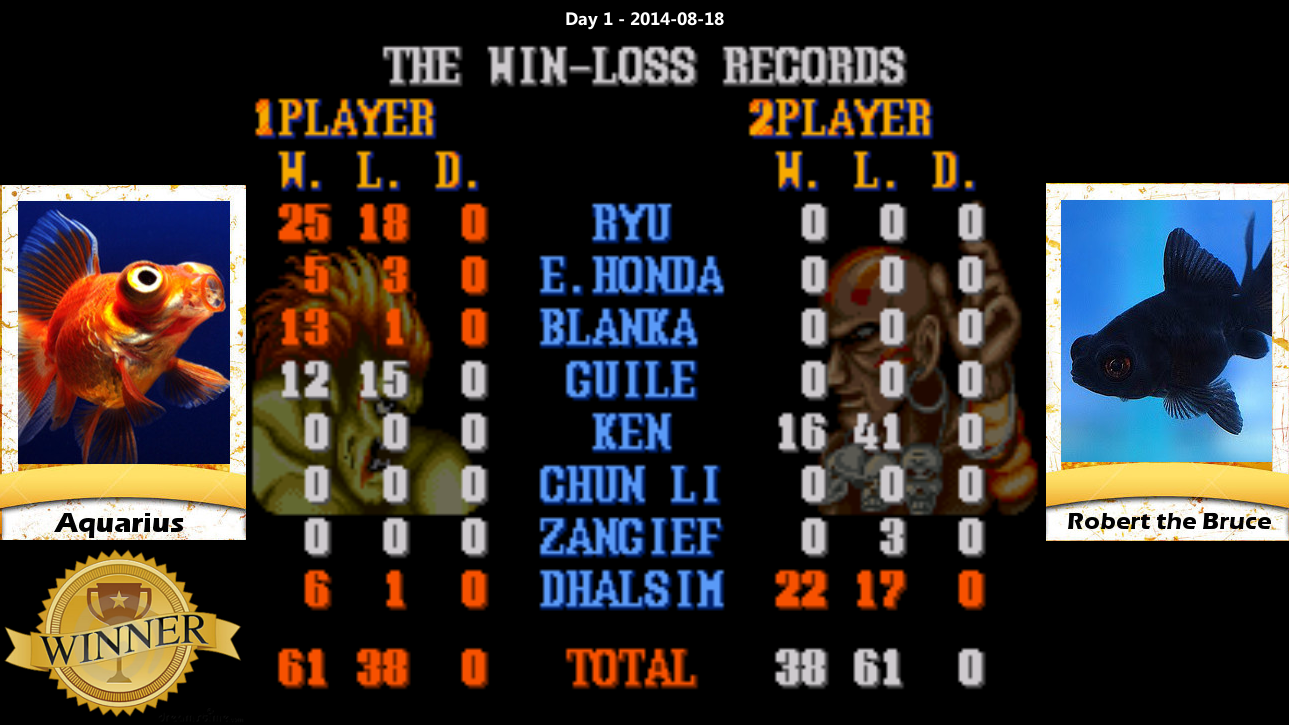 Photo via FishPlayStreetFighter/Imgur
If this really takes off, hopefully we will see Aquarius and Robert the Bruce play Mortal Kombat next. There would be nothing quite like watching an adorable goldfish undertaking the famous "finish him" command.
Photo via Pogrebnoj-Alexandroff (CC BY SA 3.0) | Remix by Jason Reed