Game development company Square Enix has released a statement concerning the updated breast size of Tifa Lockhart from the game Final Fantasy 7 Remake.
On June 10, during E3, a trailer was released showing off more of Final Fantasy 7 Remake. The trailer happened to include the first footage of Tifa Lockhart's new character design, and immediately after the release, fans who weren't happy with the changes stormed online to whine. Their biggest complaint was the apparent reduction of Tifa's breast size.
Gamer dudes are the weakest and most cowardly creatures capable of speech on the earth pic.twitter.com/CVzOKXyxK5

— Rei-volution 001 (@LossThief) June 11, 2019
Men only care about one thing at E3 and its disgusting pic.twitter.com/1xNUZKA11J

— Buns @ traveling ✈ (@SuperButterBuns) June 10, 2019
https://twitter.com/GarikWheeler/status/1141495303083712512
In FFVII, Cloud Strife had very large hands, easily a glove size 3XL. In the remake, his hands are distinctly normal sized. Disappointing to see Square-Enix bending to the agenda of those who would censor Clouds juicy knob turners. A loss for gamers everywhere. pic.twitter.com/dbb3fgHiJb

— webster (@Webster_Duck) June 20, 2019
In an interview with Japanese gaming publication Famitsu, developer Square Enix said it did reduce Tifa's breast size and explained the decision.
Tetsuya Nomura, director on the remake, says that "it was necessary to restrict her chest." In the game, Tifa primarily fights with her fists rather than a gun or a sword. Giving her a slimmer build seemed like a logical choice for incorporating an aspect of the character's fighting mechanics directly into her character design.
The Famitsu interview also mentions that the Square Enix ethics department determined "restricting" Tifa's chest was necessary to prevent her from appearing "unnatural" during fight sequences. Given that Final Fantasy 7 Remake is an action role-playing game, unlike turn-based play in the original, the character models are inherently more kinetic.
In the 1997 version of Final Fantasy 7, Tifa's proportions clearly emphasized her chest. However, this was partly due to the limited character model capabilities on the classic PlayStation's hardware. In order to depict a "sexy woman," features had to be overly exaggerated. Without better graphics and the nuances to character design that they can bring, we ended up with the busty Tifa in the original Final Fantasy 7.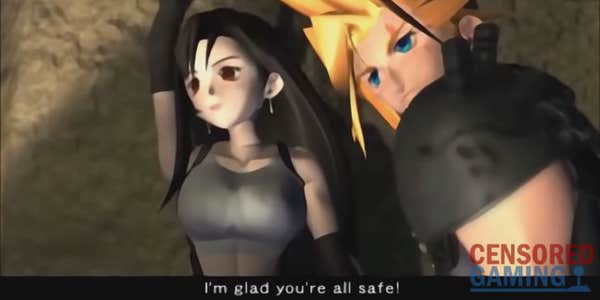 In additions to the limitations of polygonal character models, Tifa's character design in the original game was a symptom of overt sexualization that was heavily used to sell games at the time. (Just look at how early iterations of Tomb Raider portrayed Lara Croft.) Transferring all aspects of Tifa's character design to this modern incarnation of Final Fantasy 7  might appear outdated.
Final Fantasy 7 Remake releases March 3, 2020, for the PlayStation 4.
READ MORE:
Got five minutes? We'd love to hear from you. Help shape our journalism and be entered to win an Amazon gift card by filling out our 2019 reader survey.