Casting for the Fantastic Beasts sequel is already underway, and although at least one major role has already been filled, Warner Bros. is casting a broader net for some of its other roles.
Warner Bros. and the people behind the Fantastic Beasts sequel are launching an open casting call for five new roles that will appear in the movie. Unlike some casting calls, which have gone to great lengths to conceal information on roles with vague descriptions, the casting call here is pretty straightforward. Four of the roles being cast are younger versions of characters who will appear in the Fantastic Beasts sequel, so it's fairly evident that we'll be getting flashbacks. A fifth role for a younger actor is an entirely new character.
We'll see younger versions of Newt Scamander, Leta Lestrange (Rowling already said we'll see more of Leta in the sequel), and a new character called Sebastian. Warner Bros. is looking for actors between the ages of 13 and 16 to play these roles.
We don't know anything about Sebastian, but Leta, played by Zoe Kravitz, is briefly seen in a photograph in Fantastic Beasts. Newt is pretty cagey about revealing any information on her, so what we know comes from Queenie Goldstein's ability to read minds and outside information from the movie. Both outsiders at Hogwarts, they were "close friends" but Newt took the blame after a she conducted an experiment that went wrong and put another student in danger. It resulted in Newt being sentenced to expulsion.
It's unclear if we're going to see this play out in the film, but it could reveal a lot about the relationship between Newt and Leta.
Warner Bros. is also looking for actors between the ages of 16-18 to portray younger versions of Albus Dumbledore and Gellert Grindelwald, which is especially interesting. (We'll see adult versions of Dumbledore and Grindelwald played by Jude Law and Johnny Depp, respectively.)
Per Harry Potter and the Deathly Hallows, Dumbledore and Grindelwald only knew each other for a few months as they researched the Deathly Hallows in Godric's Hollow before their falling out so if those actors will appear together, we may see some of those scenes play out.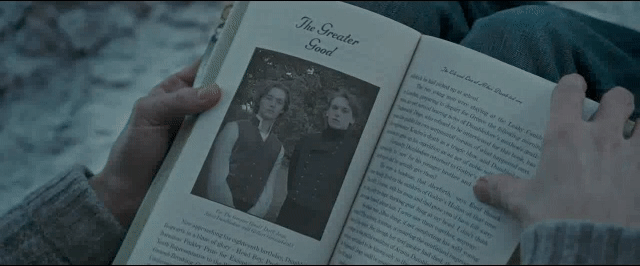 We could also see them separately as Grindelwald begins his decades-long reign and Dumbledore begins to rebuild his life after his sister Ariana's death.
Anyone who's interested in applying for the open casting call can send a color photograph taken in the last two months, a phone number, address, and date of birth to casting [email protected] until June 20 at midnight GMT; minors will need their parents to send the applications for them.Filming will take place between August and November 2017. Unfortunately, the casting call isn't available to everyone: In order to be apply, you'll need to be able to legally work in the U.K. 
The odds are great, but as Pottermore reminds readers, it's not the first time open casting calls were used to cast roles. Modesty (Faith Wood-Blagrove) in Fantastic Beasts was discovered through an open casting call and so was Evanna Lynch, who played fan favorite Luna Lovegood in four Harry Potter films, so anything is possible.