If you've ever been to a Harry Potter convention, then you've likely seen it: a Hogwarts initiate's paradise, full of broomsticks, wands, robes, and all sorts of magical delights. 
You've just entered the vendor's showroom for Whimsic Alley,  a popular Harry Potter merchandiser that started online and  opened a brick-and-mortar store on Los Angeles' Miracle Mile in 2004. Whimsic Alley has been selling its wares online and at Harry Potter conventions across the U.S. for years, becoming a staple at conventions.
There's just one problem: After years of allowing the store to do business under its nose, Warner Bros. has finally decided Whimsic Alley's products are too close for comfort to their own officially licensed merchandise.
The Los Angeles Times is reporting that the studio has filed a lawsuit against the wizarding favorite for trademark infringement.
While Whimsic Alley's wares may have started out only modestly affiliated with the Harry Potter franchise, owner Stan Goldin never made any secret of the connection. He hired a production designer to decorate the store to match the Harry Potter aesthetic, and commenced selling official, licensed Harry Potter merchandise along with a selection of custom robes, parchments, scarves, journals, and knick-knacks. The store's variety garnered praise from Yelp reviewer Lydiya M:
If you've ever wanted any sort of Harry Potter-related item, this is one of the easiest one-stop shops out there; it even has general magic-themed stuff (e.g. books, potions bottles, etc.) that, while not being directly from the films, fits in with any witch-y collection you might be building in your attic.
But Warner Bros. claims the store's non-licensed products have crossed the trademark line. After all, when it's this tough to know which products are official and which are fan-made, it might be time to reconsider how your store markets itself.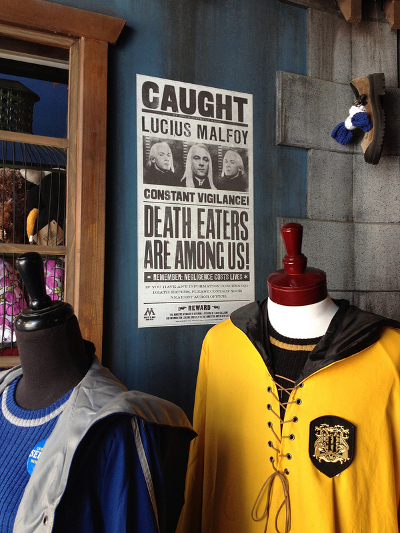 Photo via jcarole/Flickr
If the two parties don't settle out of court, Whimsic Alley will face trial in January. For now, it's business as usual for the company; on its Twitter, it's busy promoting upcoming events, including its largest of the year: The annual Hogwarts Yule Ball.
Photo via rosapotentis/Blogspot