"I now pronounce you husband and wife. You may kiss the Klingon."
While geeks are often stereotyped as basement-dwelling "forever alone" types, the truth is that many of them manage to successfully find love. And when the day comes to level up from love to marital bliss, they do not let their fondness for video games, Doctor Who, or superhero movies take a backseat to boring wedding traditions.
The blog whengeekswed.com collects the results of creative geeks tying the knot. We have chosen the nine best examples of geek-themed weddings to inspire newly engaged couples looking to incorporate a little personal flair into their Big Day (and possibly make your extended family members facepalm).
Bruce Wayne may be a notorious playboy, but Seth is a one-woman man. Nevertheless, he and his bride Laura decided to celebrate everyone's favorite Dark Knight with their Batman-themed wedding. Not only did the bridal party wear Bat-like masks, but there was also a reception inspired by the Gotham City Police Department.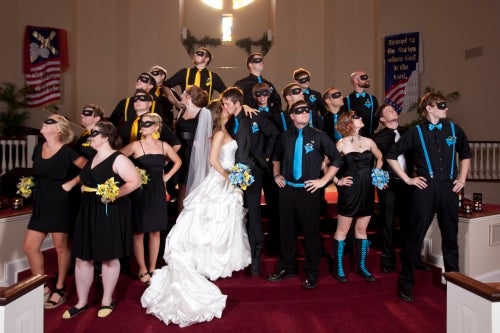 Photo via Dianne Personett Photography/When Geeks Wed
What is there not to love about giant robots? Taking their love of the various Gundam anime series to new heights, one couple in Japan decided to exchange vows under an enormous Mobile Suit Gundam (which was built to commemorate the series' 30th anniversary in 2009) in Odaiba, Japan.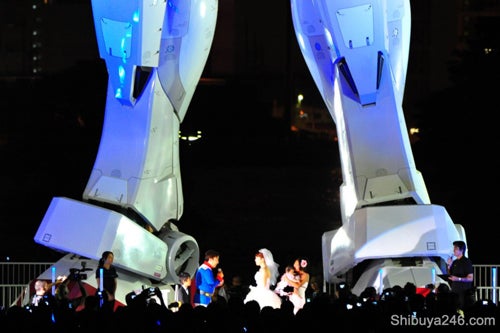 Photo via Shibuya246.com/When Geeks Wed
As far as we know, Doctor Who and the Mass Effect video game series have never done any official crossovers. Thus, hardcore cosplayer Holly Conrad and her husband Ross decided that they would stage their own melding of the popular series at their "space and time"-themed wedding ceremony. The night featured the groom decked out in the Tenth Doctor's outfit, a cake modeled after the Normandy from Mass Effect, and even a DeLorean in which to drive away!
Photo via Holly Conrad/When Geeks Wed
4) Married at the Comic Book Store
New York City may be home to St. Patrick's Cathedral, Central Park, and other ideal wedding venues, but for geeks Scott and Jason, the choice was simple: the Midtown Comics store. The couple exchanged their vows against a gorgeous backdrop of comic book racks at the store and were presented with a cake featuring the Astonishing X-Men.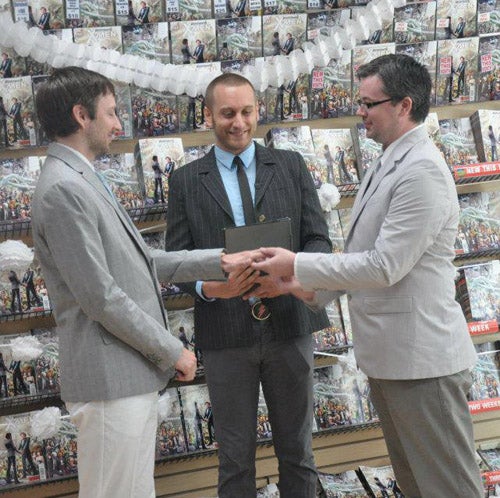 Photo via Meltdown Comics/When Geeks Wed
5) A Record-Setting Klingon Wedding
Star Trek geeks Josefin and Sonnie traveled to London from their home in Sweden for their wedding inspired by the most villainous species in the Star Trek universe. In doing so, they managed to set a record for having the first-ever Klingon wedding in the United Kingdom! Dressed in spectacular Klingon costumes, they exchanged vows … and, of course, bat'leths, a ceremonial item in Klingon weddings according to Star Trek canon.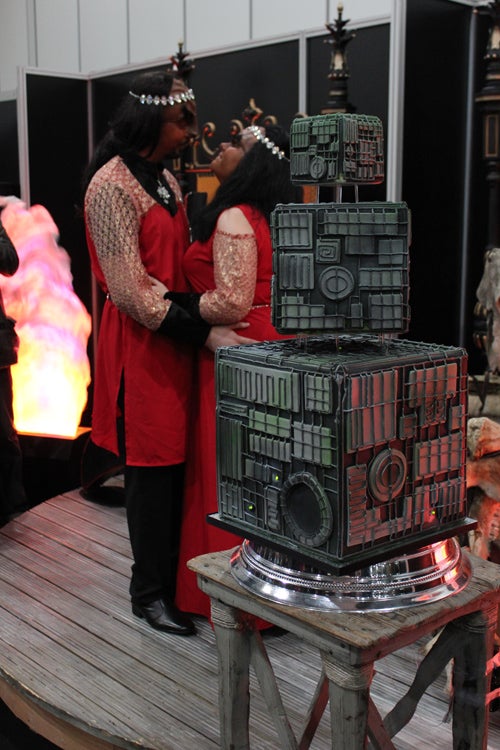 Photo via Restoration Cake/When Geeks Wed
6) Til Death Do You Part … Oh, Wait
Adam and Thea decided to incorporate the phrase "Another One Bites the Dust" into their ceremony. Stunning zombie makeup, a small coffin, and even a hearse reading "Just Buried" were all part of this wedding to literally end all weddings.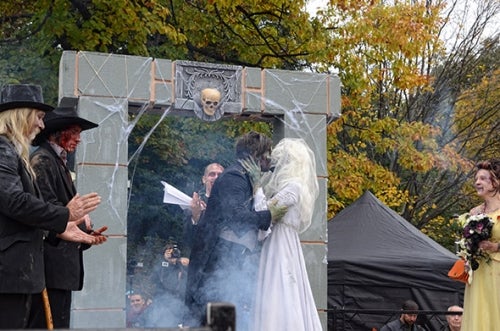 Photo via Scott Snider/When Geeks Wed
Clara and Justin felt alienated by the standard wedding traditions like the garter toss and even the first dance. Instead, they decided to spend their Big Day celebrating their shared—and individual—fandoms. Portal, The Legend of Zelda, Doctor Who, and even World of Warcraft were all represented in a ceremony their guests are certain to remember.
Photo via JP Langlands/When Geeks Wed
In the 1980s, many video games ended with Mario, Link, and friends rescuing the princess from a decrepit dungeon. So what happened afterward? Jonny and Anna decided to answer that with their retro-game-inspired wedding. The couple's special day paid homage to the old video games both held dear, including a small Princess Peach figurine on the bride's bouquet and a TriForce symbol from The Legend of Zelda on the wedding band.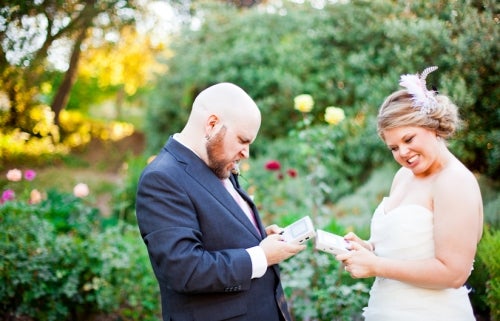 Photo via jonnyandanna.weebly.com/When Geeks Wed
Who says a fairytale wedding can't include a bit of geekery? Lylelanna and her husband sprinkled details of their geeky interests throughout their wedding, from a Futurama-inspired cake to Pac-Man wedding decorations. Most impressive of all was the couple's decision to profess their love to each other not on a Bible, but rather a copy of J.R.R. Tolkien's Lord of the Rings.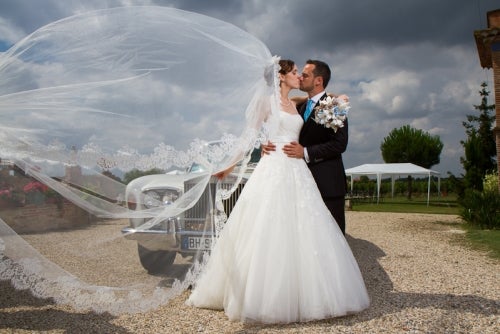 Photo via cedric-tosoni.fr/When Geeks Wed
Photo via When Geeks Wed