Earlier today, fans paused to mourn the passing of an Internet icon—and to marvel at the cultural changes that eventually toppled Television Without Pity, one of the former greats of online pop culture commentary.
Affectionately known across the Internet as TWOP, the site announced its closing in a simple statement on its home page and Twitter after parent company NBCUniversal notified staff of the shut down.
Despite TWOP's longstanding status as the recap site of recap sites, synonymous with do-it-yourself pop cultural analysis, as of last year the site was a virtual ghost town. At one point, it was briefly awash in viruses that made it impossible for certain browsers to access without becoming plagued with malware. Was this really the site that had launched a thousand imitators, landed a book deal, and been bought by a major media network?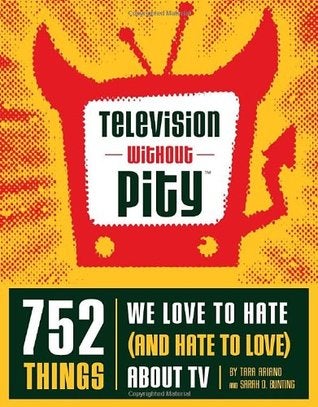 Photo via Goodreads
In 1997, Sarah Bunting and Tara Ariano met and became friends on the Internet, bonding over the weekly Dawson's Creek recaps they posted on a forum for 90210 summaries. In the late '90's and early 2000s, episode recaps and summaries were important parts of fandom archives and commentary sites, serving as ways for new fans to explore and investigate new shows. In the days before Megaupload and other download sites made it easier for fans to access missed episodes, recaps were viable and necessary parts of the language of fandom.
Bunting and Ariano's recaps weren't the first to combine practicality with snark, but they were the first to expand their act. Two years after they started with Dawson's, they evolved a website that offered a full suite of snarky TV show recaps: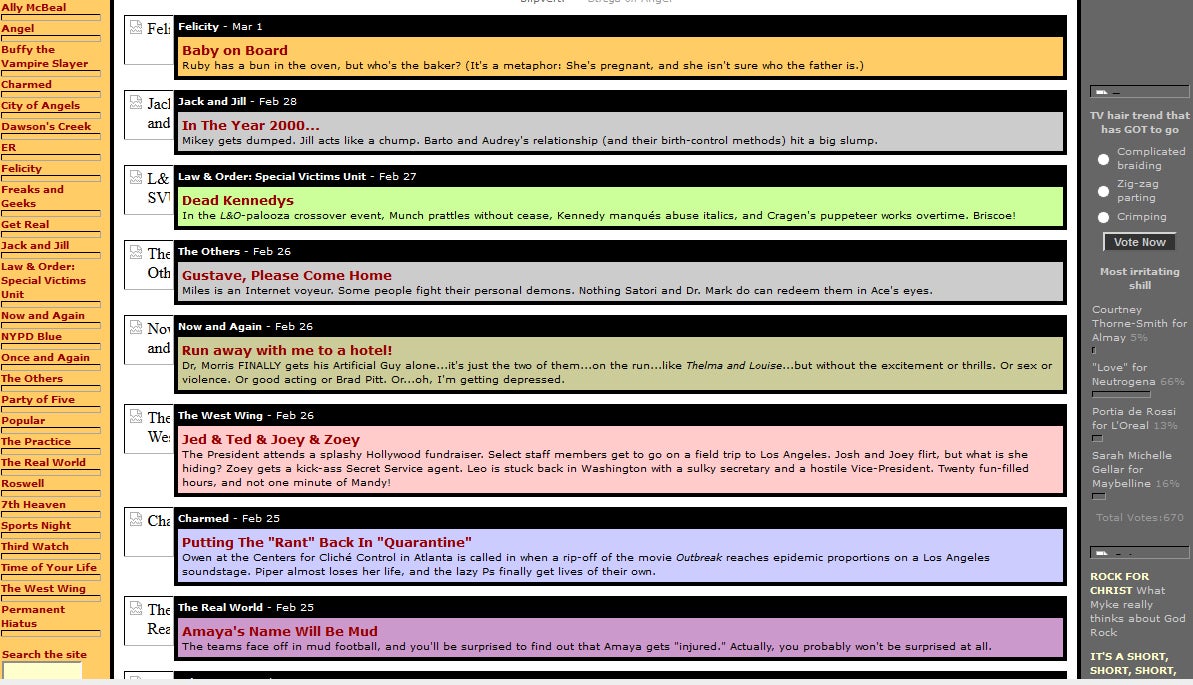 The TWOP website as it appeared in early 1999; click to enlarge (Screengrab via Archive.org)
Even better, TWOP's recaps were long and brilliant, with in-depth detail and literary/visual analysis to delight literature and film professors the world over. A single episode recap could make for a glorious hour of reading, penned by intelligent, insightful writers whose names are still evoked today as among the greats of Internet pop culture blogging:
Despite the website's popularity, it gained a reputation over the years for being inconsistently moderated. While some fandoms, particularly those for popular reality TV shows, flourished in the TWOP forums, others like The West Wing clashed both internally and with show creators. At one point Aaron Sorkin allegedly gave a fictional version of the site an unflattering dressing-down in a West Wing episode after unpleasant interactions with fans on the show's forum. Through its heyday, it served as a testing ground for forays over the fourth wall between fans and creators, as both groups learned the positives and negatives of interacting with each other directly via the medium of the Internet.
When Television Without Pity first made a name for itself, it was unique and snarky resource. But by 2007, when Bravo TV and NBCUniversal made a rather notorious purchase of the website, the long reads the site did best were going out of style, and episode analysis had become a standard part of every fan's casual media consumption. In addition to individual fan-meta, innumerable similar recap sites had sprung up—Bunting herself would go on to found one after leaving TWOP. Awash in all the meta they could ever want, many old readers moved on and many more were predicting the site's eventual demise. Shortly after the buyout, TWOP recappers rebelled over unpopular contracts that prevented them from getting pay increases for their work (then priced at $100 per write-up, a figure that might look good to many writers in today's oversaturated online content market). A year after Bravo's purchase, TWOP's three founders all left the website.
"Once upon a time, there was a website that used to recap television," snarked one blog in 2008.
Today, however, the Internet seemed to have little room for schadenfreude and a lot of room for mourning:
TWOP fans are left with two questions in the wake of the annoucement: How will they possibly salvage and archive the immense wealth of 15 years of cultural contributions, and how will they survive the next season of their favorite show without TWOP to help them through it?
But TWOP has had its day, and it looks like the writers are ready to move on. As longtime TWOP recapper Jacob Clifton put it:
We may be fine, but we will be a bit sadder for the loss. TWOP's demise offers all of us a lesson that perhaps not all of the Internet's evolution has been for the best.
Illustration by Aja Romano