From the poorly-conceived line of Hunger Games makeup to Avengers-themed perfumes and colognes, geek culture cosmetics are kind of a big deal right now. But, as you might guess, the best stuff isn't coming from the official marketers, it's from the fans themselves.
We'll try to keep the usage of the word "fanicure" to a bare minimum here, but fandom manicures are definitely gaining popularity. Nail art blogs and Pinterest boards were already incredibly trendy, for the simple reason that while makeup is fun, manicures are easier and more subtle than putting on five different shades of eyeshadow before work. Consequently, fandom manicures are an unobtrusive method of everyday cosplay, for anyone whose workplace frowns upon people showing up dressed as Wonder Woman or a Na'avi. "Stealth cosplay" may allow you to go to college dressed as Iron Man and have no one be any the wiser, but you can wear a fandom manicure with anything from a bikini to a business suit.
Photo via billythebrime / Tumblr
Hogwarts houses, Star Trek uniforms, and superhero costumes are three of the most popular themes because they have such easily recognizable color schemes. Plus, with things like Star Trek uniforms (which are color-coded by department) and Hogwarts houses, you can use them to express your own personality traits.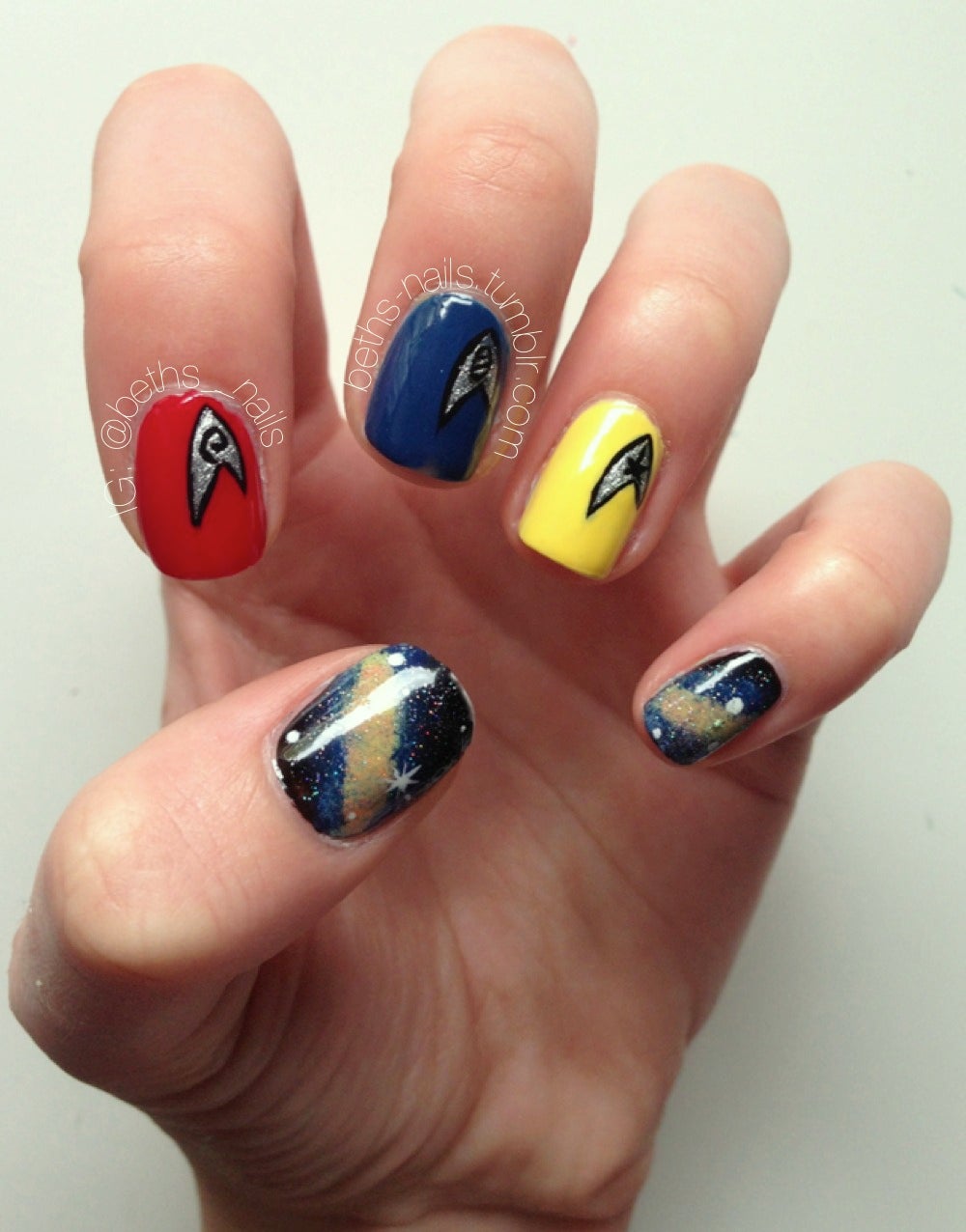 Photo via beths-nails / Tumblr
Nail polish manufacturers OPI have already attempted to jump on the fanicure trend by releasing tie-in nail polish lines for the Muppets, Pirates of the Caribbean, and the most recent Spider-Man movie. Normal nail polish bloggers received them like any other new product, but in fandom, OPI's movie tie-ins were mostly met with vague bemusement. What's the point of a Spider-Man nail polish, unless it actually looks like the actual Spider-Man costume? OPI would do well to take some advice from the NFL's official fanicures (yes, NFL official fanicures) and include some stencils or something, instead of just releasing vaguely superhero-ish color schemes.
On the whole, Tumblr and Pinterest's vast number of geeky nail art aficionados just stick to their old favorite brands, and design their own movie-themed manicures. Considering that you can buy hand painted Iron Man false nails on Etsy, there's clearly still something of a supply and demand issue out there. Marvel should get on that.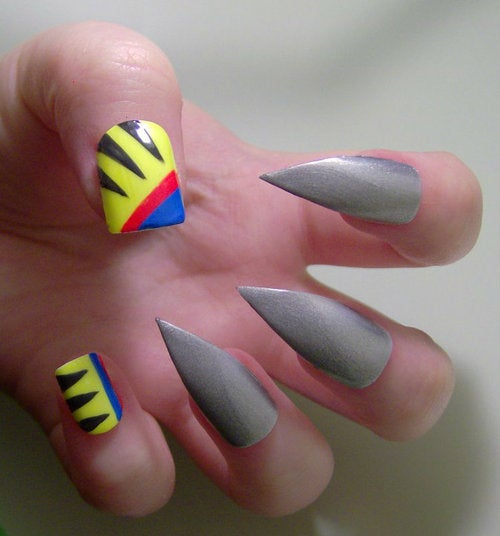 Photo via fashiontipsfromcomicstrips / Tumblr
When you look at the fannish nail art tags on Tumblr, there's an interesting mix of completely obscure designs that no one outside of fandom would understand (hello, Supernatural fanicure with tiny versions of Dean Winchester's handprint scar) and thematic nail art that basically just looks like a really fancy manicure.
Unsurprisingly, with his combination fandom celebrity status and a delightfully sparkly costume, Loki is a major favorite. There's an entire Tumblr tag dedicated just to Loki nails, although the most impressive manicure is by nail technician Lex Astoria. It combines various green and gold elements from Loki's armor in the Thor movies.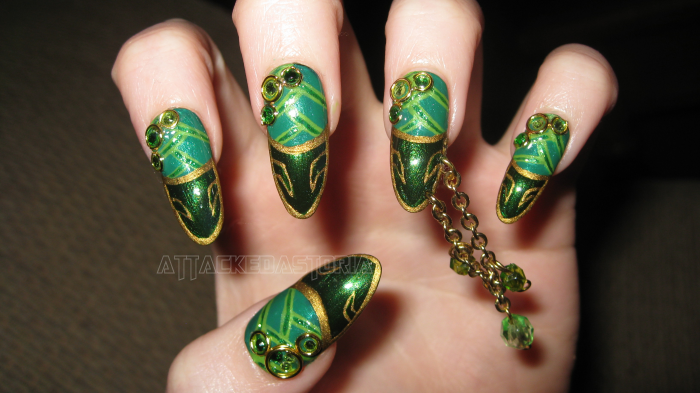 Photo via attackedastorianails / Blogspot
Geeky manicures are the most feminine end of the already somewhat female-dominated space that is Tumblr fandom. They're the crossover point between fanart and selfie culture, with most people preferring just to reblog a picture of an awesome fanicure rather than attempting to follow the no-doubt hideously complicated instructions. After all, this Welcome To Night Vale nail art is terrifyingly cool, but most mere mortals don't have a hope of copying it without hours of practice and about 10 new bottles of polish.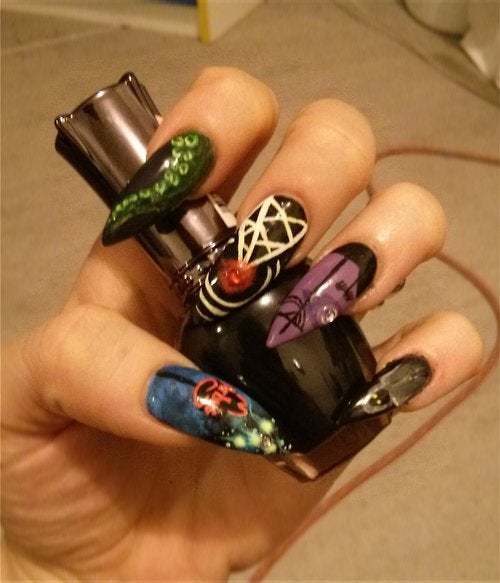 Photo via lluxified / Tumblr
Photo via block-busted / Tumblr