Through July 15, it's Sterek Week on Tumblr.
Now, I know what you're thinking. Isn't every week Sterek Week on Tumblr? Isn't Sterek the Pacific Rim-style behemoth that crushes all other pairings and fandoms in its wake?
Well, yes. But it's Sterek Week anyway, kind of like how there's a World Nutella Day, even though everyone likes to eat Nutella all year round.
After this week's Teen Wolf episode showed Derek Hale (half of the Sterek pairing) having sex with his new female love interest, Sterek fandom feels in need of some support. And how else to rebel against unwanted canon than a new influx of fanfic? In a post from Tumblr user sinyhale, the rules were set out: Write more fanfic, use a hashtag called "operation positivity," and above all, post as much as possible until Sterek Week is over. 
On the one hand, fandom fests are fun, and it's always nice to share new fanworks with your friends. On the other, this particular fandom fest seems to be founded on a persecution complex that will seem undeniably bizarre to outsiders. "After recent events," reads the original Sterek Week prompt post, "some people within the fandom are feeling discouraged or alone – it's time to cheer everyone up again!" 
"Recent events," of course, being the fact that half of the Sterek pairing is now involved in a straight relationship on the actual show—a development that is making some Sterek fans very upset.
This marks a curious trend in Teen Wolf fandom: the idea that the Sterek pairing (or its fans) are somehow "under attack," either by the show itself, or by fans of the romance between Derek and his female love interest. Oddly enough, this trend has a lot in common with the vast numbers of Larry Stylinson (Louis Tomlinson and Harry Styles from the band One Direction) shippers who, despite being the majority in One Direction fandom, still believe they are the persecuted underdog.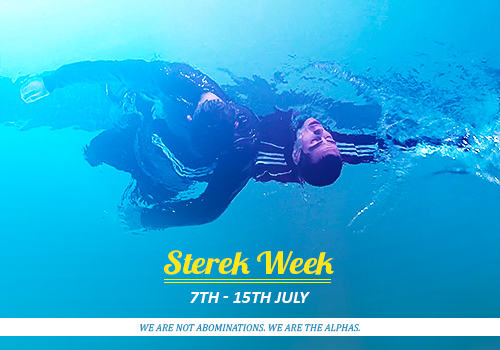 Image via sinyhale/Tumblr
The idea of Sterek Week is founded in positivity and a desire to promote a more cheerful community spirit in Teen Wolf fandom. Unfortunately, it's likely to have the opposite effect. Much of the conflict in Teen Wolf fandom comes from the fact that Sterek fans tend to dominate the fandom's online presence, creating a "with us or against us" kind of attitude. Many non-Sterek fans have come to associate Sterek fandom with an aggressive campaign to make the Stiles/Derek pairing canon, which Daily Dot writer Aja Romano discussed earlier this week in "Why slashtivism is hurting Teen Wolf fans."
Even Sterek Week's tagline is strangely defensive: "We are not the abominations. We are the Alphas." This is actually a reference to Teen Wolf showrunner Jeff Davis describing Sterek fans as the "Alphas of fandom," but it implicitly promotes the same divisive, us-and-them attitude that led to Sterek fandom's problems in the first place. Was anyone actually calling Sterek fans an abomination? Doubtful. Is a sudden influx of extra Sterek posts, combined with the message that Sterek fans are "Alphas," going to endear them to the rest of Teen Wolf fandom? Almost certainly not.
It's hard to tell how much Sterek Week has caught on so far. The Tumblr tag seems pretty popular, with plenty of awesome fanart and new fanfic, but then again a lot of people would've been posting about Sterek every day anyway.
Hopefully the friendly message of Teen Wolf's "operation positivity" hashtag goes as planned, and unites the fandom rather than widening the Sterek-based divide. 
Illustration by sharkieboo/deviantART