Unless you've been living under a rock—or faking your own death—you've probably heard that Sherlock is finally returning for series 3. 
After a two-year wait, the popular BBC series, which saw fandom favorite Benedict Cumberbatch take a flying leap off a rooftop as Sherlock Holmes, finally has a U.S. air date (Jan. 19), with the U.K. air date expected to arrive near the end of the year. It also has an enticing new promo image that's been delighting the fandom since the BBC tweeted it out two days ago.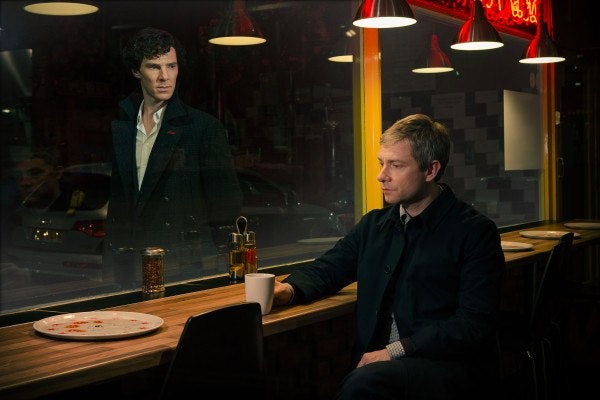 Photo via BBCOne/Twitter
The image pays homage to one of the most famous aspects of the original Holmes canon: the long period of time in which Holmes faked his own death. In the final series 2 episode, "Reichenbach Fall," Sherlock's rooftop dive referenced the one the original Holmes took over the famous Reichenbach Falls in a grim fight with his nemesis, Moriarty. But just as in the original, all is not what it seems: Sherlock is (spoiler alert!) still alive. 
The fandom, having had two years to live without more Sherlock, pounced on the image, which depicts a forlorn John Watson (Martin Freeman) trying to adjust to life without Holmes, with no idea that his friend is still out there. Among the many edits that fandom has made, the latest one to go viral, by Tumblr user sallydonovan, is our favorite, taking all the pathos of the original image and warping it into whimsy instead—a quintessential Sherlockian quality.
And the best part? The mug.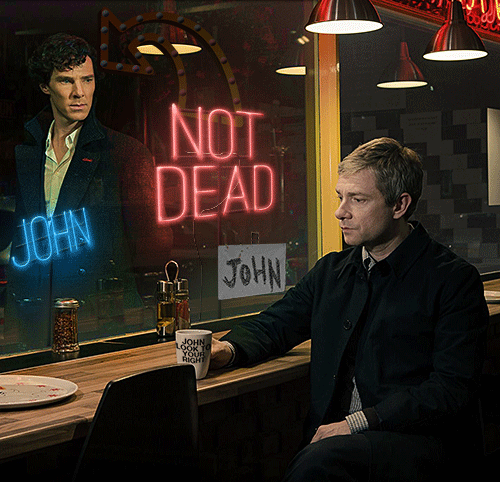 GIF via sallydonovan/Tumblr
The GIF has gotten over 60,000 notes on Tumblr in just under a day, and is already popping up in other places across the Internet.
If this is a sign of all the fan creativity and energy that will burst forth when the long wait for Sherlock is over, then it looks like Sherlock fandom is going to have one very happy new year.
Photo via BBCOne/Twitter