Some TV shows have that wonderful, Tumblr-friendly ability to come across in just a few GIFs. After all, you don't really need any context to appreciate the genius of an anime GIF that appears to show Jesus Christ and Buddha hanging out together in modern-day Japan.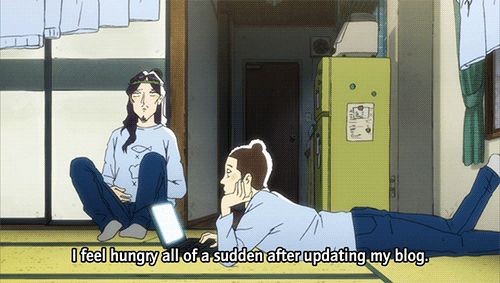 GIF by sacerno/Tumblr
Adapted from a popular manga by Hikaru Nakamura, the Saint Young Men movie is a slice-of-life sitcom about (yes) Buddha and Jesus living together as roomies during a "vacation" from their sacred duty as religious icons. Jesus is a sweet-natured shopaholic with a TV blog, who occasionally performs minor miracles when he's stressed out or feeling particularly holy. Buddha is a calm, serious manga fan who regularly attracts the attention of birds and animals who flock to him as if he's a Disney princess. 
It's also the first and only fictional depiction of Jesus where you find yourself thinking, "Hey, I kind of identify with this guy."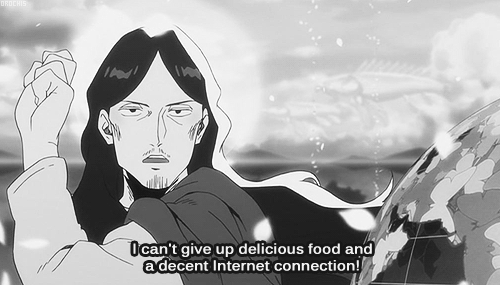 GIF by aleart2595/Tumblr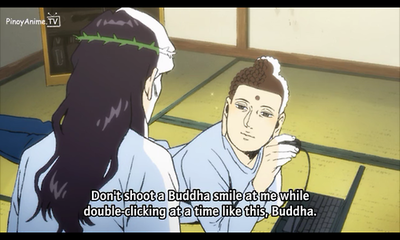 Screengrab via depressedrebel/Tumblr
The movie came out in Japan early last year, but its Western fandom only began to blossom over the holiday season when suddenly, the only non-obnoxious Christmas GIFs on Tumblr seemed to be these strange images of Anime Jesus looking super excited to put a star on top of the Christmas tree. 
Saint Young Men may technically involve Jesus eating a Santa-themed "birthday" cake on December 25, but somehow it still seems less saccharine than most actual Christmas movies. Fans are far more concerned with things like this:
"I'M SORRY BUT I'M GETTING REALLY EMOTIONAL OVER THE FACT THAT BUDDHA GOT JESUS A BIRTHDAY PRESENT FOR CHRISTMAS AND HID IT IN THE CLOSET ITS SO CUUUUTE"
Of course, the inevitable issue of shipping—rooting for a particular relationship pairing—is slightly more contentious when the fandom in question is a movie where the two main characters are holy figures. To ship, or not to ship?
Friend"When you watch Saint Young Men you will ship Jesus and Buddha" Me"IM NOT SHIPPING JESUS AND BUDDHA IM CHRISTIAN" "YOU HAVE NO CHOICE"

— ✦ (@puribo) January 6, 2014
Yes, Jesus and Buddha are pretty cute together. But while the movie and manga are both very lighthearted and the characters bear little resemblance to their namesakes, a handful of viewers are still horrified by the supposed lack of respect in Saint Young Men's fandom. Namely, the concept of "fangirls" making "lewd art" featuring Jesus Christ, or writing racy slashfic. Shipping wars exist in every fandom under the sun, but this is probably the only one that has inspired its fans to call each other "nasty and offensive and extremely sacrilegious."
Concerned viewers can rest easy, though: At least one man of the cloth thinks Saint Young Men is totally hilarious. Also: can it really count as sacrilege when you're already at least two degrees of separation away from the original source? What is God's policy on transformative works, anyway?
We'll leave that one for the religious scholars to decide. In the meantime, check out this awesome Saint Young Men cosplay. We're almost certain it doesn't count as idolatry.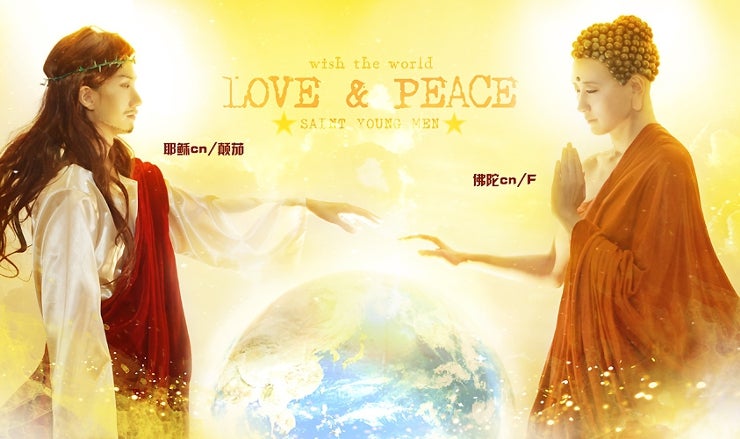 Photo via worldcosplay
Screengrab via rikocb/Tumblr