What if you could go to high school with Pac-Man? What if you could date him? If you think that's cool, you're in luck: thanks to an enterprising game developer and Andrew Hussie, the genius behind Homestuck, you could wind up holding hands with some of your favorite video game characters—including everyone's favorite cheese wedge.
Yesterday at San Diego Comic-Con, ecstatic fans of Homestuck, the world's most insanely complicated and insanely popular webcomic, learned that its creator, Andrew Hussie, is branching out. The Japanese game developer Namco Bandai has announced that Hussie is creating a high school dating sim just for them, using characters from across their wide selection of games.
What's a dating sim? It's a super-popular form of video and Web game where the goal is to date the character of your choice. Hussie plans to work with a division of Namco Bandai, which has done video game adaptations of a wide variety of popular gaming, sci-fi, and anime, and put its characters in a fictional world where they're all high school students. But don't let the game's happy blue-and-pink promo image fool you. Given Hussie's penchant for sadistic twists, this could be a classic sim with lots of unexpected shocking moments and darker subplots.
Namco Bandai didn't announce the characters that Hussie would be working with, but the roster of stories that could be available for the dating sim include everything from Pac-Man to Naruto. Fans have been running with the Pac-Man theme—even though we don't know any game details, Tumblr fans are crossing over Hussie's Homestuck characters with the bright-yellow chompmonster we all know and love: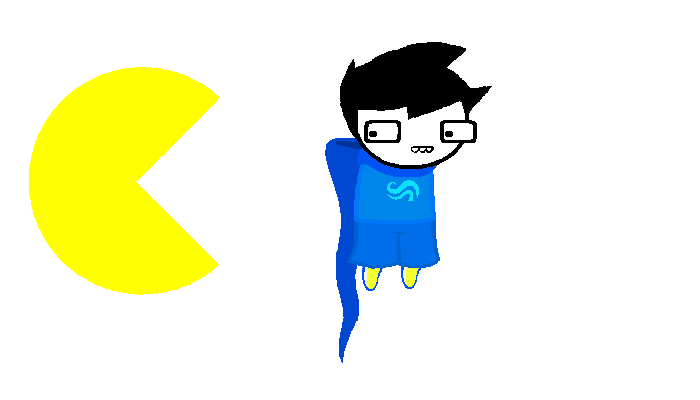 GIF via jadeslick
"There is no creator with more of a vibrant originality right now than Andrew Hussie," the project's editor in chief, Rob Pereyda, said in a statement yesterday. "We are beyond excited to see where he takes these characters and the unique relationships that will literally unfold between them."
Is there nothing Hussie can't do? Last year he sailed through one of the most successful Kickstarter campaigns in history, raising $2.5 million for a Homestuck adventure game. Oh, and there was that time PBS compared his 5,000-page interactive masterwork to Ulysses. 
Homestucks may be disappointed that the webcomic's epic ensemble cast will be missing from the datable characters in Namco High's lineup. But if there's anything we've learned about Andrew Hussie, it's that he knows how to tell a great story.  
And there's no doubt Hussie willl deliver a good game. He's conquered webcomics, adventure games, and interactive video games. The real question is: Where will Hussie spread his talents next?
Photo via ShiftyLook