Orange Is the New Black has been a summer miracle for Netflix since debuting in early July. And while it's hard to gauge just how many people are streaming the hour-long dramedy, everyone is talking about the show's cast of characters and the parallels between its web of prison relationships and social media networks.
Orange is perhaps the next logical step from Weeds creator Jenji Kohan, the story of a woman who made a bad choice and now has to face the consequences. But it has far expanded Weeds' scope. If it were a movie, it would pass the Bechdel Test with flying colors.
The show was informed by the real-life experience of Piper Kerman (played by Taylor Schilling), who served 13 months for money laundering at Danbury Federal in Connecticut, starting in February 2004. She wrote a memoir about her experience, called Orange Is the New Black: My Year in a Women's Prison, in 2010.
The show doesn't hold back illustrating the complicated relationship between female inmates and male corrections officers, which gives even more traction to the female camaraderie. Piper and Alex (Laura Prepon) are in jail because Alex was a pusher, and Piper was her mule, not roles often given to women on television. There are parallels with BBC America's cult hit Orphan Black and Jane Campion's Top of the Lake. (Surely more than one person has fantasized about merging Orphan Black's clones and Orange's inmates.)
The idea of women in prison has been fetishisized and sexualized, but Orange humanizes it. We see the maternal bonds that form, like that between head cook Red (Kate Mulgrew, who played Capt. Kathryn Janeway on Star Trek: Voyager) and the plucky Nicky (Natasha Lyonne). We also see relationships strengthen or dissolve, across class, race, and religious divides. In documenting the lives of these incarcerated women, Kohan documented the larger structure of female friendships and the complexities of sexuality.
The culture blog Autostraddle has been doing Orange recaps and highlighting the show's queer and feminist themes. There is a trans character, Sophia, played by a real trans activist, Laverne Cox. There's a butch lesbian, Big Boo, played by comedian Lea DeLaria. And in the comments, there are women talking about a show with female characters, written for and (largely) by women.
Orange's relationship map is impressive: There are more than a dozen imprisoned women whose backstories we learn over 13 episodes, and eventually we begin to see all the connections.
What's even more impressive is the way those stories are evolving online. It's an continuation of sorts of the Pipebomb blog, which chronicled Kerman's time at Danbury Federal back in 2004, and provided a look into prison trends, like the top 10 most popular books at Danbury, and a recipe for prison cheesecake.
As with the hit YouTube series Lizzie Bennet Diaries, the narrative is being extended across social media channels. On Friday evenings, cast members take to Twitter for "visiting hours," where they answer questions about the show, their characters, and the future of Orange, which has already been given a second season. Twitter also offers a DIY tutorial on how to make duct-tape prison sandals, as seen on the show.
There's a Tumblr devoted to the storytelling aspect of Orange, and the GIF-based fandom that's sprung up around it. There's a Tumblr devoted to all the books featured on the show. In fact, Tumblr's been a valuable platform for a type of female-character-driven fandom that wasn't necessarily being represented. It's a place where fans can reconstruct the world of Orange in their own way. There's also been plenty of shipping, this being a show set in a women's prison and all.
There's an Instagram account that's collected all Orange's memes, and the inevitable "teams" that come with fandom. In this case, it's Piper's two paramours, #teamlarry (her fiance) and #teamvause (her ex-girlfriend).
In the Autostraddle post "7 Things We Should Talk About," the writer explains why Orange is hitting so hard:
"It's important to be super fucking aware of why a show or movie resonates so deeply with people and with ourselves. Is it really just lesbian representation that clicks a switch or is it a mixture of groundbreaking television and old school tropes that no one dares to dismantle? And it's not just about dismantling the patriarchy, it's about responding to art. That's part of the reason why people create, right? To evoke emotions, thoughts, fucking feelings from the people around them."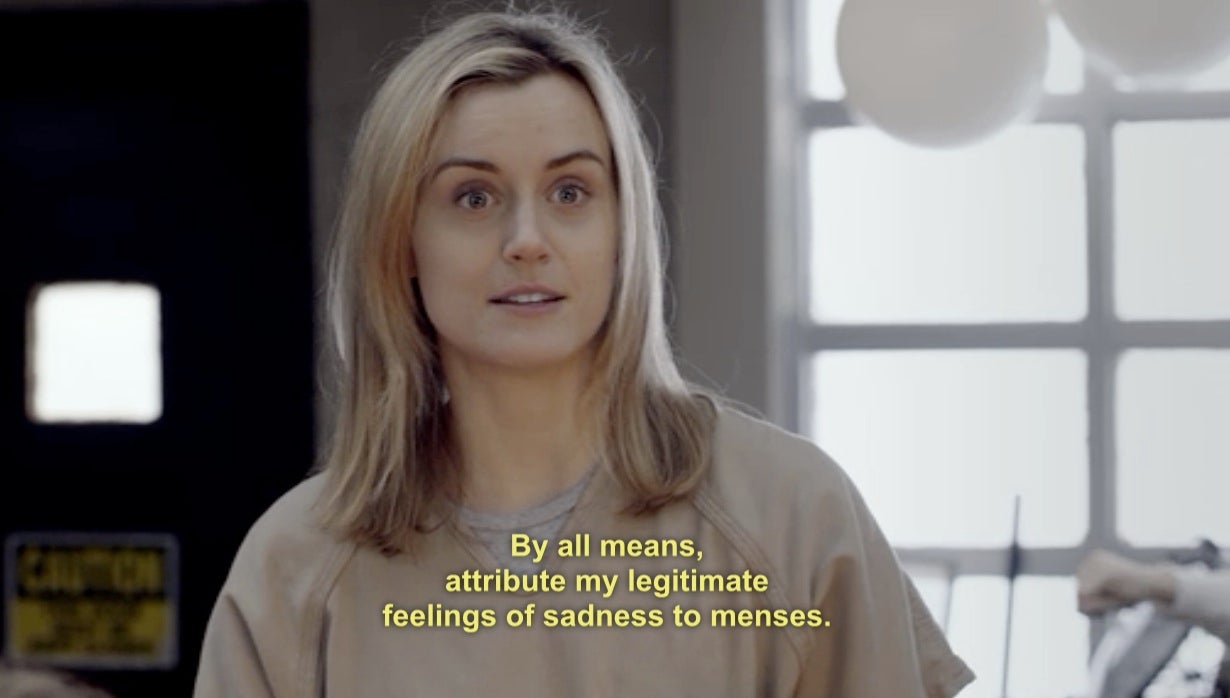 Perhaps most interesting is how Orange, and Netflix's original programming in general, has changed the way we talk about and interact with TV. Netflix's streaming format has turned binge-watching into a necessity, if we want to talk about the show around the virtual watercooler, and share all our emotions in real time.
With Orange, it's allowed us to explore the complexities of women's life and work, and start a larger discussion about it. And that feels like progress. 
Screengrab via Netflix