Star Trek has its Klingon speakers and Tumblr fan culture has its art, its fanfic and its Adagio tea blends. But, to my knowledge, Quidditch is still the only successful fandom sport.
At LeakyCon London last week, I met up with a couple of real-life Muggle Quidditch players at their recruitment panel. Quidditch, we learn, is no weirder than any other sport, plus it includes a built-in entertainment element in the form of the Snitch.
In the Harry Potter books, the Snitch is a tiny gold ball with wings, and it's the Seeker's job to catch it while the rest of the game is in play. While the rest of Quidditch can be reinterpreted as a reasonable combination of rugby, dodgeball, and basketball, a flying, semi-sentient ball is kind of difficult to recreate in real life. So in Muggle Quidditch, the Snitch is played by a human being. 
Because the Snitch has to try and stay free as long as possible, it's allowed outside the confines of the Quidditch pitch. Also, unlike the Seekers or other team players, it can do things like ride in a vehicle, shoot water pistols, or climb something to get away. The Snitch also acts as a kind of mid-game entertainment, and is given a grace period at the beginning of each game to pull pranks on the players. Appropriately, the head of the British Snitch league is tiny and puckish, and she looks kind of disappointed when she tells us that it's now forbidden for Snitches to climb the outside of buildings to escape the Seekers. 
Although LeakyCon London is mostly attended by British fans, most of the main fandom subcultures are based in the U.S. Aside from British actors from the Potter movies, the special guests at the convention are all American: Hank Green, Starkid, Mark Oshiro of Mark Reads, and a selection of wizard rock bands like Harry and the Potters. Similarly, Quidditch is a big deal in the U.S., but the U.K. has taken longer to catch up.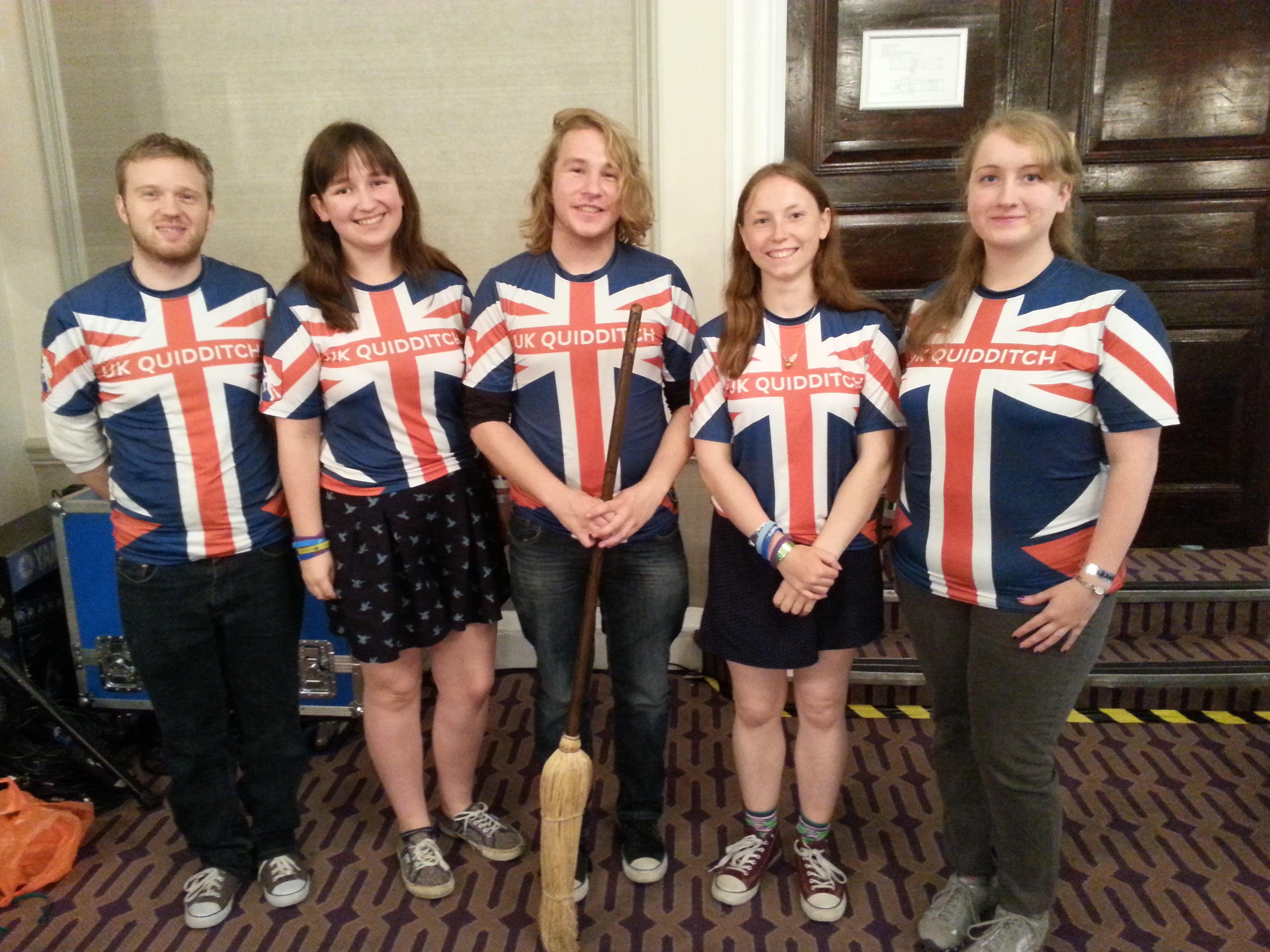 Photo by Gavia Baker-Whitelaw
My immediate assumption was that British students are more cynical than their U.S. counterparts, and might find it embarrassing that Muggle Quidditch involves having to hold a vestigial broomstick between your legs while you play. However, the Quidditch players at LeakyCon tell a different story: funding issues. While U.S. colleges are reasonably happy to lend money to Quidditch clubs, British and Irish universities don't view it as a real sport or cultural activity worthy of funding. At the end of the panel, there even are a couple of earnest questions from audience members about how to apply for grant money to support their own Quidditch teams. Considering the amount of organization, training, and health and safety certification it apparently takes to set up a Quidditch team, I'm already offended on their behalf that people aren't taking them seriously. 
In an email to the Daily Dot, Canadian Quidditch player Clare Hutchinson explained that while many parts of Harry Potter fandom can thrive exclusively online, an actual sporting league requires real-world proximity, accounting for why British Quidditch is still somewhat isolated.
"They are at a disadvantage in that they are so geographically disparate from the top competitive teams. Thus, it makes it hard for them to reach the same level of competitiveness because they're not facing top competition on a regular basis. When teams aren't facing other top teams, they tend to remain as fun Sunday leagues, which means that the culture surrounding the sport is different. Each region tends to have its own flavor and quidditch culture, and there's quite a bit of regional pride and regional identity/rivalry."
Also, it's harder to advertise Quidditch unless you can actually see a game in real life, because YouTube footage is "notoriously Quaffle-focused." In other words, the camera follows the ball like in the coverage of football or basketball, even though in Quidditch there's way more going on in other parts of the pitch.
However, U.S. Quidditch player and International Quidditch Association representative Dan Hanson had a little more optimism, saying that the European league is likely to grow over the next few years.
"Quidditch spreads by pollination—a team needs other teams around it to play games with and thrive. Originally, Quidditch was isolated in the Northeast, near where it was invented at Middlebury College in Vermont. Back in 2008, a team like Louisiana State University (LSU) had to fly almost 1,000 miles in order to play competitively.

The U.K. seems to be on the same trajectory as the U.S., but about four to five years behind. The U.K. has several passionate leaders who are volunteering their time, creating tournaments, and establishing their unique brand of Quidditch culture that can be noticed from all the way over in the U.S. Europe could soon become what the U.S. is now, in terms of a continent where Quidditch teams travel all over to play matches and tournaments. London and Paris could become the European quidditch hubs that New York, Boston and Los Angeles became over time."
At the moment, there are only about 20 U.K. Quidditch teams, although Clare Hutchinson's description of the World Cup is something to aspire to. With halftime concerts, trading cards, and official sportswear, "International" Quidditch is about as real as you can get. For a sport that was created by fandom and spread via Facebook, YouTube, and word of mouth, that's pretty impressive. 
Photo by Isabella Gong