Racist backlash aside, the new Miss America is pretty popular. What's not to like? She's going to med school! She makes dorky jokes like "How many beauty queens does it take to change a lightbulb?" And, as some people have already begun to point out, she's kind of a nerd.
The idea of Nina Davuluri being the first Indian Miss America and the first geek Miss America is undeniably awesome. Particularly since she actually said in one of her pageant interviews that she's a fan of both Star Wars and Star Trek. Add that to a newfound photo of her wearing Jedi robes, and geek culture bloggers quickly started writing articles with titles like, "Is Geek America ignoring Miss America?"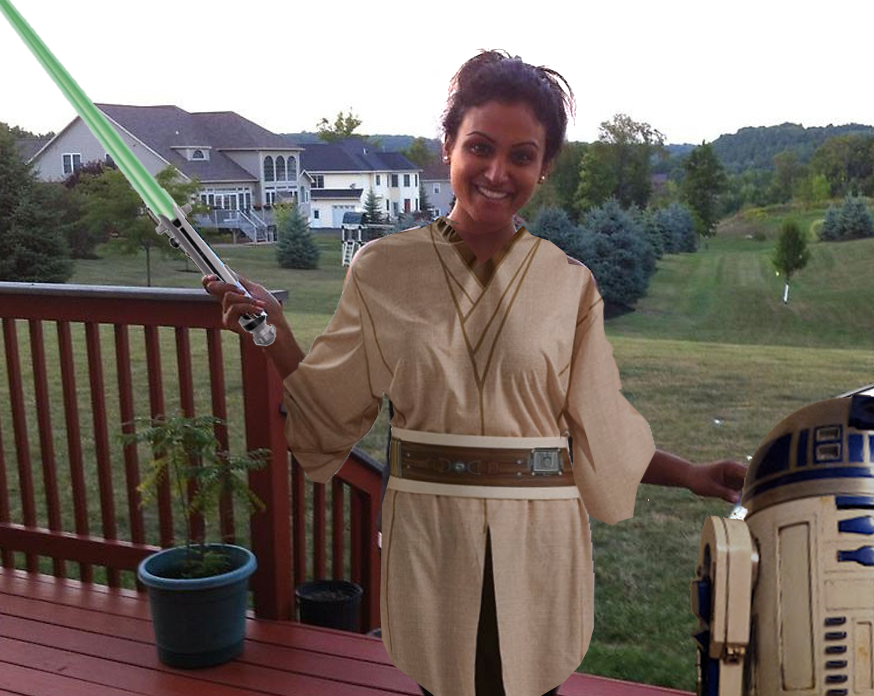 Photo via Originalspin/sett.com
Over at ScienceFiction.com, there's even a post pointing out that wearing a Jedi costume proves that Davuluri isn't just a geek, but a serious, non-"Fake Geek Girl" kind of geek:
"First of all, she's dressed as a Jedi, not Slave Leia.  She's expressing her love of the franchise, not titillation.  Second, that's one of those expensive light up Lightsabres, not a cheap extending plastic one. And, third life-size R2-D2?! Find me a fake geek that owns one of those!"
Interesting point. Although there's already some debate over whether Davuluri's apparently store-bought Jedi costume counts as "real" cosplay or not. 
Miss America is blindingly beautiful, went to Michigan, AND there's a picture of her in full Jedi cosplay WHY ARE WE NOT TALKING ABOUT THIS?

— Amber (@ambervamber) September 21, 2013
The only problem is, that photo isn't real. It wasn't even meant to look real. In fact, if you go to the original source, the writer clearly commented to say that the picture was a joke, and that he never expected anyone to believe it.
To be honest, it's amazing that anyone did. It's not exactly a masterful Photoshop hoax. If you look at the image as anything bigger than a thumbnail, you can tell that her head, Jedi robes and lightsaber are all clearly pasted on. There are about four different light sources, R2D2 is hovering in front of her hand, and the lightsaber looks like a cardboard cutout. So why on earth is anyone falling for this?
Wishful thinking, probably. It's not exactly cutting-edge news for a celebrity to say that they're a Star Wars fan, even if they come from the notoriously un-geeky world of beauty pageants. But if there's a picture of Miss America in actual real-life cosplay? Now that's dedication to the geek cause. It's also the kind of thing that racks up thousands of notes on Tumblr, and looks good on listicles about Davuluri's nerd cred attributes.
Unfortunately, it's not even a little bit true. While the new Miss America is a nerd, she's not that kind of nerd. Still, can't it be enough that she's an actual brain scientist in real life? After all, her degree in Brain Behaviour and Cognitive Science definitely took more effort and dedication than just buying a sci-fi halloween costume. And with her future plans including med school with the eventual aim of becoming a cardiologist, you can't exactly get away with calling her a Fake Geek Girl. 
Photo via Originalspin/sett.com.