Sometimes, dressing as your favorite superhero or cartoon character just isn't enough. So at Internet culture convention DragonCon, cosplay often crosses the line into in-joke absurdity. Like dressing up as a rug.
One of this year's highlights was a pair of intrepid cosplayers who dressed up as the memorably psychedelic carpet at DragonCon's Atlanta Marriott hotel. It was a hit—for everyone but the carpet designer, who threatened legal action when photos landed on Facebook.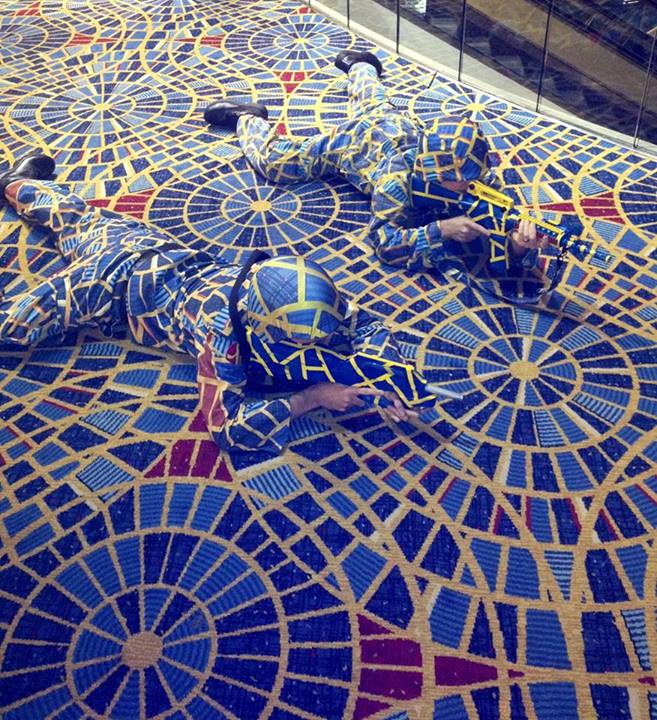 Photo via Facebook
In the world of cosplay, people don't generally expect to get into trouble for dressing up as well-known characters like Superman or Spock, even though the legal teams at DC Comics or Paramount could probably crush them like a bug. Unfortunately, the designers of the Marriott's patterned carpets didn't get the memo about turning a blind eye to cosplay tributes.
Apparently the carpet costumes were so popular that one of the original cosplayers offered a version of the Marriott carpet pattern for the presumably vast number of people who also wanted to dress up in carpet-themed camo gear. Seeing this, carpet designers Couristan Inc. sent cosplay suppliers Volpin Props a Cease & Desist letter. As Volpin Props explained on their Facebook page today:
Of all the things to get a Cease and Desist over, of ALL the replicas I've made over the years, I've received one from Couristan Inc., designers if the Marriott Marquis Atlanta hotel carpet. Spoonflower has pulled the design, as is their right, so sorry everyone who wanted some fabric of their own!

The absurdity is palpable.
As one commenter pointed out, "If they were smart, they would contact you to do promotions FOR them." After all, what other carpet manufacturer has its own fandom? 
Photo via Facebook