If you're a sci-fi geek or know anyone who is, Pacific Rim was probably the talk of your weekend. It's earned near-immediate devotion, but Guillermo del Toro's high-budget ode to a half-century of Japanese story tropes has suffered from marketing difficulties and the rejection of anime fans claiming it's a ripoff of the stories they love rather than a homage. 
But there's one thing that everyone can agree on. Idris Elba is handsome. Matt Seitz at RogerEbert.com gushed that Elba, who plays the imposing Stacker Pentecost, is "the most dashing man alive." The Wall Street Journal panned the film but still deemed Elba "impressive, as always." And Salon's Andrew O'Hehir, after explaining the film's epic plot, snarked, "Now let me get out of the way so you can swoon over Idris Elba."
Hold up. Are we supposed to know that guy?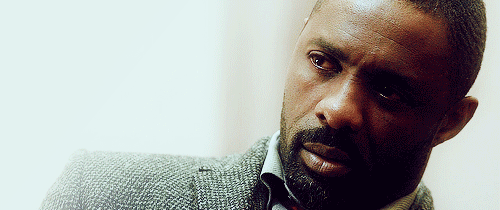 GIF via televisioncrushtournament
Damn right you are, if you're a fan of iconic 2000s HBO dramas—or if you've ever spent more than a nanosecond on Tumblr. On the cusp of playing Nelson Mandela in November's Long Walk to Freedom, Idris Elba—It's pronounced "id-ris," not eye-dris or eed-ris—is poised to finally win the mainstream attention he's been courting for years. The 40-year-old British actor has never had a breakout leading movie role, but he commands the obsessive fan following of someone who's spent years at the top of the A-list. Here's why. 
1) Idris Elba is Stringer Bell from The Wire.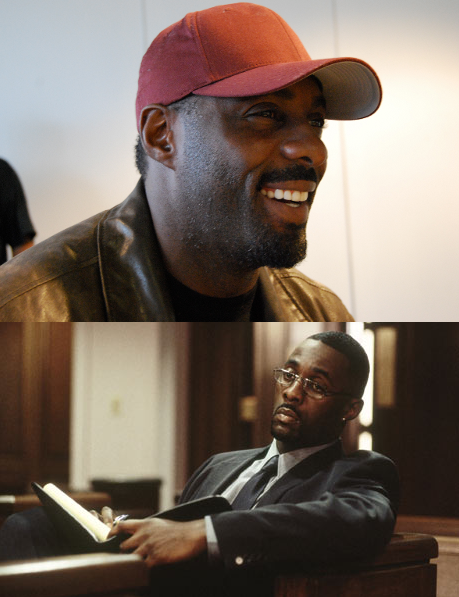 Photos via 31004024@N04, welovetvmore/Tumblr
Wait—this GQ-ready British gent was the ruthless, macroeconomics-studying drug general in the greatest American TV series of all time? 
"A lot of people don't know my name," Elba commented after winning his Golden Globe. "They know Stringer Bell, but they don't know my name."
Elba's performance as Stringer, easily one of the most complex characters ever written for the small screen, was universally acclaimed (along with every other aspect of the groundbreaking Baltimore crime drama). But ultimately, what most audience members and critics seemed to take away from Elba's performance was this: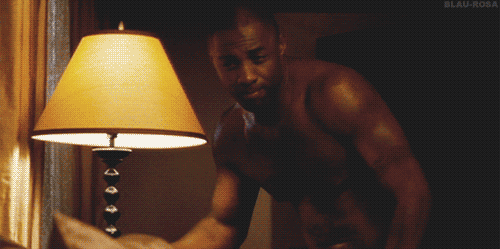 GIF via tiemposbuenos/Tumblr
You take your shirt off for one scene out of 37 intricate episodes, and all anyone can talk about for the rest of time is how hot you are?
Well played, Elba. Well played.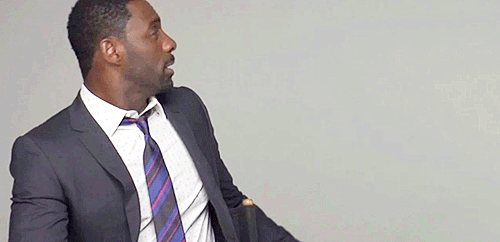 GIF via ellesrpstuff
2) In Pacific Rim, he fights Kaijus and wears Mechas.
In Pacific Rim, Elba isn't the one who climbs into the giant mechanical robots which his team uses to fight the invasion of gargantuan monsters from the sea—but he still gets to wear a snazzy suit.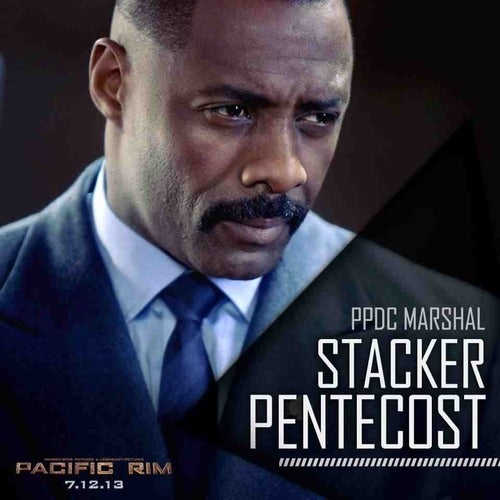 Photo via gypsysong/Tumblr
Pacific Rim relies heavily on well-trodden tropes of Japanese cinema and anime, a fact that's both delighted and alienated geeky audience members in turn. Know your terminology: the name for the giant Gojira-like monsters who walk out of the ocean is not "Godzilla wannabes." They're called Kaiju, "strange creature," and the Kaiju genre of monsters destroying Tokyo is as old as Godzilla himself.
The giant robotic fighting machines which the Pacific Rim team uses to fight back? Those are also a long and storied part of anime culture. They're called Mecha, and they refer to human-powered robot suits that sometimes are sentient, but are mostly just badass. If you want to get really geeky, the full-bodied armor suit that Elba wears, much like the powerful body suits in Iron Man, are sometimes called "K-Suits," a term deriving from Superman's lead-lined suit that protected him from Kryptonite, or "mobile suits," which are smaller and based on the classic anime Gundam Wing.
3) He's spent the last decade being billed as the next James Bond.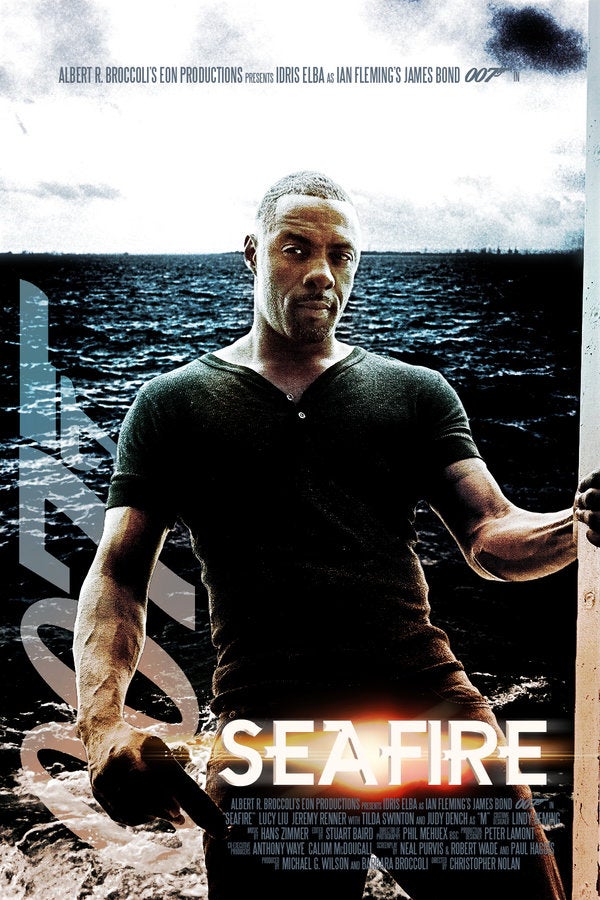 Illustration by olukemi/deviantART
Whatever you do, don't call Elba "the black James Bond." Even before Daniel Craig, Elba's costar in 2004's Layer Cake, got the job, the up-and-coming Elba was being bandied about as a superb choice to take over the role of 007. At some point during the last seven years, he even met up with longtime Bond producer Barbara Broccoli to discuss taking the role. 
Elba has denied the rumors so often over the years—when you Google his name, "James Bond" is one of the main suggested results—that he seems to have eventually given up and started courting the idea. "The bottom line is of course I'd be honored to play the part," he stated after the Golden Globes.
Lots of other people like the idea, too. The "We Want Idris Elba for James Bond" Facebook page has more than 27,000 likes.
4) He won a Golden Globe for Luther.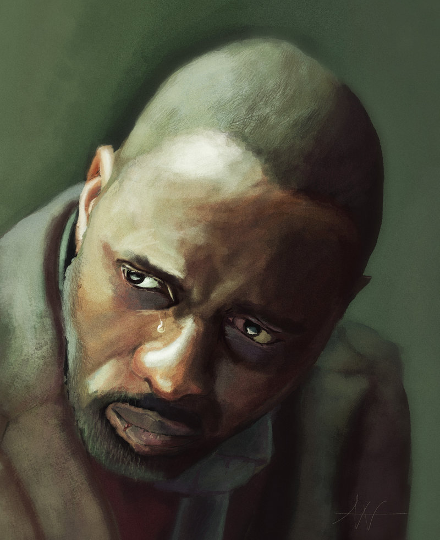 Illustration by ddreg/deviantART
In the BBC's three-season miniseries Luther, Elba plays a troubled London cop whose obsession with the violence of his crimes often threatens to spill over into violence in his own life. In its two short seasons, Elba brought his role international attention, and helped catapult BBC America to its highest ratings to date. Oh, yeah—and he won a Golden Globe for Best Actor in a Miniseries.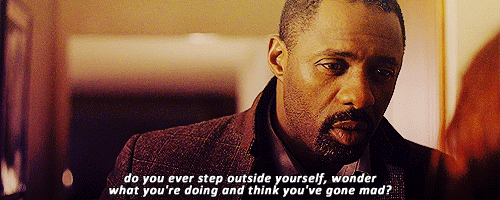 GIF via da-nyet/Tumblr
Season three, which just began airing this month, will be the final one—but plans are already in the works to bring Elba and Luther to the big screen.
5) He also does hip-hop.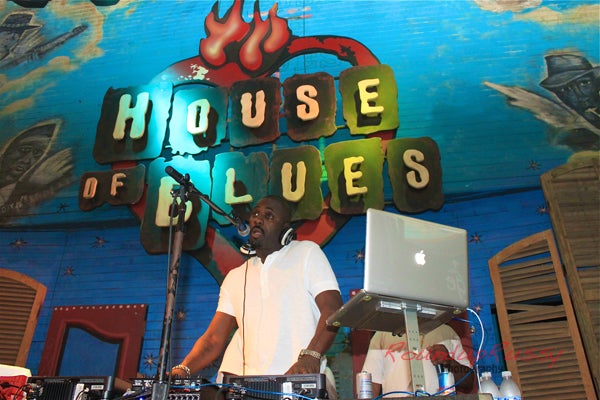 Photo via rounduprussy/Flickr
When he's not acting, Elba moonlights as a deejay and hip-hop producer. 
6) Oh, and he sings, too.
Yes, this is Idris Elba performing his own soul music while wearing denim and crooning "I will be gentle with you."
7) Sometimes he and Lucy Liu sing in a band with Mos Def. 
No big deal or anything.
Last year, at England's Big Chill music festival, Elba, Liu, and Mos Def jammed onstage with a fun electronica-pop conglomerate known as the Bullitts, the brainchild of musician and producer Jeymes Samuel. Elba has collaborated with the group on several projects.
8) Yes, he has a Twitter. And yes, he does post selfies.
You can tell when someone's bullshitting you by looking them straight in the eye. Never fails. ;) pic.twitter.com/z9J4pQZKBb

— Idris Elba (@idriselba) May 21, 2013
9) Idris Elba is one of Tumblr's two nonwhite A-listers. (Yes, there are only two.)
Along with actor Chiwetel Ejiofor, Idris Elba has charmed his way into the ranks of Tumblr's own unique A-list, a list that seems to consist of a long line of white men, Jennifer Lawrence, and no one else apart from Elba and Ejiofor.
What's odd about this is that while other mainstream powerhouses like Will Smith and Denzel Washington don't make much of a dent on Tumblr, countless Tumblr users regularly reblog posts of Elba and Ejiofor and their seemingly endless array of dazzling fashion shoots. While it may seem strange that two actors relatively unknown internationally have managed to attract so much attention from fandom, it helps to remember they fit Tumblr's three main criteria for vaulting to its A-list. They're both British—an automatic fame-booster on Tumblr. They're both associated with geek-friendly projects—Ejiofor for his role in Serenity and his rumored upcoming role as Marvel's Black Panther, and Elba with roles in Pacific Rim and Thor. And they're both associated with the BBC, another automatic fame-booster for Tumblr's anglophiles: Elba as Luther, and Ejiofor as a widely-favored candidate to become the next Doctor Who.
"[I] haven't even seen pacific rim yet and the only thing i know about the movie so far because of tumblr posts is that idris elba can get it," wrote invictusanimi about the only important thing many Tumblr fans care about regarding Pacific Rim: that one of their idols is in it.
10) Let's just call it now: Elba for 2014's Best Actor.
The Wire was snubbed at the Emmys, granted only two nominations—for writing—in the entirety of its cable run (it lost to House and Mad Men). Voters complained it was too complex to follow and didn't have enough Hollywood connections to make them care. That won't be the industry's problem with Long Walk to Freedom, the epic biopic based on the autobiography of Nelson Mandela. 
This trailer just screams Oscar bait. And if there's anything the Academy loves, it's sumptuously optimistic biopics of world leaders played by British dudes. Gandhi, anyone?  
Better learn his name, Hollywood—you're going to be saying it more and more often.
Photo via beaconradio/Flickr