George Takei, the actor best known as helmsman Hikaru Sulu on Star Trek, had just released the must-buy Christmas gift of 2013.
It was called "Eau My," a bottle of cologne inspired by Takei's catchphrase "Oh myyyyy." Takei announced the fragrance on his incredibly popular Facebook page leading up to its release on Dec. 15.
From there, "Eau My" went viral. It was featured on CNET, the Huffington Post, and i09 where it was described as "mined directly from George Takei's personal sweat glands, as this is the scent he normally exudes."
What each of these stories failed to mention was that the original idea for "Eau My" actually came from actor/writer/Internet icon Wil Wheaton—known for his role as Wesley Crusher on Star Trek: The Next Generation—and Reddit user James Martin. 
The story began on May 10, 2012, when Wheaton shared this idea on Twitter:
@GeorgeTakei: I have a million dollar idea for you, George. A cologne, designed by you, called… EAU MY.

— Wil Wheaton (@wilw) May 10, 2012
About five days later, Martin created the following mockup inspired by Wheaton's tweet:
@wilw @GeorgeTakei With that being said, I just had to… https://t.co/4BUAALKv (Quick and dirty photoshop. Bet it smells great, though.)

— james martin (@jmtwelfth) May 16, 2012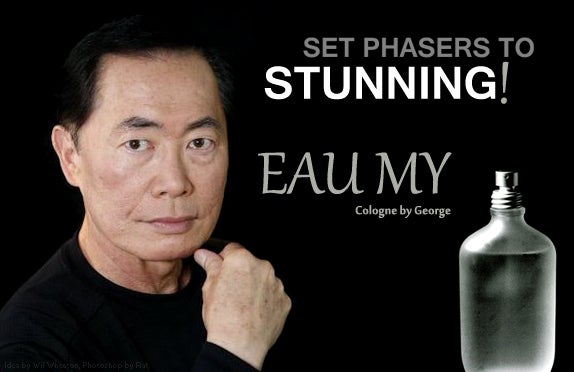 On May 16, Takei found Martin's image and posted it on Facebook, where it was liked more than 78,000 times. 
Over the next 10 months Martin's image was reposted on Reddit a handful of times. It was also reposted on Takei's Facebook in March and August, collecting more than 300,000 more likes combined. Then on Nov. 24, Takei got serious about turning "Eau My" from an Internet joke into an actual product.
He posted the following remix of the "Eau My" image with a link to Amazon where people could preorder his scent.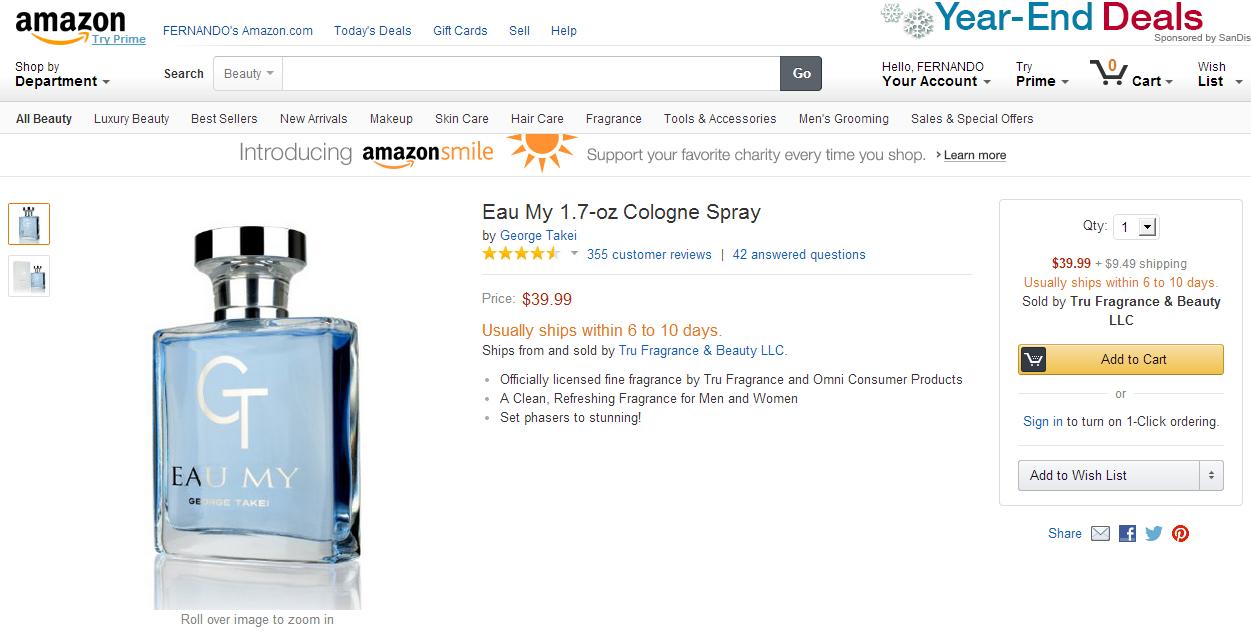 The product reviews left on Amazon from people who had never even sniffed the cologne were incredible.
"I spritzed a small amount on my husband, and he immediately tore off his shirt, grabbed an épée, and took off downstairs to fight an alien intruder," Sabriel wrote on Nov. 25. "Who happened to be our neighbor. Anyway, turns out Eau My is good for covering up carnage odors, too. It smells so much better than the DeForest Pine cologne we tried, not to mention the Doohan Sanitizer."
Martin was conflicted over whether he should make Takei aware of his part in creating "Eau My," Martin emailed the star to say he "was equally as tickled as George was when the Photoshop became reality… asked if I could get a sample of Eau My… and hoped for the best."
It worked out better than he had imagined. 
Martin received the following response from Takei's husband Brad, thanking him for the idea and asking if it were OK to use his name in Takei's next book, which included a chapter about "Eau My":
On Saturday, Martin received a signed bottle of the cologne in the mail.
"First thing that I said was 'Oh myyy, George came really fast,' *tongue in cheek*" Martin wrote on Imgur, where he shared his story. "It was even lovingly wrapped in gift wrapping paper. A nice touch, boys."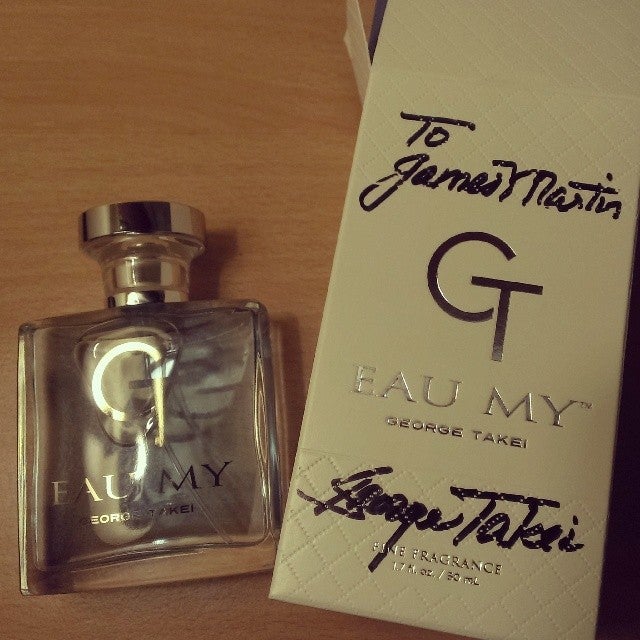 On Reddit's r/geek forum, people have been calling for Martin to receive some compensation for his part in creating "Eau My." At this point, he's just happy with sharing his story and getting a chance to smell George Takei.
"I think the most I could ask for was what I did, and maybe I'll email Brad and let them know that if they're ever in town, I'd like to have dinner with him and George," Martin wrote on Reddit. "Even then, that still seems a bit much."
H/T Reddit