Marvel movies are great at including strong female characters, but not so good at advertising them.
The first set of character posters for Captain America: The Winter Soldier appeared online on Thursday night, and wouldn't you know it, Scarlett Johansson's character has been Photoshopped into some pretty inhuman proportions. You'd think that 2013's Sexiest Woman Alive (according to Esquire magazine, anyway) would pass muster on the body image stakes, but apparently not. Instead, her waist has been cinched several inches, her torso and arms lengthened and, well, she certainly doesn't look 5'3" any more. The end result is far from the tough, athletic assassin we know from the earlier Avengers movies.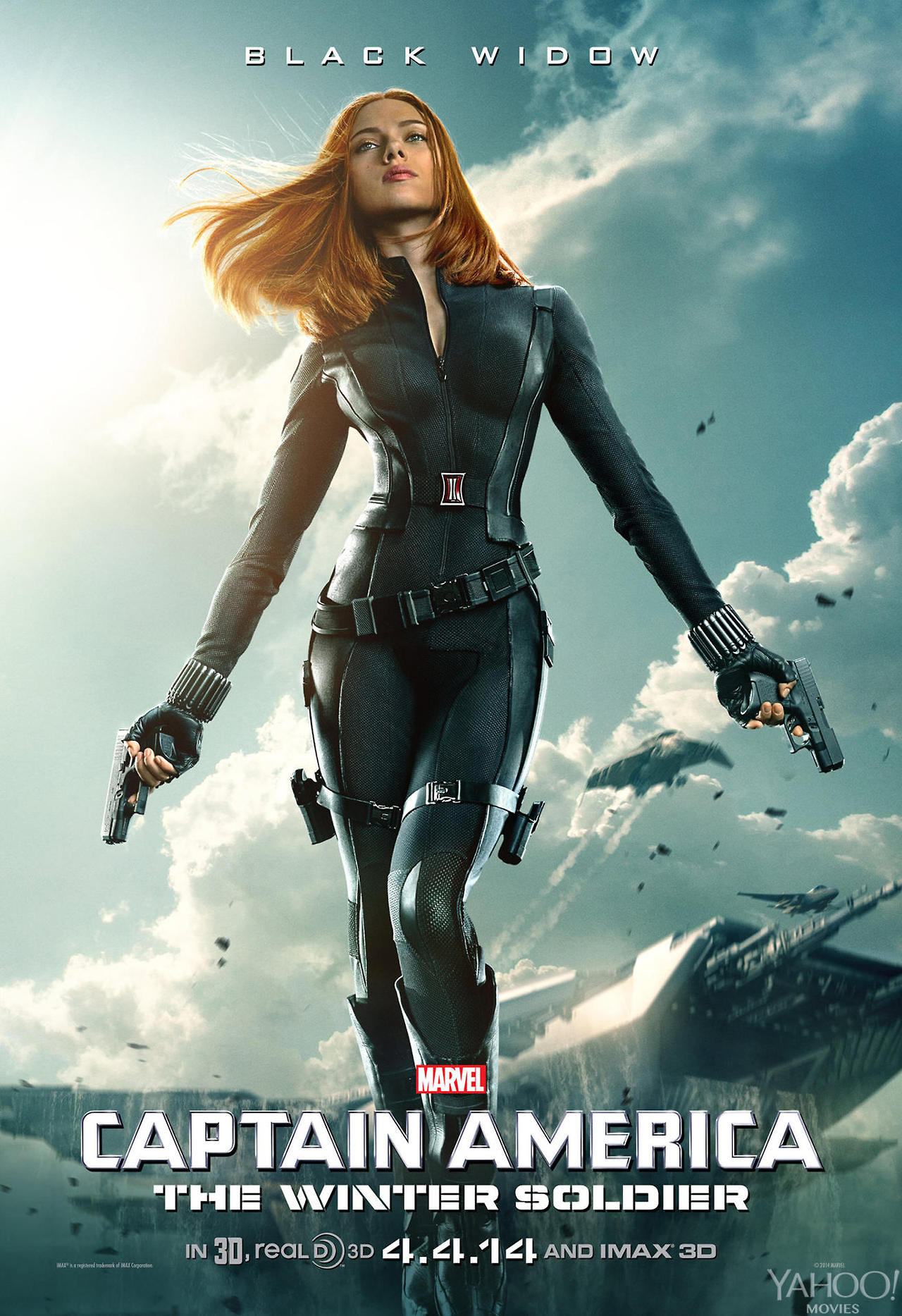 Photo via Marvel movies wiki
The good news is Black Widow wasn't contorted into another Hawkeye Initiative-style pose that attempts to show off her boobs and butt at the same time. On the other hand, there appears to be some kind of weird anti-gravity situation going on with her bra (do the tops of any woman's breasts really look like that?) and she's staring dreamily off into the sky, despite having her fingers on the triggers of two handguns.
Many Marvel fans were less than overjoyed to see that the poster's designer had seemingly removed several of Black Widow's ribs and put her torso in the center of the picture, rather than focusing on her face. As one commenter wrote, "Internal organs are not an imperfection." Tumblr user mary-queenofshots even tried to reverse-Photoshop Scarlett Johansson back to her natural state. If Black Widow is meant to be able to perform her trademark move of strangling men with her thighs, she probably needs to have some thigh muscle to do it.
Photo via mary-queenofshots / Tumblr
While Black Widow's poster shows her in a full-body pose, each of her male co-stars get some kind of stern and serious portrait that focuses on his face. For comparison, here's Samuel L. Jackson as Nick Fury, staring grimly into the camera.
Photo via Marvel movies wiki
Of course, the Black Widow poster does have its defenders. Tumblr blogger chaperoned points out that her pose can be compared Boticelli's "Birth of Venus," particularly due to her elongated limbs and red hair. "This is not sexist," chaperoned writes. "It's building on the idea that Natasha [Black Widow] weaponizes her femininity."
In the end, the weird thing here isn't that an actress ended up getting the Photoshop treatment, but that Marvel's marketing materials for female characters are so often at odds with the way those women are portrayed on screen.
When the first Avengers posters appeared back in 2011, fans were quick to make fun of the fact that Scarlett Johansson was photographed in a sexy pose while all of the male heroes snarled and punched the air. Similarly, the posters for Iron Man 3 showed Pepper Potts in a thin white shirt, clutching helplessly at Tony Stark's armor-clad chest—despite the fact that Gwyneth Paltrow is 40 years old, an inch taller than Robert Downey Jr. in real life, and her character is a billionaire tech CEO.
The thing is, these posters are all a case of false advertising. Despite being portrayed as a classic fantasy damsel in the posters for Thor: The Dark World, Natalie Portman spends most the movie muttering about astrophysics while wearing several layers of oversized plaid shirts. And no matter how many times you hear people mention Black Widow's sexy catsuit in The Avengers, that costume was no more figure-hugging or revealing than Captain America's. So we can be reasonably sure that no matter how tight ScarJo's corset looks in these new posters, she'll be as badass as ever in the actual movie.
Photo via Marvel movies wiki