Visiting famous movie locations has always been a popular activity among fans, but the two bloggers behind Fangirl Quest have taken their hobby several steps further. 
For the past year, Finnish fangirls Tiia and Satu have devoted their free time to road tripping around Britain, photographing as many Tumblr-popular filming locations as possible—and not just the obvious ones. Tours of the various Harry Potter castles have turned into a major British tourist attraction in recent years, but Tiia and Satu's Fangirl Quest took them much further off the beaten track.
The Quest began in Cardiff, where both girls now live. When it comes to filming locations, the Welsh capital city is basically the Vancouver to London's Los Angeles: It's cheap, there's plenty of versatile scenery nearby, and there are already multiple established film crews on site. So many of Doctor Who's alien planet scenes have been filmed in Welsh quarries that it's become something of a fandom in-joke, and in recent years, Cardiff has also stood in for parts of London (Sherlock) and medieval England (Merlin).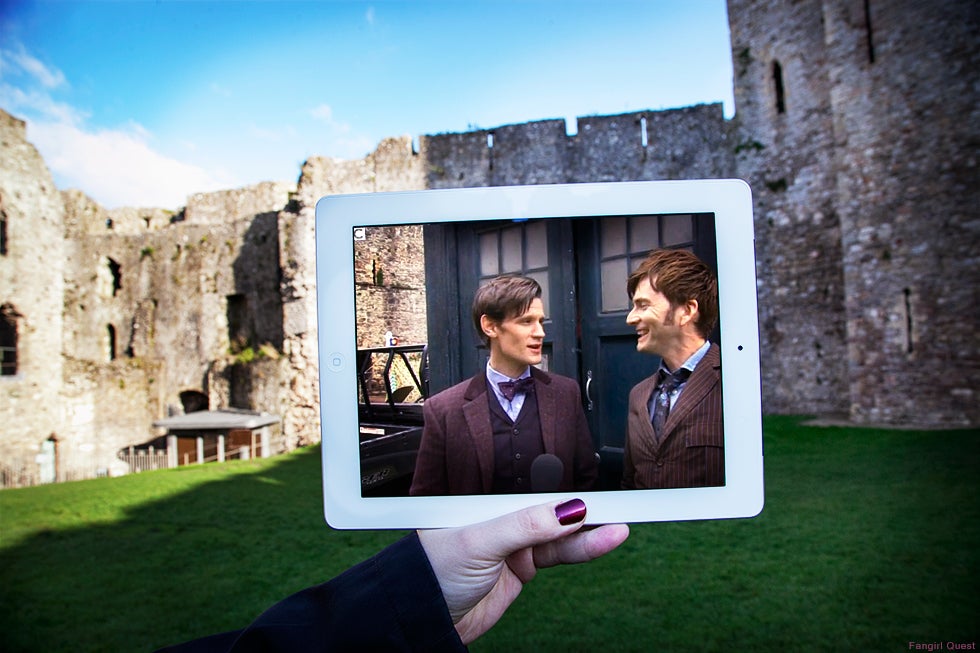 In an email to the Daily Dot, Satu explained how a casual fangirl vacation turned into a meticulously planned road trip across the United Kingdom.
"First we were just supposed to spend a few days in Cardiff visiting some friends, but as we realized all the things that had been filmed in or near Cardiff we figured we'd just rent a car for a few days and go see some of those places. That began a vicious cycle of googling shows that were filmed in the area and then realizing all the other cool places those shows had used as locations. As the planning went on we just kept on adding more and more places. "Oh that's only 50 miles from our current route? Pffffft we can make it!"
This attitude has led to them spending hours poring over Google Maps, researching increasingly obscure BBC drama scenery, and showing up at creepy abandoned quarries just as the sun was setting, only to be confronted by impenetrable security fences. 
Since the start of their summer road trip this year, the Fangirl Quest has taken Tiia and Satu to half of the memorable locations from Sherlock and recent episodes of Doctor Who, as well as various castles and beaches used in films starring Tumblr heartthrobs Benedict Cumberbatch and Tom Hiddleston. Their journey has been followed closely by many other fans, torn between envy (Britain seriously does look like that in real life?) and morbid fascination. You really can't help but be impressed by anyone putting this much work into visiting some tree Bradley James once stood beside while filming Merlin.
In a self-deprecating nod to the ridiculous amount of organization required to keep the Fangirl Quest going, their blog's subtitle is a quote from Doctor Who star Tom Baker: "I think that fan love in a way is superior to ordinary human love because the fans don't seem to get tired." 
Having taken a look at the crowded itinerary for this summer's road trip, we can only agree.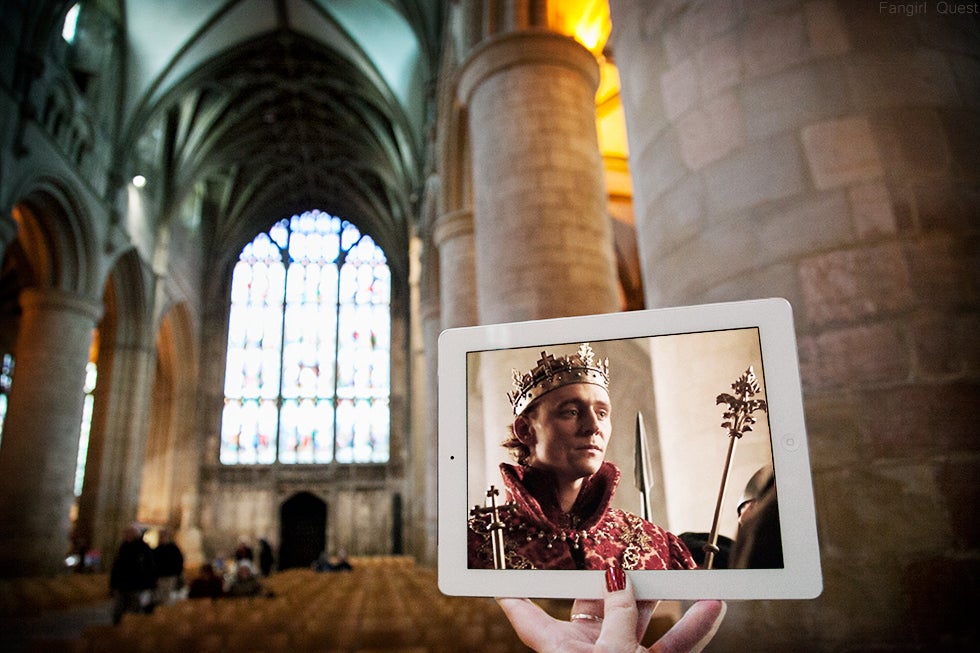 It's not uncommon for geeky shows to have their filming locations publicly listed on fan sites already, but that's usually reserved for major scenes like Sherlock's death, or a Doctor Who planet that's been filmed in the same quarry for the past fifty years. But considering the number of relatively obscure locations the Fangirl Quest bloggers have visited so far, we're impressed they've never gotten lost. Although one time they did try to visit a cave from Sherlock after sunset, and ended up wandering around in a Welsh forest in the pitch dark. Apparently it felt worryingly similar to being one of the guest characters who get killed off in the first five minutes of Supernatural.
The 2013 road trip may be over, but Fangirl Quest has big plans for the future. First they'll probably go for some scenes from the new Thor movie (which was partly filmed in London) and after that, hopefully somewhere outside the British Isles.
"Iceland, for Game of Thrones and Thor," Tiia told us, listing her dream locations. "A million places in the U.S. Calgary, for Brokeback Mountain." 
"Although, if I could go anywhere right now, it would probably be Vancouver. They've filmed so many cool sci-fi shows there and most importantly, Supernatural. A few weeks ago I found this amazing shut down mental hospital where they've filmed dozens of films and shows we like and I really want to visit it. People usually dream about visiting Hawaii or Rome, we dream about trips to abandoned asylums on the outskirts of Vancouver! Isn't it awesome?"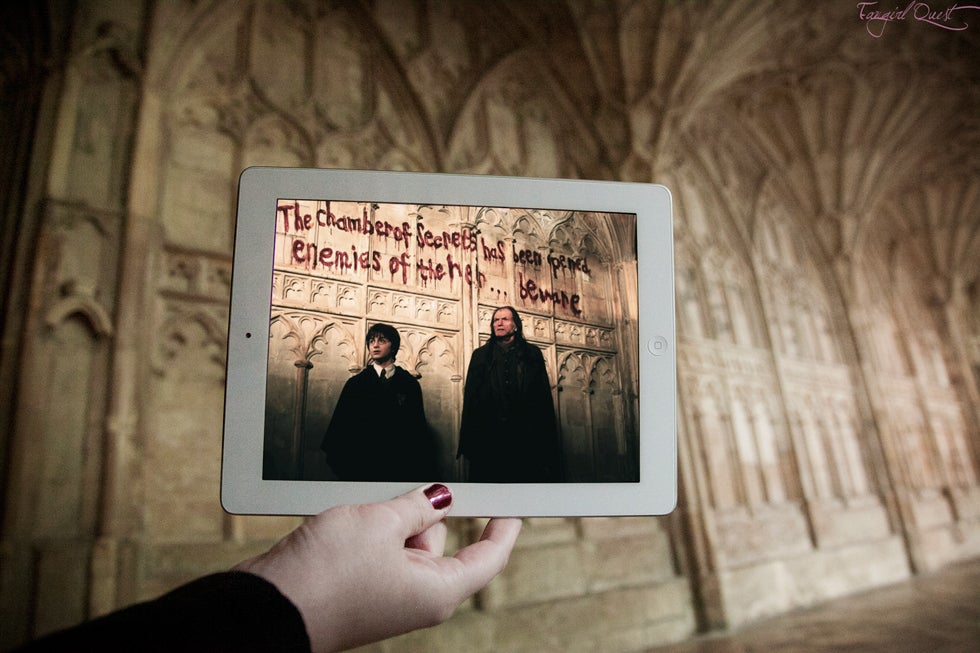 Yes, it's pretty awesome. And we're hoping they do get to visit Vancouver some day, if only so they can lock down the Tumblr fandom trifecta of SuperWhoLock, once and for all. 
Photos via fangirlquest/Tumblr