Ever wanted to see what "wibbledy-wobbledy timey-wimey" actually looks like? Now you can, thanks to BBC America's amazing new Doctor Who time-travel infographic: 50 years of time travel in the TARDIS.
British information visualization studio Information is Beautiful has teamed up with the BBC as part of its 50-year celebration of Doctor Who to illustrate in beautiful interactive depth just how far and long the Doctor and his companions have journeyed. The graphic contains "crowdsourced" research gleaned from a popular Doctor Who fan wikia as well as a fan transcript website.
The calling card of Doctor Who is time travel, and over the show's fifty years—or its 200 trillion years in "real" time—its eleven versions of the titular intergalactic alien have had plenty of romps back and forth through time and space.
The infographic—which only visualizes the years between 1840 and 2040 because "this isn't the inside of the TARDIS after all"—instantly reveals that despite the ability of the Doctor to travel through an infinite measure of time and space in his iconic blue police box, the ability of the BBC to depict such journeys is a bit more limited. Over the years, our 11 Doctors have mostly confined themselves to jaunting back and forth through fairly recent human history—though there have been a few notable exceptions, such as the moment when the Ninth doctor and his companion, Rose, jump forward to the year five billion, to witness the end of the world.
That episode as well as every other episode of the series is detailed as a time jump on the infographic. It also gives us insight into the thematic development of the show. Early on in the series, forward jumps, either from our own past to the present or from the present to the future, were rare. And of course some doctors were far less well-traveled than others—most notably the Eighth Doctor who appeared in only one film (played by Paul McGann) and traveled only 12 years.
By contrast, the reign of Matt Smith as Eleven has seen a veritable explosion of travel to all corners of the time-space continuum.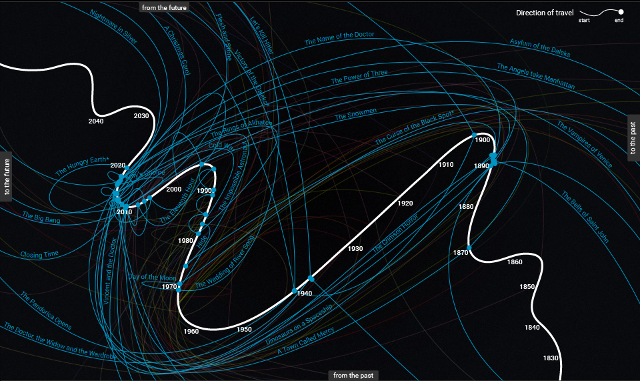 The cult sci-fi classic has become a beloved, high-rated flagship of British television under the reign of reboot creator Russell T. Davies and current captain Steven Moffat. Despite criticism over the recent choice to name yet another white male actor, Peter Capaldi, as the Twelfth Doctor interest and anticipation for the 50th anniversary special are running high.
Airing November 23, the special will reportedly feature the return of several of the classic doctors, as well as popular recent doctors David Tennant and Smith as Ten and Eleven.
Illustration by jayceeloop/deviantART