Being a ninja and a doctor may seem like an odd combination of career choices, but it makes perfect sense for the main character of the webcomic The Adventures of Dr. McNinja. Christopher Hastings created McNinja while attending the School of Visual Arts for a cartooning degree, but the character wasn't always destined for the Web.
Hastings knew he wanted to work in comics, but realized around graduation that he would not get hired by one of the "big two" comics publishers, Marvel and DC, right away. He decided to pitch his own comic to smaller publishers like Dark Horse, but never heard back.
"I said 'Screw it! I don't want to wait for a publisher's permission to make my comics!' I was already familiar with a couple of webcomics like Dinosaur Comics so I built a real simple website, put comics on that, and figured that would be the way for me to do it and get it in front of a couple of people," Hastings told the Daily Dot.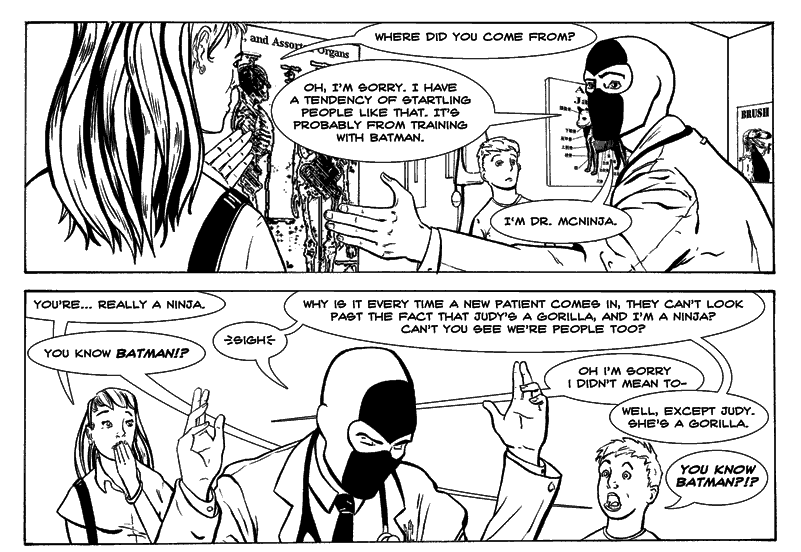 Illustration via The Adventures of Dr. McNinja
How publishers didn't recognize that a doctor who's also a ninja would be a winning combination will forever be a mystery, but the potential of Hastings' creation didn't escape the webcomics community.
Right away, McNinja had fans online, thanks to links from The Something Awful Forums and Ryan North's Dinosaur Comics. Hastings, who didn't know North at the time, sent North his comic to let him know that Dinosaur Comics star T. Rex had a cameo in a Dr. McNinja strip, and he could link to it if he wanted to. North did,  Dr. McNinja picked up 5,000 regular readers overnight. 
"That blew my mind because being set up and taught in the traditional comic world, I understood the most popular comic books sold like 20,000 issues a month. I was like 'ok, all I want to do is be a professional comic book guy and get an audience like that.' Then I had 5,000 people, and about seven months later I was up to 20,000 regular readers." Hastings said.
Dr. McNinja's rapid rise to Internet fame meant Hastings was able to make a living off his webcomic fairly quickly. Around seven months after he started updating the comic, he began selling McNinja T-shirts. He was making twice as much selling merchandise as he was from his day job as a photo retouching assistant, so he quit—and he's been focusing on his comics ever since.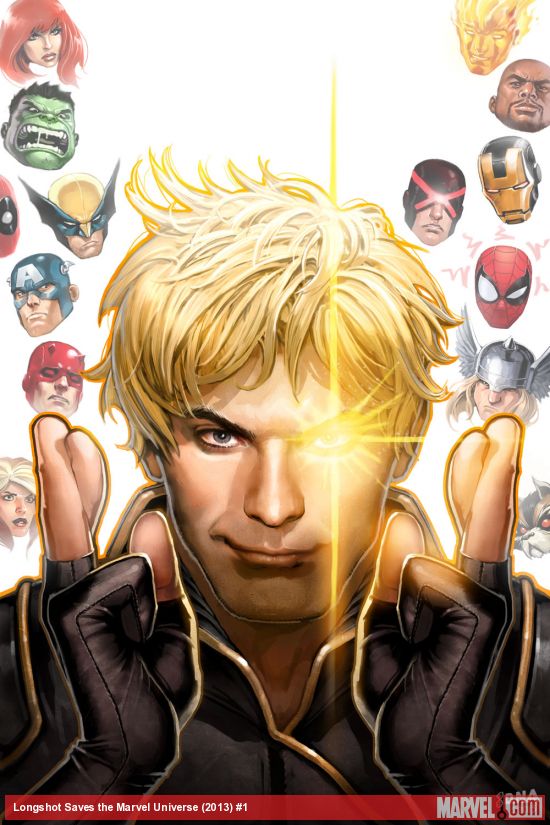 Image via Marvel.com
Now Hastings is regularly involved in three comics projects: He's the writer and artist for Dr. McNinja, an artist for the webcomic Galaga (which Ryan North writes), and an occasional writer for Marvel. He just finished writing a print comic for Marvel called Longshot Saves the Marvel Universe, and previously worked on Fear Itself: Deadpool. 
"I love working for them. Marvel is a wonderful company to work for and my editor Jordan White is just the best. He's super smart and knows how to make these little tweaks that service the story so well. Of course, it's also just fun to play with other people's toys!" Hastings said.
Marvel allowed Hastings to include as many guest appearances as he wanted, which he said was a great excuse to go nuts with a lot of favorite characters from his childhood. Hastings approaches these print comics differently from his webcomics because of their different workflow. While his webcomic workflow can be individual and immediate, he's been writing Longshot Saves the Marvel Universe since May. The workflow for Longshot required a pitch for the whole comic that needed to be approved, then an outline for the first issue which needed approval, and a few last minute changes when characters he was going to use turned out to be getting killed off in other books. Even with all the approval stages, he finds the different process fun.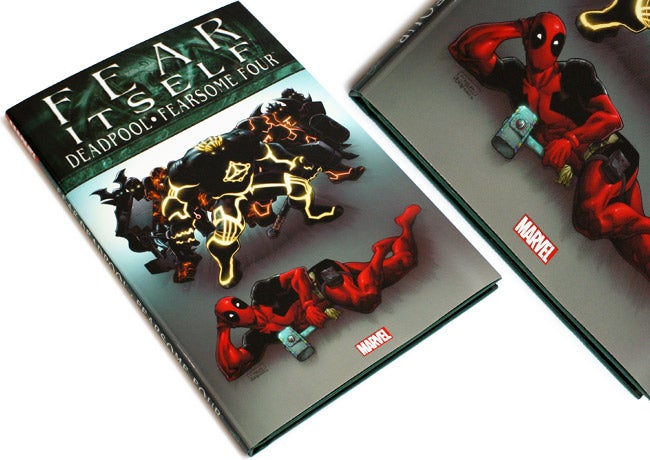 Photo via Topatoco
Hastings' varied experience was in demand last weekend when he spoke on a panel at New York Comic-Con, "Beyond the Webcomic," with fellow webcomic creators Ryan North (Dinosaur Comics) and Kate Beaton (Hark! A Vagrant). The group addressed questions from people with their own webcomics, curious about when they should start advertising their work.
"I get emails with these same questions from people trying to figure out what to do when starting off and I kind of have to ask 'What are your goals? What do you want to do? Do you want to do this as a living or just have a nice comic a few people read and express yourself?' It kind of depends on your goals what your strategy should be…," Hastings said. "The landscape is changing all the time. The way that I broke in will not work for somebody today, but there will be something similar."
That landscape includes the ever-changing world of social media. When Dr. McNinja began, sites like Tumblr and Twitter weren't around yet. Hastings said if he were starting now, he would put his comic on Tumblr just for the additional ease of sharing. 
"The delivery methods are constantly changing. I think you have to keep an ear out for how people want their information distributed," he said.
The Adventures of Dr. McNinja is updated three times a week and is also available in print at Hastings' store. Longshot Saves the Marvel Universe is due out in November.
Photo via Christopher-Hastings.com