In 2013, AshleyRose Sullivan devoted her time to watching the Star Trek franchise. All of it—the 12 films and 726 television episodes across 30 seasons, and even the easily forgotten animated series. The writer and artist kept impressive track of each viewing on a blog called My Year of Star Trek that also included her thoughts on the franchise as a whole and how it has touched her life.
Her journey in the Trek universe ended in December but Sullivan couldn't let her obsession with shotgunning sci-fi end there. She had to find a new fix. Now, with her husband, she plans to watch all 202 episodes and two films making up The X-Files during 2014. Both of them will record their thoughts on the blog Our Year of X-Files.
We exchanged emails with Sullivan to learn more.
Why did you decide to make 2013 your Year of Star Trek?
Thanks to my Trekkie parents, I can't remember a time in my life when I didn't know what Star Trek was. I don't remember learning the Vulcan salute or the names of the TNG [Star Trek: The Next Generation] crew. I watched every series and every movie as they came and went. Then, sometime in 2012, I realized that Star Trek had been more than just a background fixture in my life. It had influenced the way I think, the way I treat others, the way I create art and the way I write. I thought that by doing a very focused, intense project I might be able to come to a better understanding about Star Trek and about my life in general.
Out of the 726 episodes and 12 films you watched, do you have a favorite episode or series?
I get asked this question a lot but I'm afraid I don't have a great answer. Every time I watch one of the series I always feel that it's the best/my favorite. Even at the end of My Year of Star Trek, I still couldn't pin down a single favorite series, character, or episode. I think part of that comes from the way that Star Trek (for all of its repetition of ideas) is a few different kinds of shows. From episode to episode it might be cerebral, action-packed, rompy, or moralistic. I love romps like "The Trouble With Tribbles," but I also love the tearjerkers like "The Inner Light" and the ethical conundrums like "For The Uniform."
Now you and your husband have another blog for 2014, Our Year of X-Files. Why did you choose X-Files and why did you want to start another blog?
Thanks to the nature of my husband's job, he was around for quite a lot of My Year Of Star Trek. He ended up watching vast swaths of Trek with me and then he would miss an entire series but continue reading the blog. Through the course of 2013, he got inspired to do a project and, since I was already feeling the absence of My Year Of Star Trek, I suggested that we watch The X-Files, which we both love and have watched and re-watched several times.
What has it been like chronicling your sci-fi viewing adventures? What has the response been like from readers?
Writing about my experience has been extremely enriching. The blog ended up being almost an autobiography told through the filter of Star Trek. I wrote about watching the show with my parents before they divorced, how Star Trek had comforted me during some of the roughest times in my life, the role it played in bringing my husband and I together, and the way it continues to be a source of joy in my life. Obviously, I also wrote plainly about the great (and not so great) episodes and the character arcs I particularly enjoyed (or didn't) but my feedback from readers has largely been focused on the raw way that I write about my life.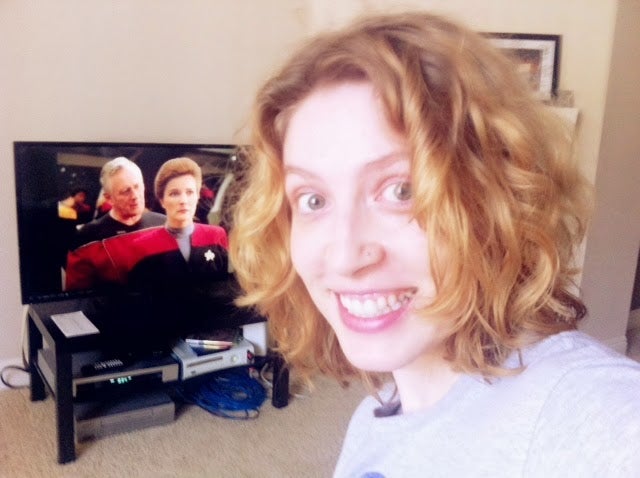 Have you always been a science fiction fan and a fan of these shows?
Absolutely. I was familiar with the sounds of a warp core engine before exiting the womb and my parents (both sci-fi/fantasy fans) couldn't help introducing me to everything they were watching and reading. Star Wars, Doctor Who, Alien, Blade Runner, Robocop, ET, Starman? I didn't really stand a chance. The X-Files started just before I moved in with my dad after my parents split up and I caught up in reruns. It was love at first sight.
What is it like writing a joint blog with your husband? How has it been different from your Star Trek blog so far?
In my Star Trek blog, I went along at my own speed. I pretty much had to watch about three a day but if I watched more or fewer, I could catch up whenever I wanted. With Our Year Of X-Files, we have to watch the episodes together and that means arranging both of our ridiculous schedules around the show. It's nice though, after treating My Year of Star Trek like it was my job, this definitely feels like I'm taking the scenic route through The X-Files.
What is the most difficult part of doing a year-long TV challenge and blogging about it?
With Star Trek it was just trying to fit it all in. I'm pretty much a professional binge-watcher but adding in the blogging element made my Star Trek viewing experience much more involved than just vegging out on the couch with a bag of chips. I couldn't simply let Netflix play the next episode. I stopped, read about the background stuff, the history. I took notes. I thought about how it had or hadn't impacted me. Then I watched two more and did the same thing and then sat down and tried to write something coherent. It was pretty intense but I think that made the experience richer.
Any advice for someone who might want to undertake something similar?
Keep an open mind and follow the project wherever it takes you. Don't fixate on numbers or what you think you should be doing. I ended up meeting LeVar Burton and hanging out with Jonathan Frakes—this would've astounded my 2011 self—but my favorite things that came out of 2013 were the friendships I made with my readers and the new appreciation I had for a show I'd watched my entire life.
Photos via AshleyRose Sullivan