Last week, video game developer Bioware surprised fans by releasing the first in a series of kits that will give detailed descriptions of character designs from Dragon Age: Inquisition, several months ahead of the game's fall release. 
According to the blog, this initiative has been in development a long time and is meant to give artists, writers, and especially cosplayers reference materials to create anything they want based off the characters. Bioware's new media production coordinator, Conal Pierse, told the Daily Dot a good amount of work went into the first kit so it could serve as a template for the future, and that Bioware made sure the kit could be a guide for all forms of art. 
"We took care to call out the things people would need to know and what they'd want to see. As a cosplayer, a big focus for Jess[ica Merizan, lead community and new media manager,] was ensuring that we included the materials and patterns used. She also studied the concepts to pick out the important detail pieces. For me, I really wanted the kit to be able to fit on a single piece of paper, so people could print them out," he said.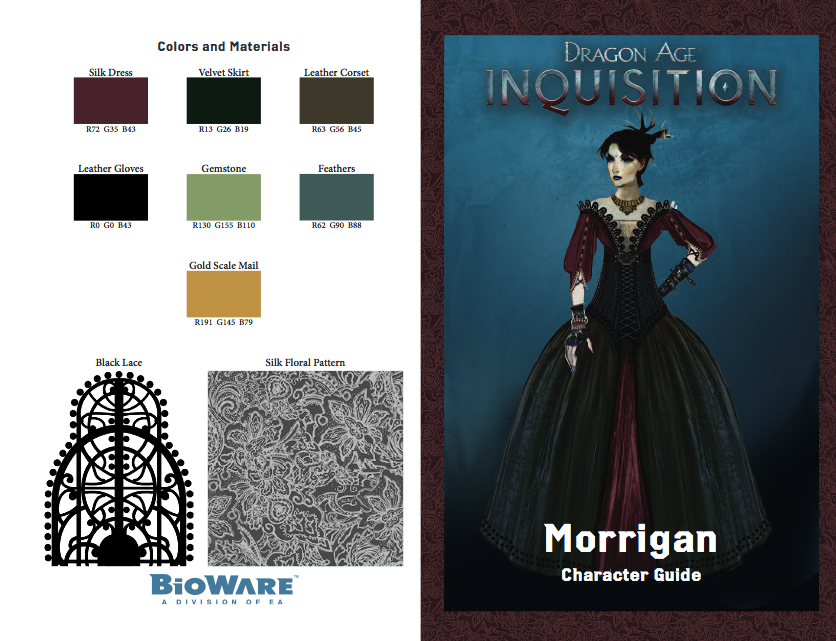 The response to the kits among fans has been mostly positive. Dragon Age: Inquisition senior producer Cameron Lee said the game's team is pleased with how the first kit was received.
"Dragon Age is in many ways about the characters you bond with on your adventures in the games. These characters have such rich and unique personalities, which have inspired so much great cosplay already. Giving our fans even more detail on them was something we always wanted to do," he said.
On Twitter and Tumblr, fans thanked the company and shared what they discovered so far from the kit, with one Tumblr user already finding a mistake in her cosplay. Merizan, a cosplayer herself, has heard from others about finding errors in their costumes but said there are no real mistakes in art.
"I had the opportunity to work with Morrigan's concept artist Ramil Sunga on some of her details, and even I noticed just the other week that the flies on my gown are the totally wrong color! But it's my Morrigan, so any cosplayers out there, just be proud of your work!" she said. 
This is an awesome idea! @bioware @jessicamerizan https://t.co/Gzr7kpdFm3

— Eric Bradley (@DemonKingOda) February 8, 2014
@dragonage Character Kit idea is just brilliant! Thank you for caring about us, fans!

— Andrew Gritsaenco (@AndyGr7) February 4, 2014
Despite the positive feedback, there are some concerns among fans. Bioware Social Network user AutumnWitch wrote on the forum, "I just hope they don't end up giving away too much about the characters in the game before it comes out…I am about ready to go into lock down mode and leave BSN for a while because I want to experience DA:I as fresh as possible."
Other fans, like this commenter on Kotaku Australia, expressed worry that the kits make cosplay "easier but kind of ruins the challenge." Merizan said anyone worried about this should reach out to her on Twitter.
"If they mean that it makes it easier and there's going to be loads more Morrigans in ballgowns walking around, I don't see a problem with that. It's fine to want to challenge yourself as a cosplayer, but we believe in inclusion and making things accessible whenever possible," she said.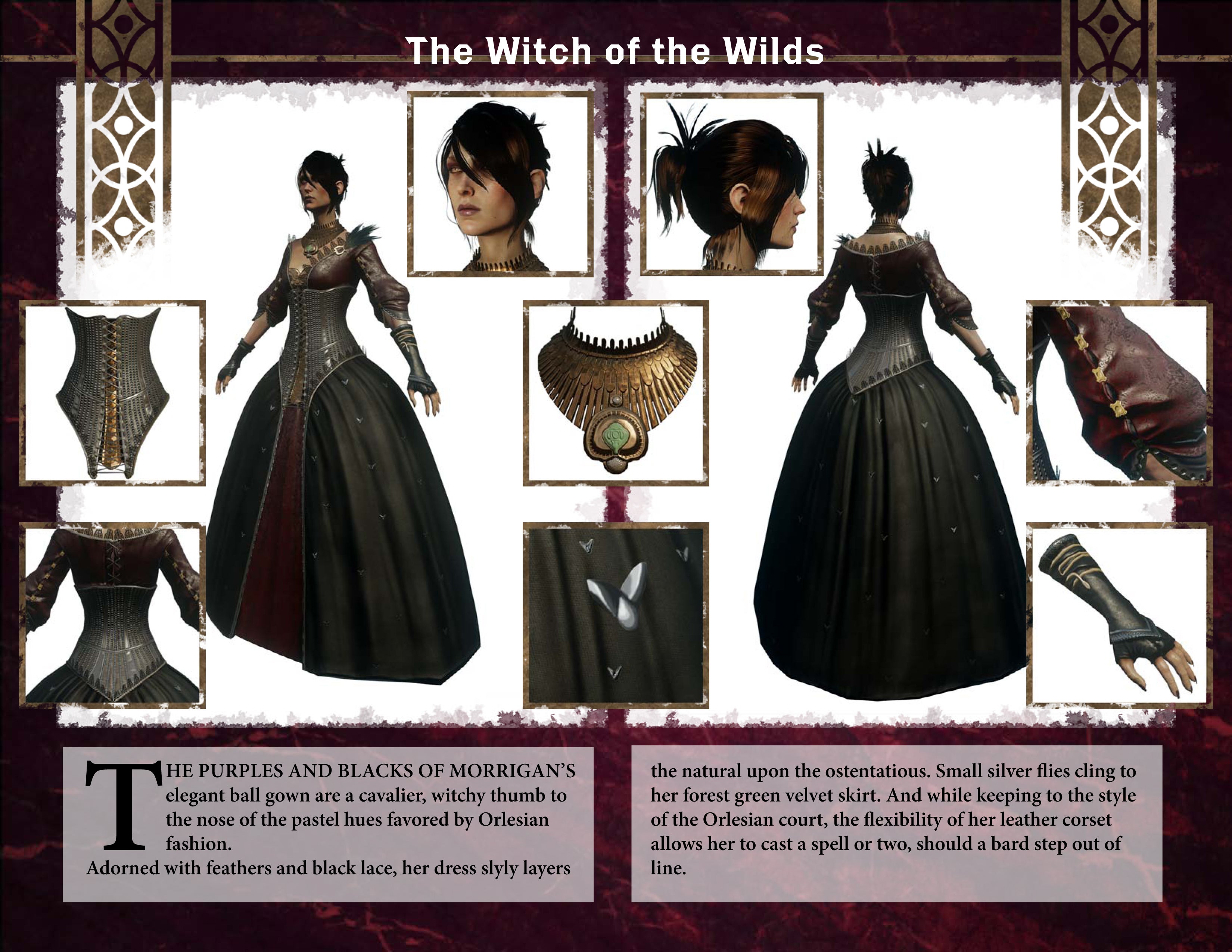 Amid the reaction fans had a lot of questions about what they will see next. Merizan said they will keep creating character kits for the foreseeable future, up until Inquisition's release and beyond. They will be looking into creating kits for characters from the previous Dragon Age games as well. 
"Supporting the passion and commitment of BioWare fandom is the reason my team exists. It's why Conal and I come to work every day," Merizan said.
According to Pierse and Merizan, more kits will be released soon, with the team working hard to get kits out over the next month before big gaming conventions like PAX East. As for what character may be next, Pierse said they have a lot of characters to get through before releasing "nug kits" but did offer fans one hint.
"All I will say is: start growing chest hair."
Illustrations via Bioware Blog