Heads up, Attack on Titan fans. This cosplay group just leveled up and took your whole fandom with it.
Attack on Titan is the unlikely anime of the year: it took the number one spot in Tumblr's list of the most popular anime, and it has inspired everything from massive sand sculptures to viral photo memes. It's also become one of the most popular anime to cosplay this year, with its distinctive military uniforms and "flying" gear turning up at conventions and in elaborate photoshoots all over Deviantart and Tumblr.
But we've never seen anything like the Titan cosplay that cosplay group ?? (Through the Night) just pulled off. Their epic nine-minute film includes a team of more than 20 cast and crew, and footage that looks like it could be taken from an actual live-action Titan film. The credits alone take up a minute and a half of screen time—but keep watching for the outtakes after the film. They're the best.
Most people only think of cosplaying as something you do at cons and special movie showings, but to many cosplayers, getting dressed up is only the beginning. The 501st and other Star Wars cosplay organizations host elaborate cosplay events that raise millions of dollars for charity every year. Deviantart is full of professionally staged, painstakingly composed cosplay shoots that can involve whole teams of designers, photographers, artists and cosplayers.
Cosplay "films" are a bit like more elaborate photoshoots. Some go even further and attempt to do roleplay, like this 2009 Kingdom Hearts cosplay group that edited its shoot into a "trailer" for the game, complete with special effects.
Sometimes these efforts can be misconstrued or deemed illegitimate: last year Facebook deleted numerous cosplay accounts because cosplayers were apparently using "aliases." And earlier this week Kotaku incorrectly assumed that this Attack on Titan cosplay photoshoot was "porn" when in fact it was just elaborately done cosplay that "accurately" portrayed the naked bodies of the Titans.
But we're pretty sure ?? has taken the "cosplay film" to a whole new level. The film features the J-rock song "Neverever Land" by Nano, and a cover of the 3rd ending theme to Attack on Titan, "The Reluctant Heroes," as covered by a YouTube artist named Mica Caldito whose performances of two songs from the series recently went viral.
The video was uploaded a few weeks ago but only recently crossed over into English-language SnK fandom. Tumblr is already starting to trot out the GIFs, and we can't blame them.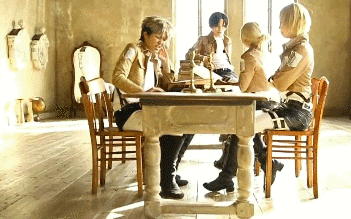 GIF via lemonlimefox/Tumblr
Attack on Titan? More like attack on our hearts.
Screengrab via YouTube