If you've been dying to add a little Vault Hunter spirit to your style ever since playing Gearbox Software's role-playing, first-person shooter game, Borderlands, then Espionage Cosmetics has the collection of your gamer dreams. The indie, Internet-based cosmetics company has launched a new Borderlands collection just in time for the latest release in the franchise, Borderlands: The Pre-Sequel.
The collection features four eyeshadows and a set of nail wraps inspired by Borderlands 2, along with two sets of nail wraps inspired by The Pre-Sequel. The whole line is officially licensed by Gearbox Software, though gamers have Espionage to thank for dreaming up the collection.
It all began when CEO Jaimie Cordero started playing Borderlands two years ago and fell in love with the game's style, writing, and gameplay. The Espionage team decided it would be a fun challenge to do a photoshoot with characters from the series with the idea of making it look like the people playing the game were actually in it.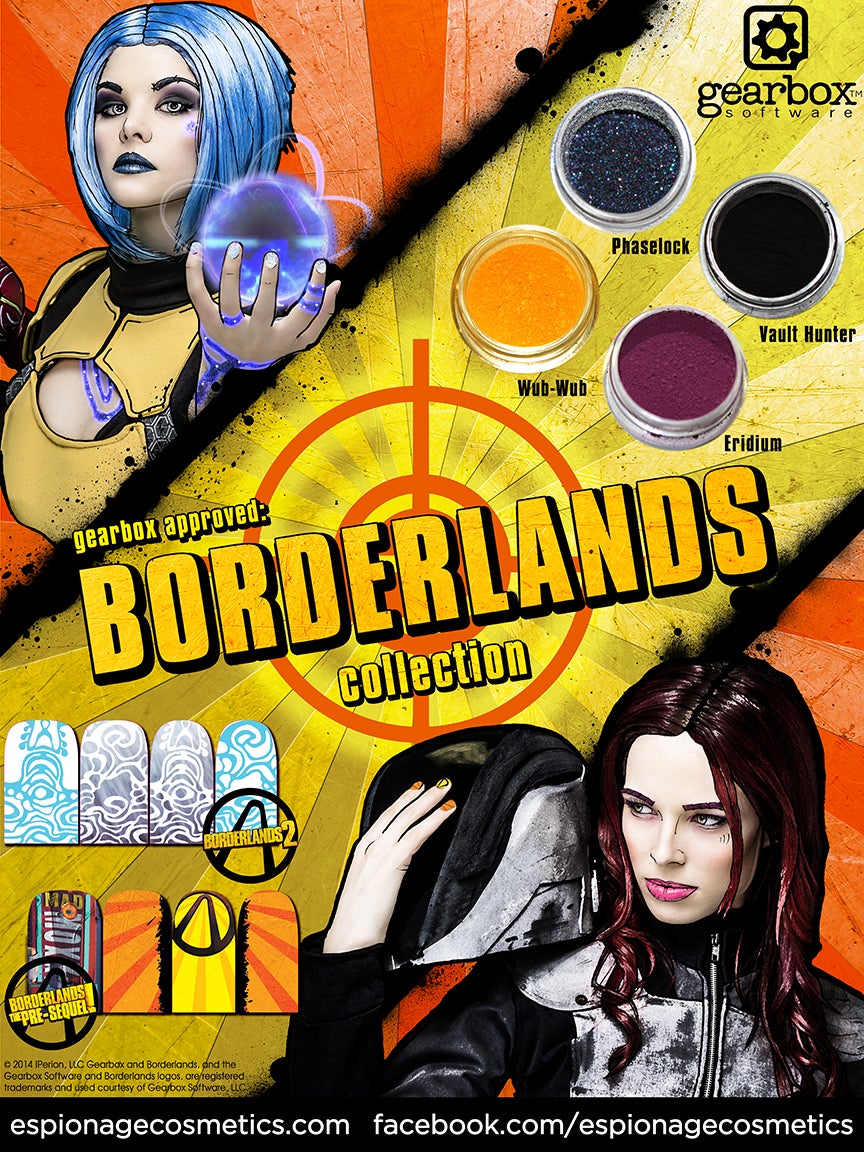 Photo via Espionage Cosmetics
"When it was finished, we put together a proposal to our friends at Gearbox showcasing everything we had done and ideas on how we could make gamer cosmetics a thing on a larger scale, with their blessing, and without alienating people by just slapping a logo on a product and calling it good," Espionage Cosmetics' Kayla Bunch told the Daily Dot. "The Borderlands collection was mostly finalized when we showed Gearbox, because we didn't want to present anything half-done."
According to Bunch, whenever Espionage launches a new collection it balances creating colors representative of the theme and adding new colors to the line. The Borderlands collection brings something new with its eyeshadows while also being recognizable for its namesakes. Wub-Wub is inspired by CL4P-TP, Eridium is inspired by the element, Vault Hunter is inspired by all four classes, and Phaselock is inspired by the special Vault Hunter ability.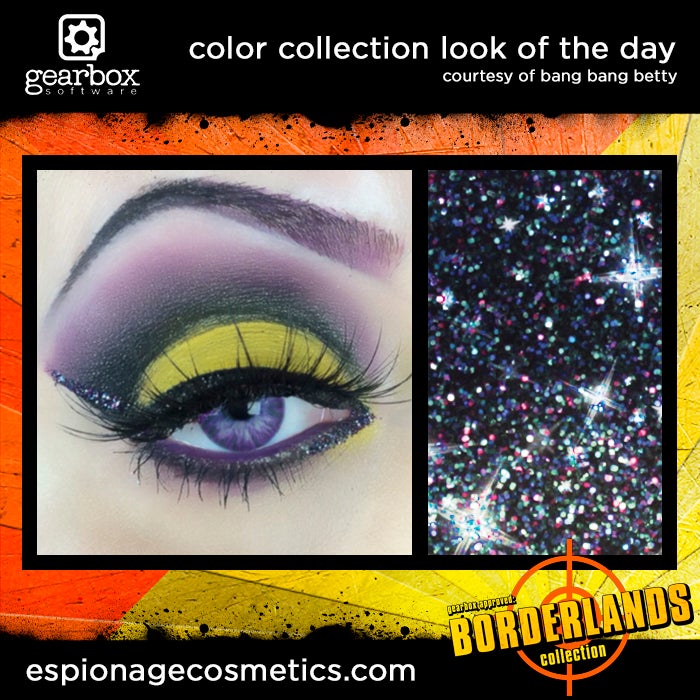 Photo via Espionage Cosmetics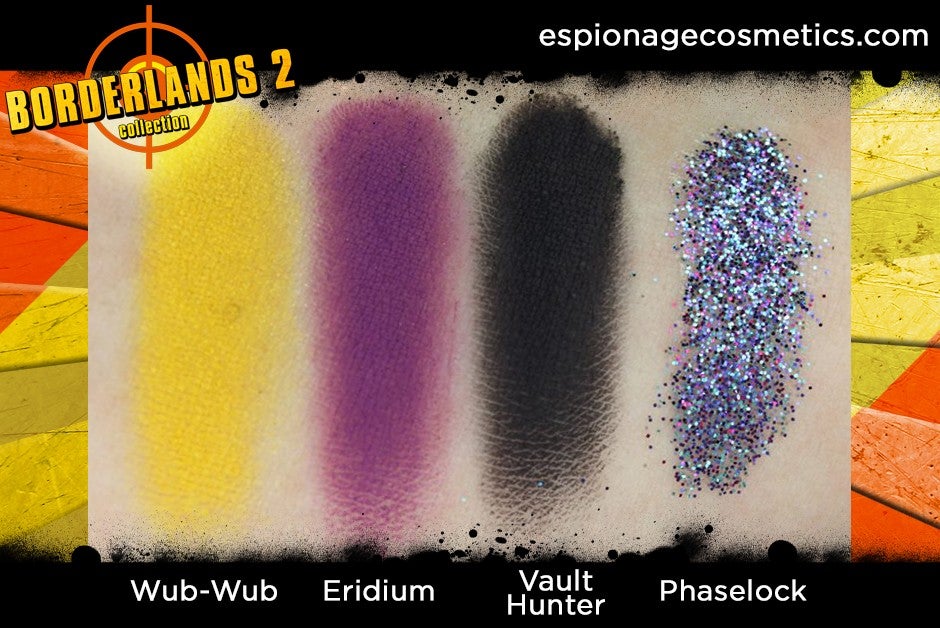 Photo via Espionage Cosmetics
"They [Gearbox] were very open to what we would create knowing that our crew at Espionage were big fans of the game and would make a product on par with our passion for Pandora and the Vault Hunters that reside there," Bunch said. "We went through some tweaks together, and were able to align all of the images and names with their official branding. They were very receptive and great to work with."
Like the eyeshadows, the nail wrap patterns will also be recognizable to Borderlands fans. Espionage has had a lot of success expanding its nerdy nail wraps recently, and it's exciting to see some officially licensed gamer wraps join the line.
The whole collection is exciting considering gamer cosmetics are hard to find despite the growing realm of geek fashion. With video game fashion in general for women being an area that tends to get less attention than others, gamer cosmetics—especially officially licensed ones—are rare. What's even more exciting than this release is that we can expect more from the partnership. Bunch teased that if fans watch the "behind the scenes" video below, they can get a glimpse of what's coming next.
It's not just Gearbox that Espionage has its sights on either. There are other game collections in the works as well.
"We have the honor of already being in production for or in talks with almost every company/game we had on our initial wish list," Bunch said. "NDAs and legal things being what they are, we can't divulge those projects and relationships just yet, but trust us, what we are going to be introducing over the next 24 months is quite exciting for girls (and guys) like us."
The Borderlands collection eyeshadows are currently available on the Espionage Cosmetics website. The nail wraps and a Vault Hunter Bundle Pack featuring the entire collection are available for preorders and expected to ship Nov. 10.
Photos via Kayla Bunch