If you want a quick guide to the surreal experience of attending the MTV Movie Awards, look no further than YA author John Green's Twitter feed from Sunday night.
He was invited to the awards ceremony to support the upcoming movie adaptation of The Fault In Our Stars, but for all that John Green is super internet-savvy and in touch, he seemed pretty confused by the whole experience. The target audience for the MTV Movie Awards probably isn't middle-aged writers, after all.
This is the weirdest thing that has ever happened to me.

— John Green (@realjohngreen) April 14, 2014
All Sarah and I can say to each other is, "This is weird." But it really is. The entire set is kind of on fire?

— John Green (@realjohngreen) April 14, 2014
Sarah just said she feels like we are in the Capital of Panem. #ditto

— John Green (@realjohngreen) April 14, 2014
Also, it seems like 2014 is the year when the MTV Awards transitioned fully to being the Internet Meme Awards, since Grumpy Cat wound up getting mobbed on the red carpet. (But not before taking a selfie with lookalike Tyler Hoechlin, who plays the notoriously grumpy Derek Hale on Teen Wolf.)
Elsewhere, Green met up with the other half of Teen Wolf's Sterek pairing, Dylan O'Brien.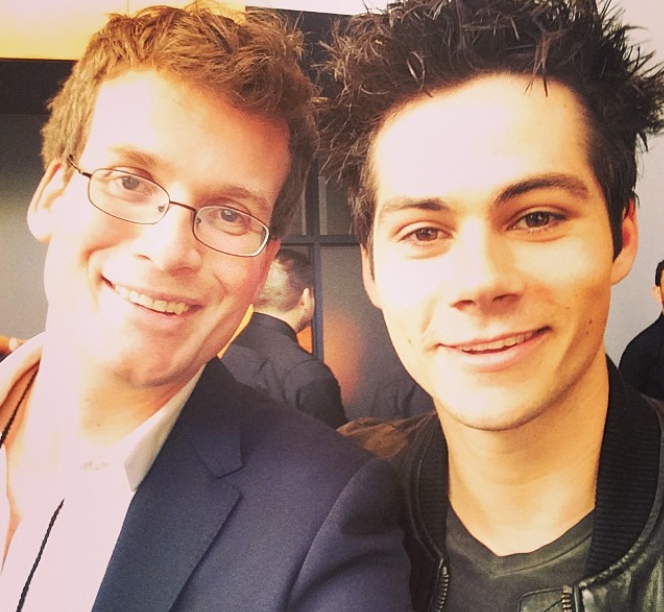 Yes, that's right. The two megafandoms of Teen Wolf and Nerdfighteria have finally collided IRL. Well done for causing Tumblr's latest emotional meltdown, you guys. We hope you're proud of yourselves.
Photo via Instagram