BY ANN HOEVEL
Dragon Con may be over, but the cosplay photos from the popular convention are still going strong. 
Shawn Hill was already pinning photos to his cosplay board on Pinterest the day he and his son Logan headed off to Dragon Con in Atlanta.
"I like pinterest because it distills the content down to just what you're looking for," Hill said. "I like reading articles about cosplay builds and the varying opinions of different types of cosplay, but sometimes I just want to scroll through pics and look for cool cosplays and see what inspiration I can get from them."
For very specific cosplay inspiration, Pinterest beats Google Images every time, he said. Hill keeps his cosplay board fresh mainly through other pinners, but for direct pins he mines deviantART, Tumblr, Twitter and geeky news sites that cover major conventions.
Cosplay is a serious endeavor at Dragon Con, where most who dress up take at least three costumes. Families often create group cosplays (think the whole cast of Lord of the Rings)—in the Hill's case, father and son cosplayed as Jayne and Wash from the Joss Whedon creation Firefly.
"At San Diego Comic-Con, you see more industry-sponsored costumes mixed in with the fan cosplayers, so that distorts the perception of SDCC as a big cosplay convention," he said. Dragon Con, in contrast, is, "all fans, no industry-sponsored anything and no subject is left out."
Hill and son also tackled the War Doctor and the 50th Anniversary Special, Vashta Nerada and The Empty Child also from Doctor Who, and Captain Hammer and Doctor Horrible from another Whedon title Dr. Horrible's Sing-Along Blog.
Coming up next for Hill is nothing less than a Pinterest explosion, as he transfers all the photos he took at Dragon Con to his board, along with the cosplay pins he finds on other boards he follows. 
"During Dragon Con there will be a slow trickle of (cosplay) photos," he said, but now that the con is over, expect a full on cosplay posting firehose to hit Pinterest.
And while Hill said he's "over" half-hearted Steampunk cosplay involving smashed watches and nerf guns, there will likely be no end to the Doctor Who cosplay pins on his board.
"My Holy Grail of cosplay is probably Doctor Who," he said. "There are so many non-Doctor characters to do." Hill said he has plans and materials for a full Cyberman cosplay as well as the blueprints for a full-sized Dalek that are currently on the top of his cosplay to-do list. 
"I love seeing all the Doctor Who cosplay groups at DragonCon and can't get enough of them. Every year there is always something new that gets my attention and gets added to the list," he said.
What cosplay makes it to your list, or at least your Pinterest board? Here's some inspiration from Dragon Con 2014: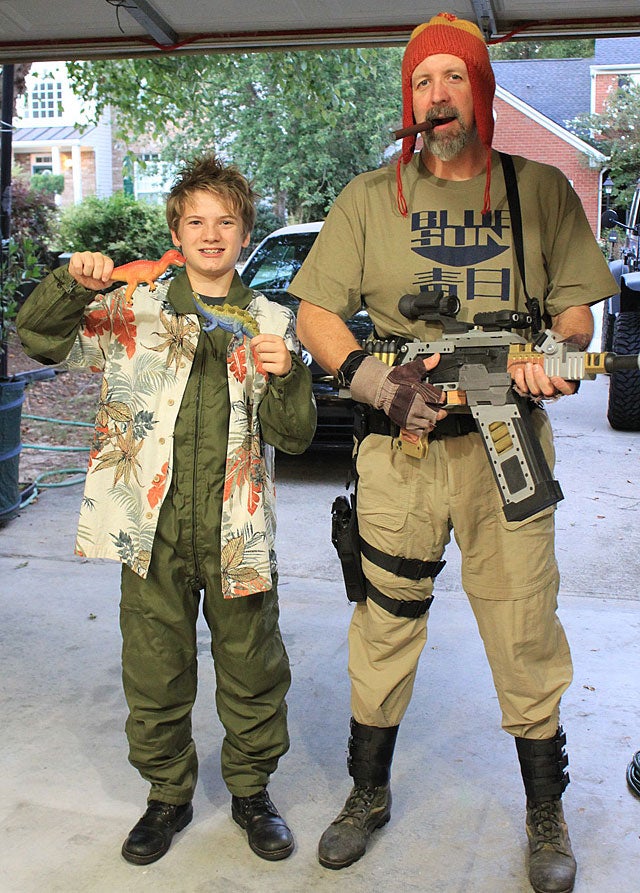 Shawn Hill, left, and his son Logan, right, cosplay as Jayne and Wash, respectively.  (Photo courtesy Shawn Hill.)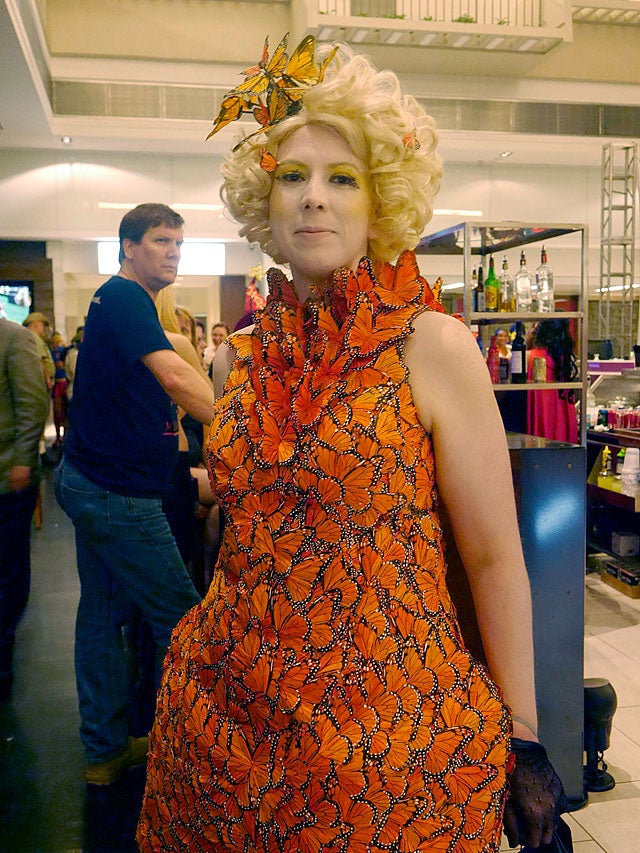 Effie Trinket cosplay from The Hunger Games: Catching Fire.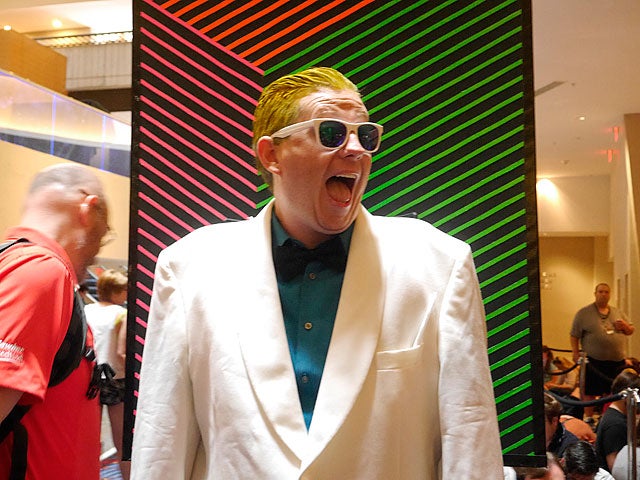 Tyler Wyly cosplays as Max Headroom—with background!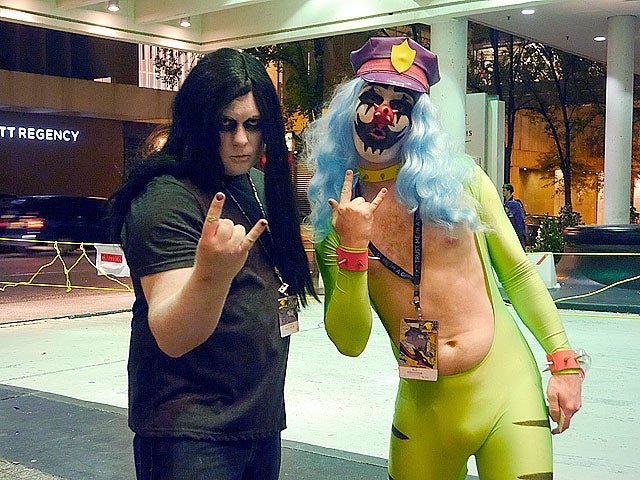 Here's cosplay of Nathan Explosion, left, and Dr. Rockzo, right, from Deathklok. You can follow Dr. Rockzo at @ccccDrRockzo.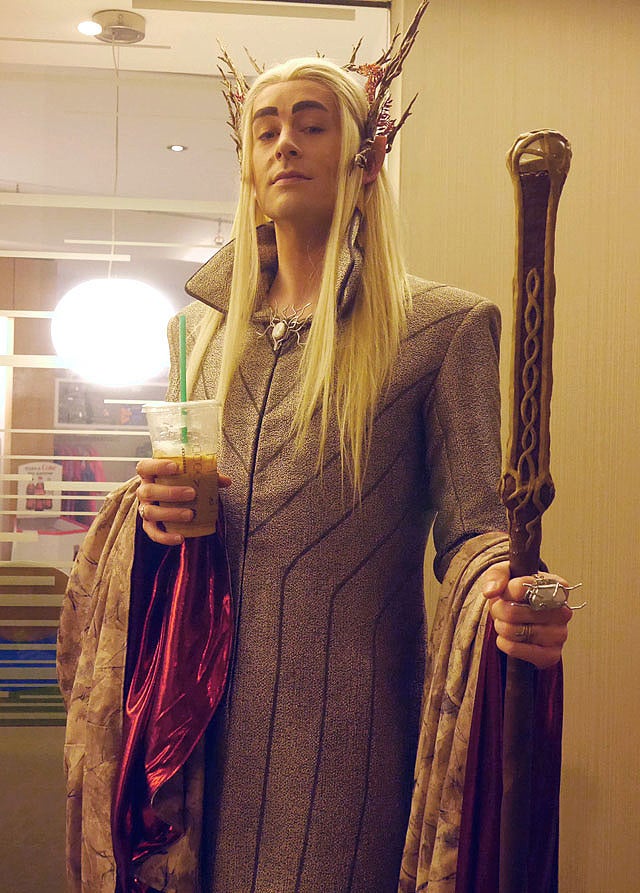 Joshua Dart stays caffeinated at Dragon Con as Thranduil from The Desolation of Smaug.
Tom Gardner, right, and Melissa Williams, left are members of the 501st Tusken raiders.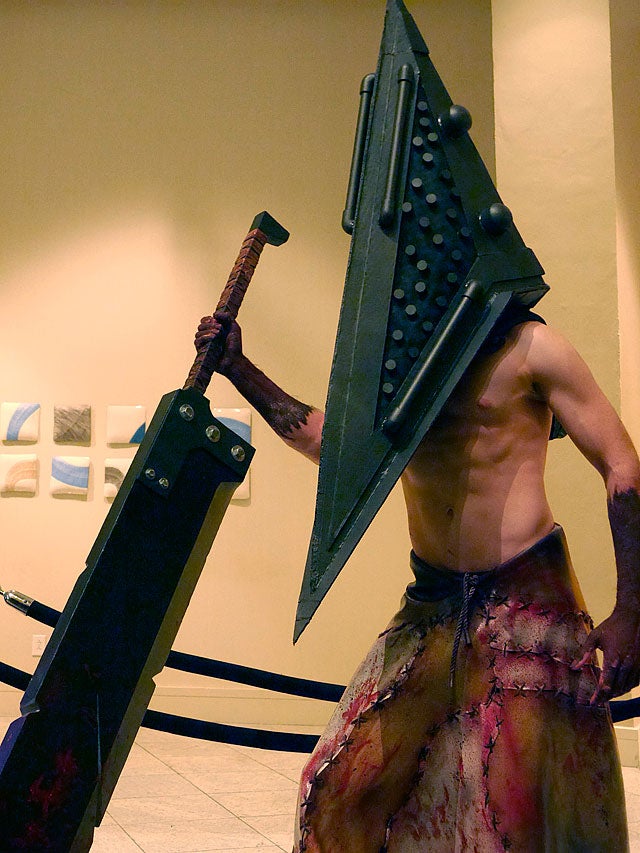 Chris Horan is Pyramid Head from the game Silent Hill.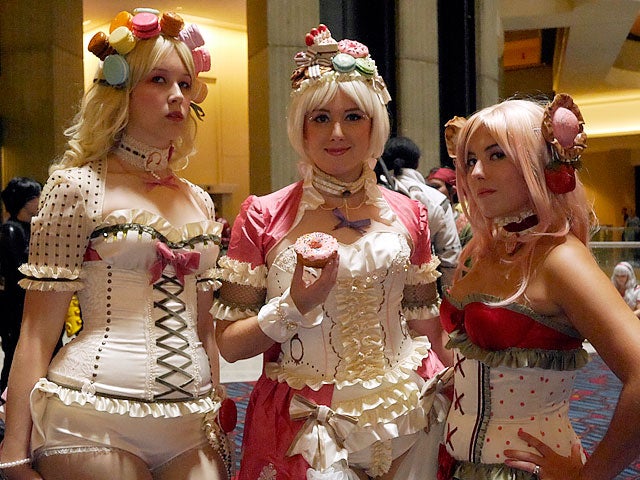 Cosplay artist Ryoko-Dono, left, and friends show off Macaron from Sakizou Artworks.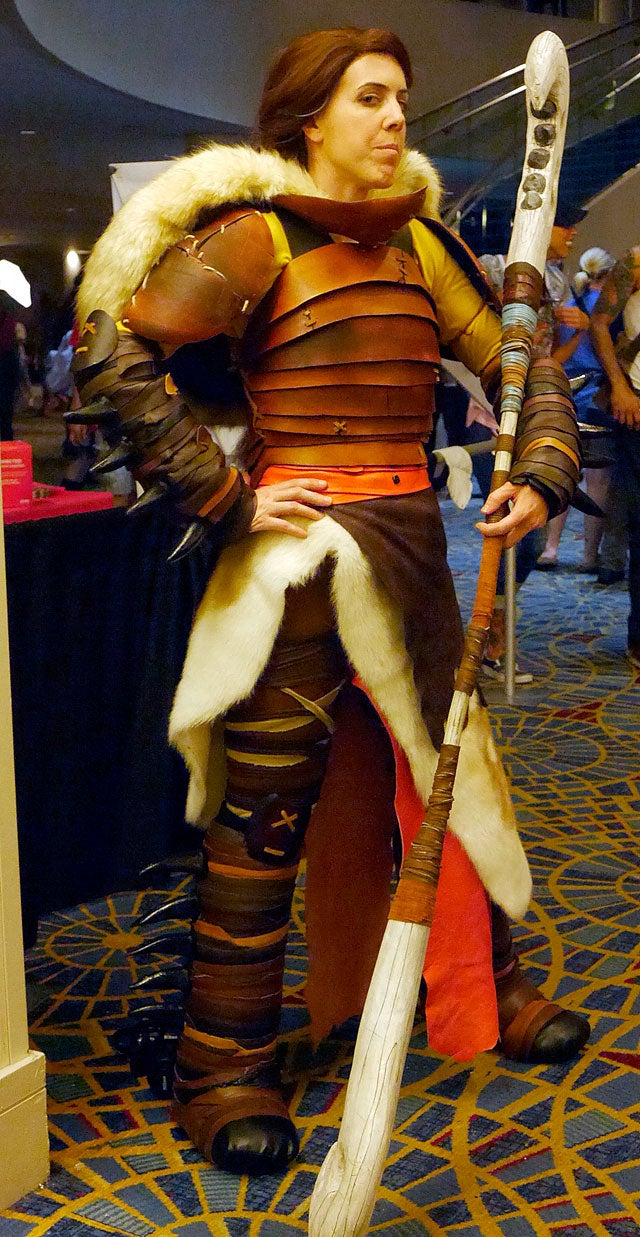 Nicole Taylor is Valka from How to Train Your Dragon II.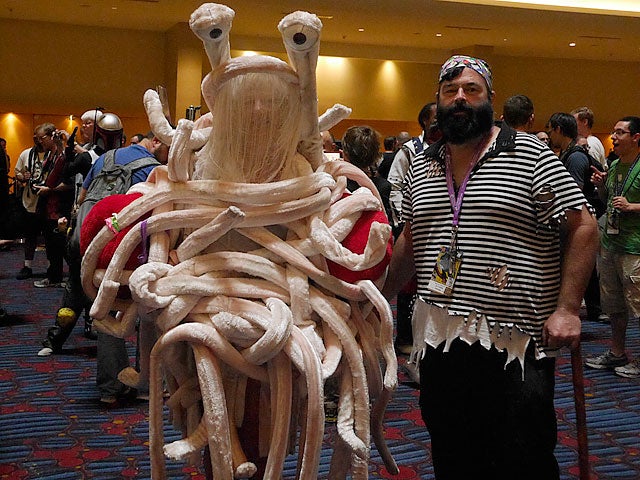 Teddi Fishman is the Flying Spaghetti Monster.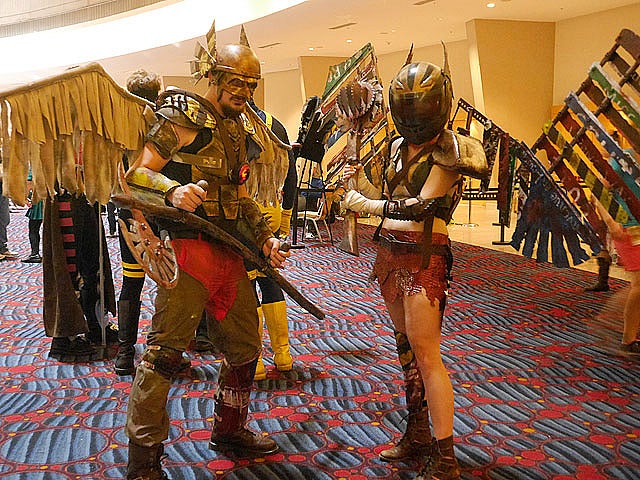 Tori McKenna, right, and Josh Phelan, left, of Cool By Proxy productions cosplay as Atomic Hawkman and Atomic Hawkgirl.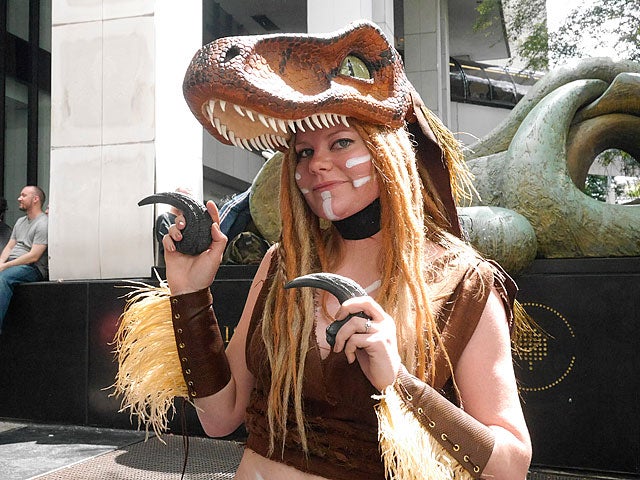 Liz McKinnon created this original character which she calls Raptor hunter.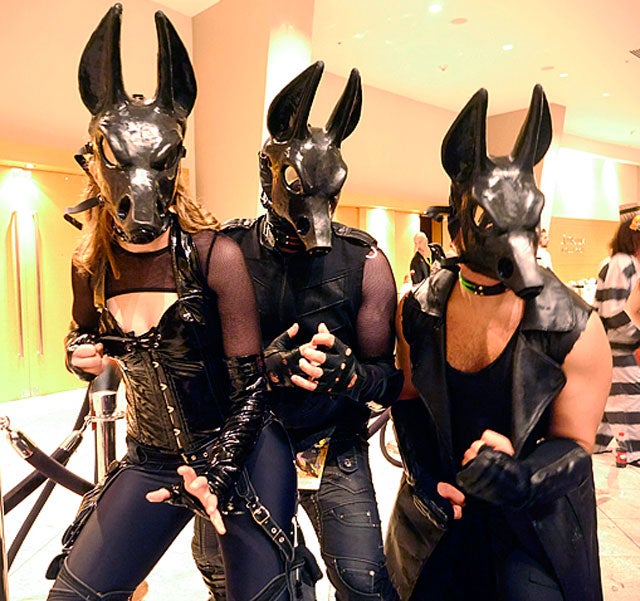 Jackal soldiers, who keep detailed information on their armor at jackalsoldiers.com and cosplayedas.
Photos taken by Ann Hoevel unless otherwise noted.