It's a great time to be a fan—and a creator—in the comics industry. 
The market is soaring after what may be the industry's best month ever for sales in July, with Guardians of the Galaxy boosting sales of Rocket Raccoon to a record 300,000 copies. Comics distribution outlets requested almost $54 million in titles from publishers—the highest in history, up from last year's October record. And that's not even counting digital sales.
So why is all this happening now, and where do we go from here? The few die-hard comics fans who straggled into the 2:30 panel at the tail end of Dragon Con earlier this month got treated to a rundown on where the comics industry is headed, and what we can look forward to in the future.
Dragon Con Comics and Pop Art track director Zano Ludgood moderated the round table discussion. Ludgood heads the comics department of Atlanta's popular Criminal Records store. He was joined by Jeremy Tarney, manager and COO of Ultimate Comics in Chapel Hill, N.C., and Kyle Pinion of GeekRex.com. The trio discussed recent and upcoming changes in the industry, starting with the great mainstreaming.
Trend: More and more people reading comics, which means more comics about more things.
The panelists unanimously agreed that it's a great time to be a comics seller.
"You just keep thinking it's going to go die down," said Tarney, speaking of what he described as the slow ascension of comics into the mainstream over the last three decades, "but then, bam! Arrow is huge and Walking Dead is huge, and you're seeing more people into more things, and more people are exploring comics as a genre and as a form of media."
Ludgood agreed, but pointed out that while comics have never actually left the cultural spotlight since the golden age of vintage superheroes, the current trend of adapting non-native characters into comic book form means more people wanting to buy the comic book versions of their favorite characters. (Think recent comic and manga adaptations and continuations of Twilight, The Last Airbender, Buffy, and other pop culture favorites.)
"This is a super happy time to be a reader," Ludgood said. This trend also means more genre and subgenre variety, as the sales boom encourages creators to get more and more, well, creative. He also mentioned that part of the mainstreaming trend is the relatively new phenomenon of people being fans of characters without actually having read the comics. Recent cosplay favorite Deadpool is a prime example of how for an increasing number of fans, being well-versed in comics origin stories isn't as important as feeling connected to an individual character.
"The characters have taken on a different life in the wider culture than they have for the people in this room," Ludgood said.
Trend: Less doom and gloom, more postmodern wacky fun times.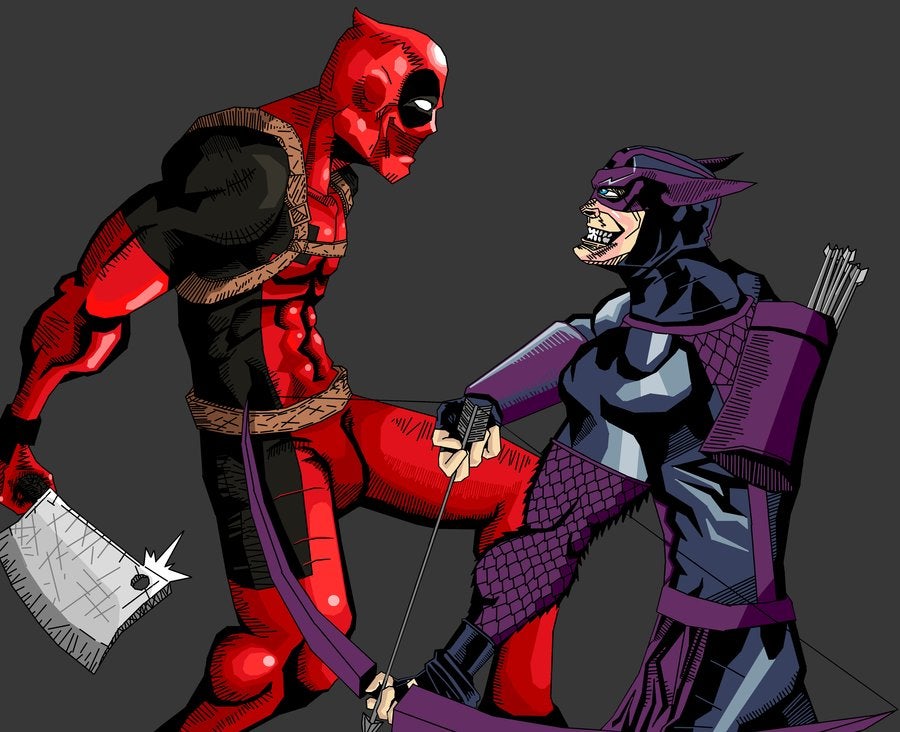 Fanart of Deadpool and Hawkeye facing off by chaos-neverthrive/deviantART
Pinion believes the current era of comics is one that has at last thrown off the mantle of darkness cast upon it by the great dark works of the '80s. Swamp Thing, The Dark Knight Returns, The Watchmen, and Sandman have given way to the playful antics of Lee Weeks' Daredevil, Matt Fraction's Hawkeye, and the new Guardians ensemble. Ludgood noted that characters who still retain that dark complexity while also operating as a form of parody, like Deadpool, may "occupy a new space" altogether.
Trend: The Evolution of Comics Artwork.
Citing evidence like Greg Capullo's Batman artwork, Tarney said he felt one of the side effects of the mainstreaming of comics is that the art itself had grown more universal as well. He and Ludgood agreed that the aesthetic of comics had grown more fluid across genre lines and across mediums. No longer do you have a distinction between a manga or comic aesthetic: It's all simply art, and it's occasionally breathtaking: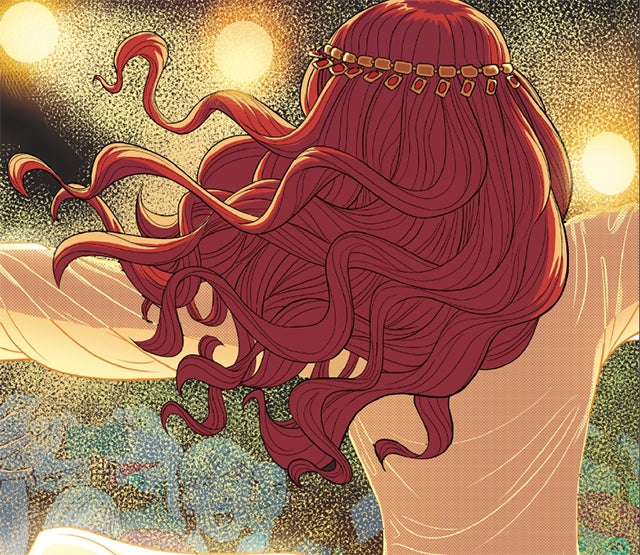 Art from The Wicked + The Divine Issue #1; Illustration by Jamie McKelvie and Matt Wilson; Screengrab via Image Comics
Trend: Diversity, diversity, diversity.
Photo via characterlikeme/Tumblr
Across the board, comics are seeing more and more diversity in terms of characters getting their own series, and the life experiences and identities of superheroes. Each of the panelists praised this trend and said they were deeply excited for the possibilities.
"When you diversify the audience hopefully the comics will follow suit," Pinion said. That seems to be exactly what is happening.
But Ludgood was deeply skeptical of the recent announcements that both Thor and his fellow Avenger Captain America would temporarily be stepping aside to let new characters take over their mantles. An unknown female character will take over the role of Thor while Sam Wilson, a.k.a. Falcon, briefly relieves Steve Rogers of his famous shield.
Though these moves, much like Miguel O'Hara and Miles Morales' respective stints as Spider-Man, acknowledge the demand for diversity, they are unsatisfying in the long run because the roles are never permanent, and never fully usurp the "real" lead character known for doing the job. Ludgood declared this sort of tactic to be a quick and easy fix to get diversity on a superficial level rather than just doing it "for real." It also reinforces the unhealthy idea that popular characters like Sam Wilson, who could easily be built up as a character on his own right, can only get agency through a role popularized by a white character.
Pinion, on the other hand, was positive, especially about the impending Thor reboot. "I'm really excited to see a little bit of estrogen being injected into one of the most masculine comics out there," he said.
And there's a lot to be thankful for if you're a female comics fan. The latest stats on comics sales indicate that 46 percent of comics readers now identify as female, while Ms. Marvel's Kamala Khan continues to be a huge sales draw. Readers have placed the Muslim-American fangirl superhero on bestseller lists since she appeared earlier this year.
Then there's the un-firing of Gail Simone from the Batgirl series, a huge indicator that the Internet has profoundly changed the way comics fans interact with the industry, as well as a sign that they are willing to fight for diversity among characters and writers.
Trend: The success of Image.
Illustration for Nailbiter by Mike Henderson via Image Comics
"They're like the Wu Tang of comics," says Ludgood, speaking of the powerhouse indie comics publisher that grants creators full ownership over the series they distribute. "They cannot be fucked with." 
Across the board, panelists cited Image's ability to offer innovative new series along with staple comics like Saga and The Walking Dead. Ludgood said it was his store's bestselling publisher by far, while Tarney added he felt Image was a bit like Pixar at this point, with everyone wondering when they'd make a false move. Pinion worried that since Image has already pulled in a lot of the biggest creators and artists, the company might not have any big names left to draw upon. 
Then again, with new artists entering the industry all the time, Image has an advantage the other companies don't have. Because it allows creators to own their own series, Image will continue to get first looks for all of the most exciting new titles coming down the pike.
While other independent publishers and imprints flounder—Vertigo is all but DOA and several of the panelists worried for Dark Horse—Image's business model is to constantly replenish its line with exciting new series rather than adhering to the Marvel method of renumbering or repackaging old series.
…but Marvel and DC are still on top.
But don't think that this means Marvel and DC's comparative short-sightedness could hurt them. Tarney noted that despite Saga joining The Walking Dead in the top 10, it will be hard for Image to break Marvel and DC's hold as the top two publishers by sales.
"Batman and X-Men pay the bills and that's just how it is," he said.
And comics fans continue to remain deeply loyal to lifelong franchises such as Batman and the Justice League characters. Though the constant re-issues and re-numbering of old titles—and in DC's case the frequent cancellation or out-of-order release of titles—may frustrate readers, it won't ultimately cause serious shifts in reader loyalty.
"Comics are like mythology," Ludgood proclaimed on the subject of dealing with title frustrations. "The trick is not to become a fundamentalist."
And the new trends in comics are poised to turn us all into believers.
Saga illustration by Fiona Staples; remix by r0botosaurus/deviantART; CC-BY-SA 3.0