"In the beginning the Universe was created. This has made a lot of people very angry and been widely regarded as a bad move." —Douglas Adams
It's the 12th annual Towel Day on May 25th, and any good frood knows it's the one day a year you can't leave home without a towel. Towel Day, for the uninitiated, is an international holiday celebrating sci-fi author and generally awesome human being Douglas Adams. I wrote my college entrance essay on how Adams changed my life, so Towel Day is a pretty big deal around these parts. (Here's a primer on why towels are so important to any interstellar hitchhiker.)
Adams tragically passed of a heart attack at age 49 on May 11, 2001. His fans took two weeks to get the word out about a wake, deciding to designate the 25th of May as a day of memorial. The date stuck and now every year, Hitchhiker's Guide to the Galaxy diehards around the world dress up, bring out their towels and celebrate the man who gave them this absurd amazing world.
To love Douglas Adams is to be part of a club of weirdos, and what better place than the Internet for us to gather, our thumbs held high? In honor of Towel Day, check out the 42 most awesome Douglas Adams-related things on the web. 
Don't panic. It's all mostly harmless. 
1) Darth Towel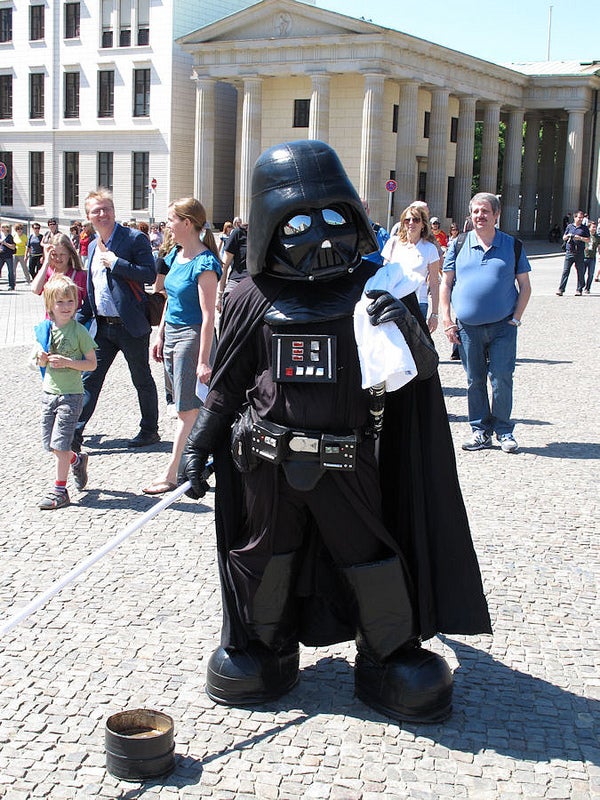 Photo by andyduc/Flickr
2) HG2G Fan Ready for Towel Day 2013
3) Thumbs Up!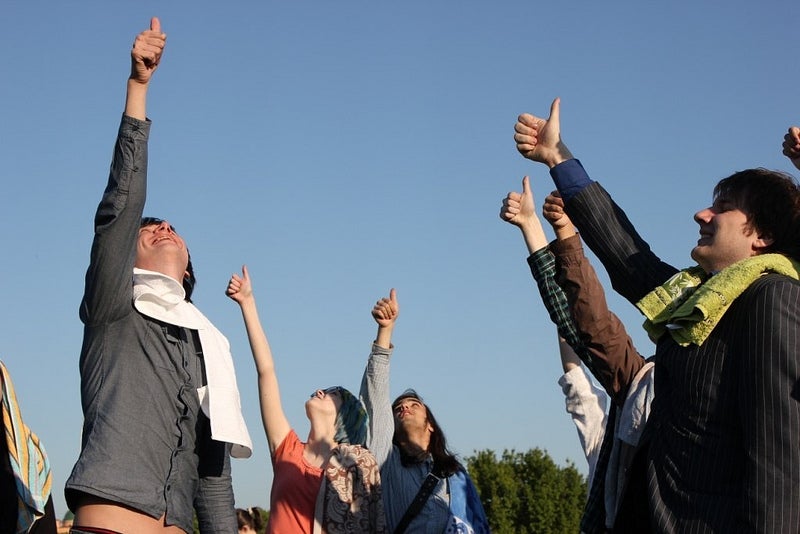 Photo by rendalf/Flickr
4) Ford Bearfect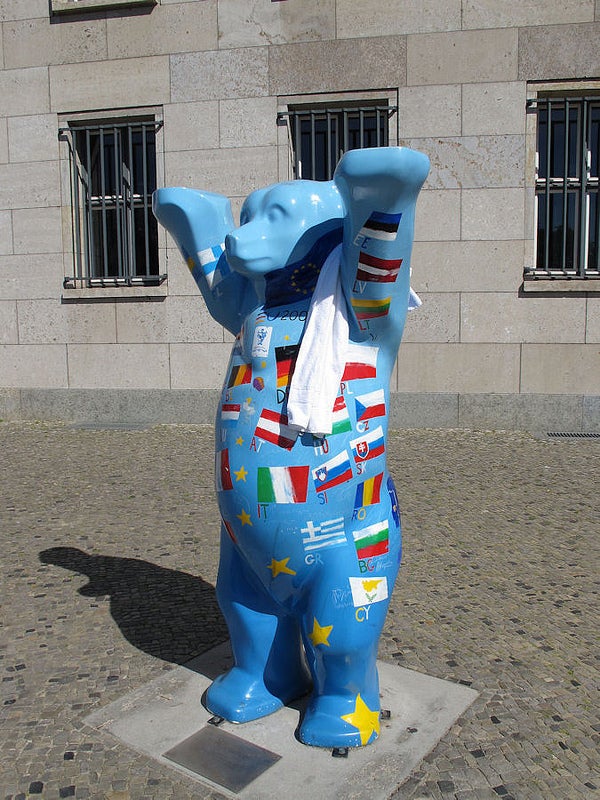 Photo by andyduc/Flickr
5) Game of Towels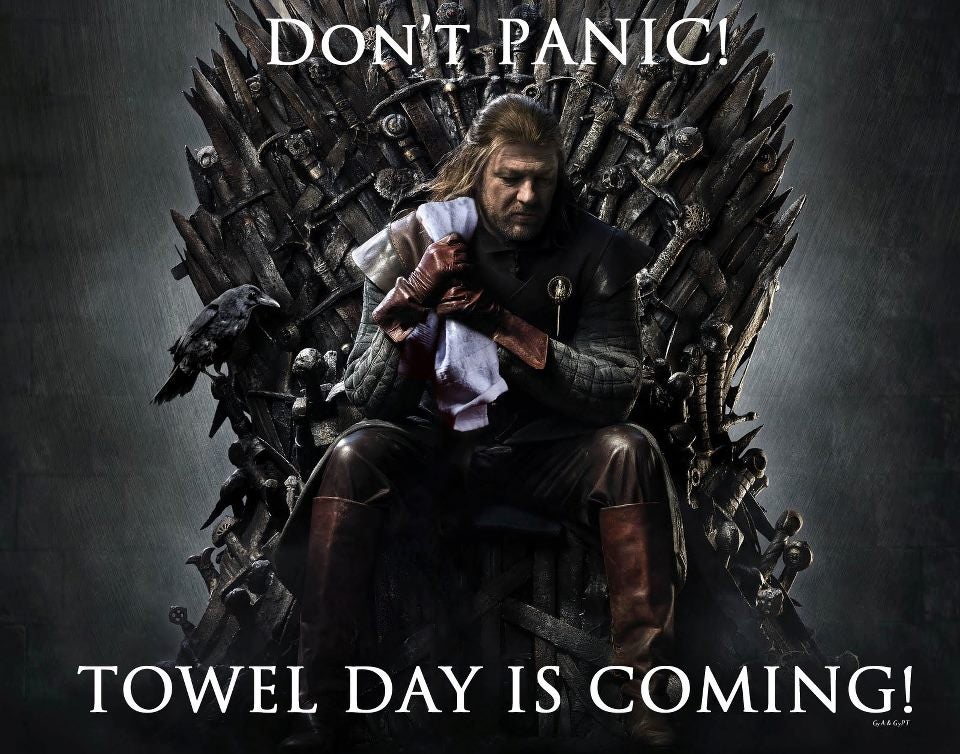 6) Ford Prefect Towel Swag 
GIF via monotoneminor/Tumblr
7) Douglas Adams Lectures on Parrots, the Universe and Everything
8) There's a Frood Who Always Knows Where His Towel Is
GIF via steinkind/Tumblr
9) So Long and Thanks for All the Fish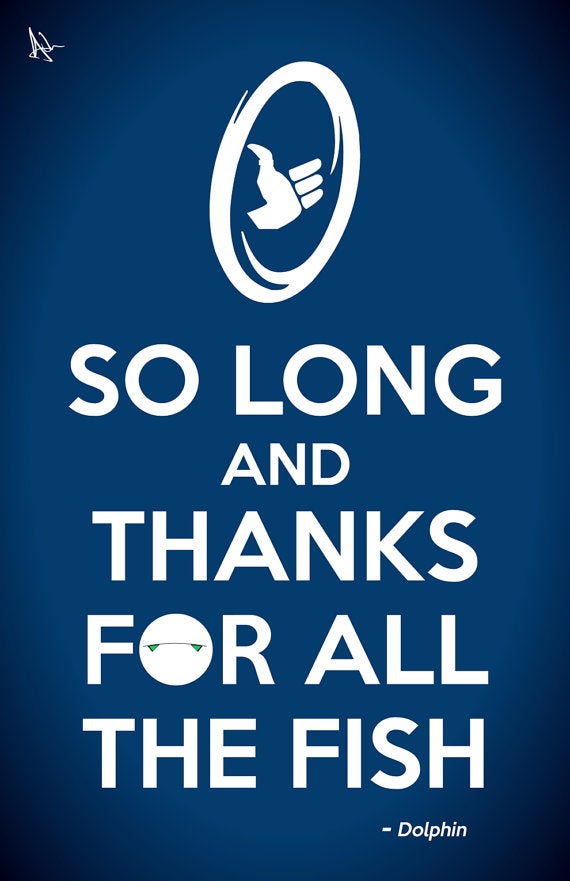 Photo via KnighteenFiftyFive/Etsy
10) Want This Book Purse, Please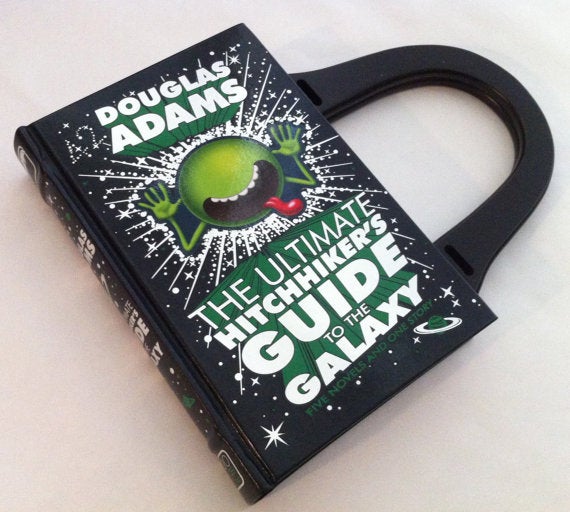 Photo via NovelCreations/Etsy
11) Join Team Adams!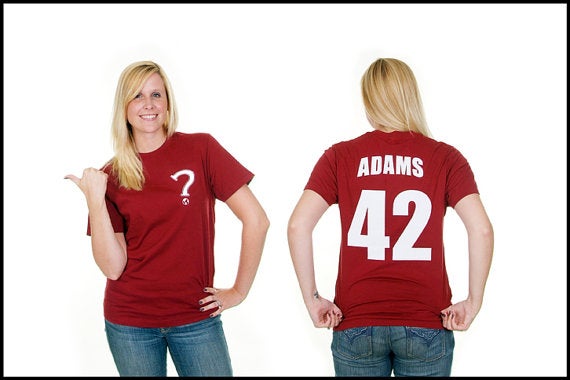 Photo via NovelTshirts/Etsy
12) Grab a Towel… or Two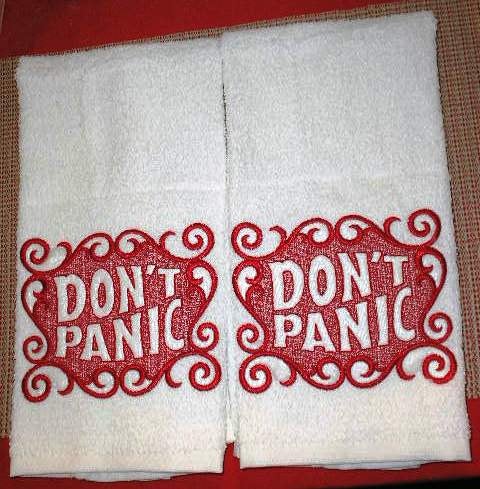 Photo via HeritageEmbroidery/Etsy
13) Traverse the Universe in These Kicks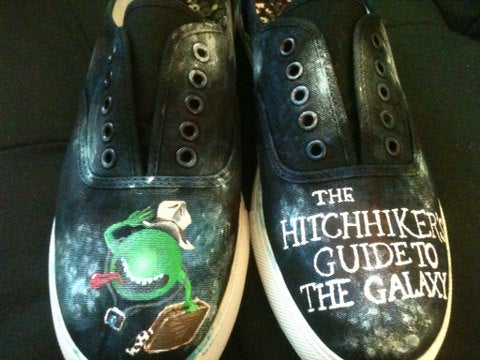 Photo via YellowReason/Etsy
14) Fancy Fish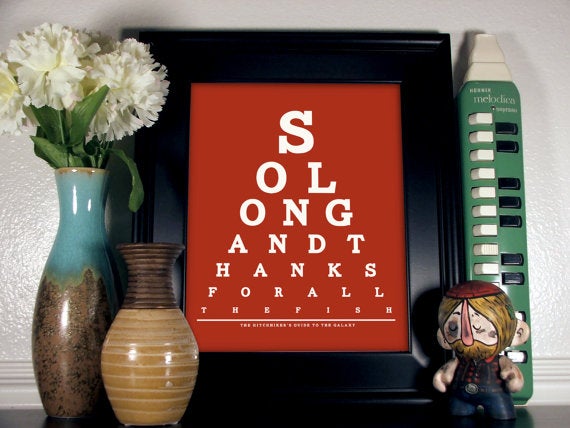 Photo via ThePressingPigeon/Etsy
15) Greetings!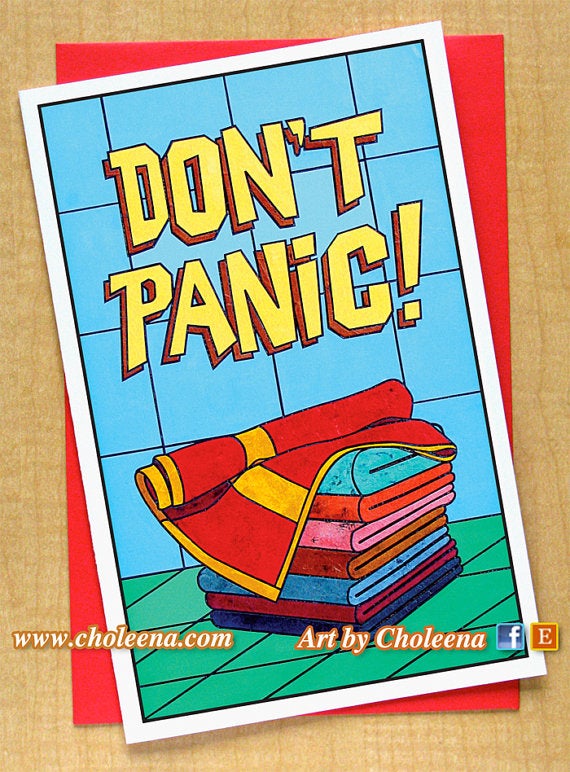 Photo via ArtByCholeena/Etsy
16) Drink Up That Janx Spirit in These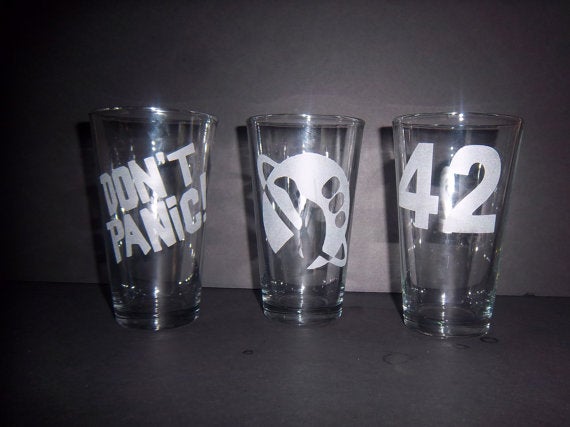 Photo via CyberGlassware/Etsy
17) Cute Babelfish Crochet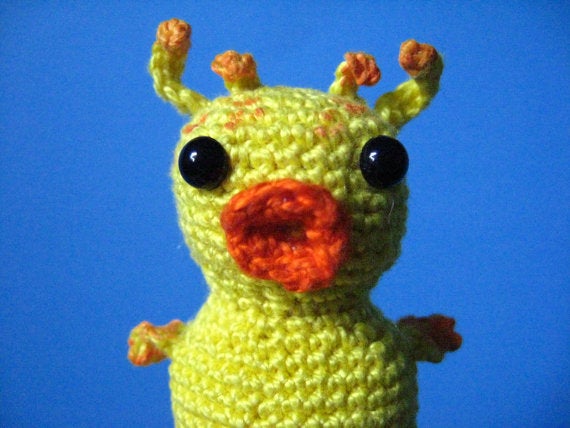 Photo via YamPaint/Etsy
18) Don't Panic—Relax on This Pillow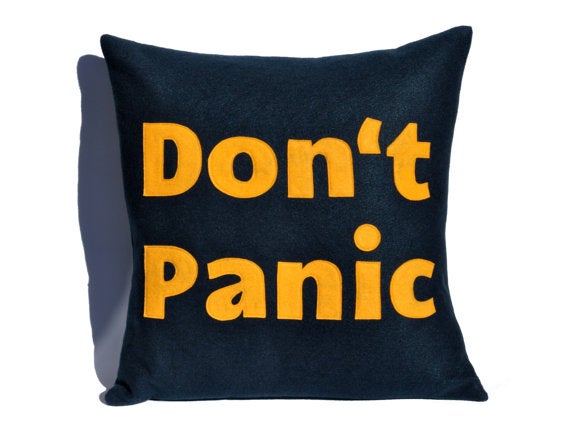 Photo via SaucyArathusa/Etsy
19) Speaking of Janx Spirit…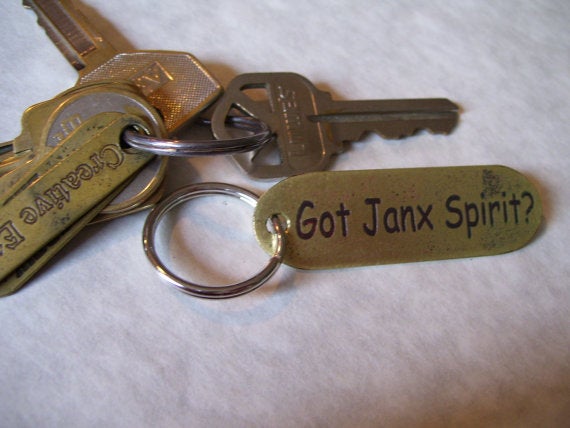 Photo via CreativeEtching/Etsy
20) Paranoid Android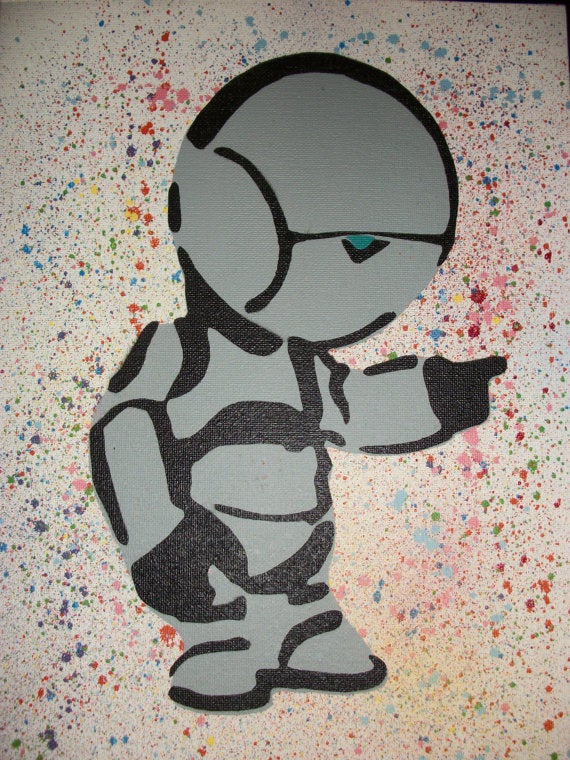 Photo via BombsNamedF/Etsy
21) Time Is an Illusion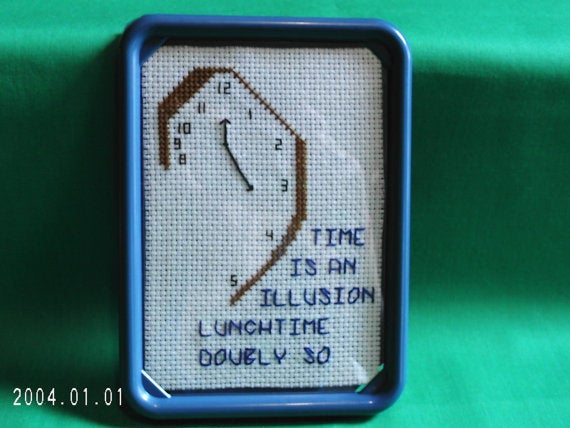 Photo via SnarkyLittleStitcher/Etsy
22) Don't Panic Pocket Journal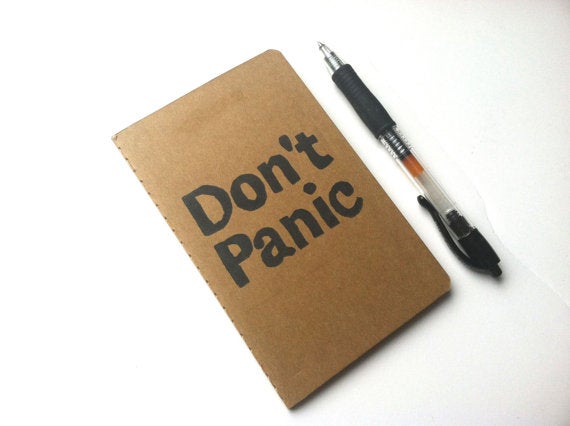 Photo via WordsIGiveBy/Etsy
23) Everything You Need to Remember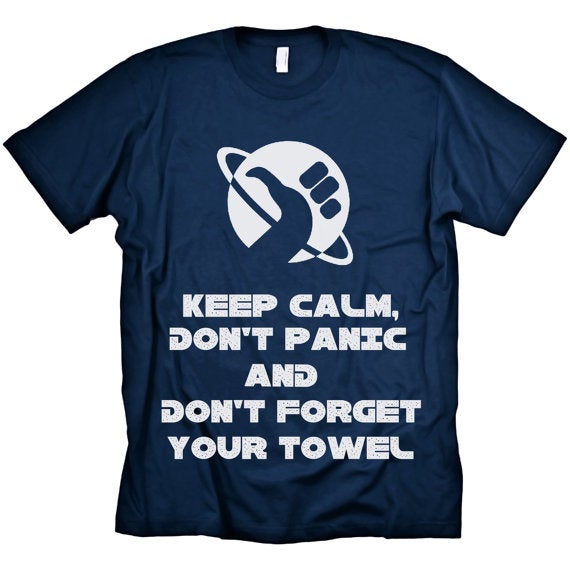 Photo via SpaceMonsterTees/Etsy
24) Happy Birthday to the Ground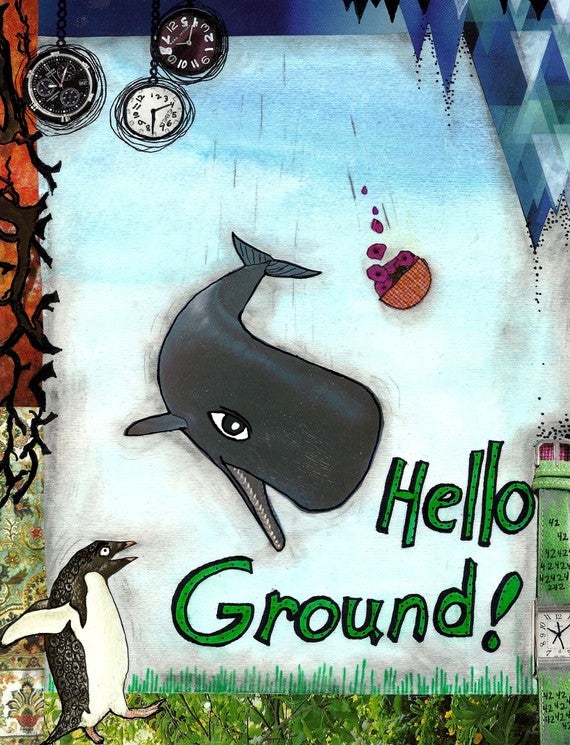 Photo via Nannyems/Etsy
25) This Is All Going to End in Tears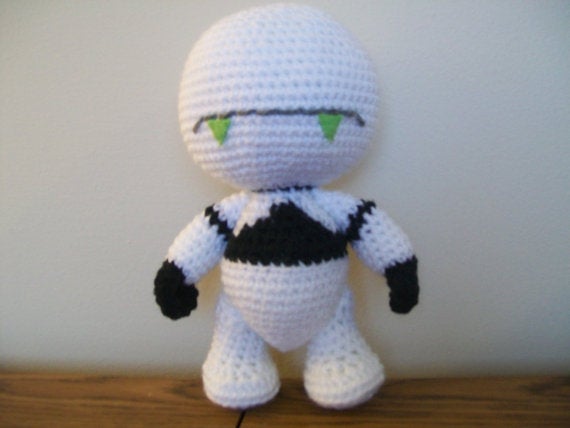 Photo via MyMothersHeritage/Etsy
26) Inspirational Wall Hanging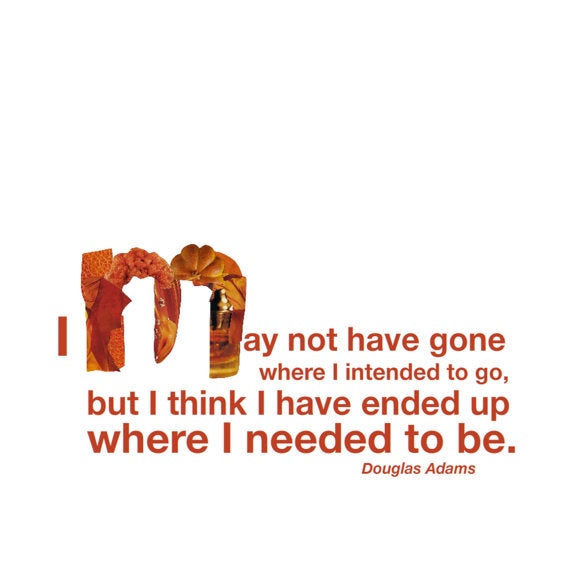 Photo via AshleyNicoleDesign/Etsy
27) Can You Tell I Really Like Marvin?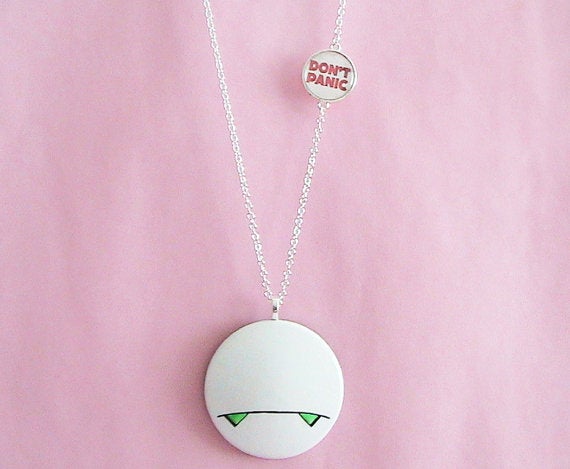 Photo via JooSweetie/Etsy
28) Stamp Out Panic!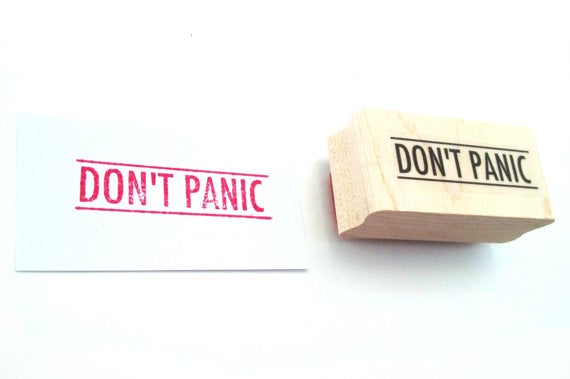 Photo via WeTheSciencey/Etsy
29) Humblebrag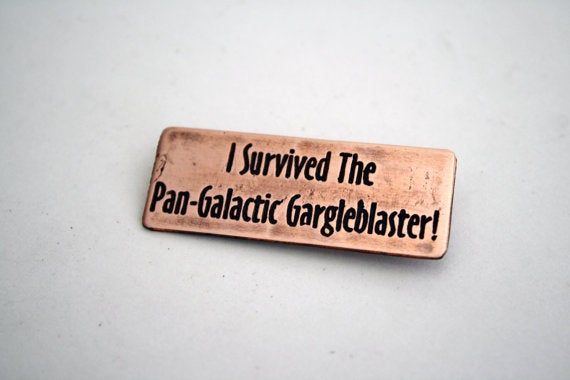 Photo via IvyMoonDesigns/Etsy
30) Hoppy Tats, Frood!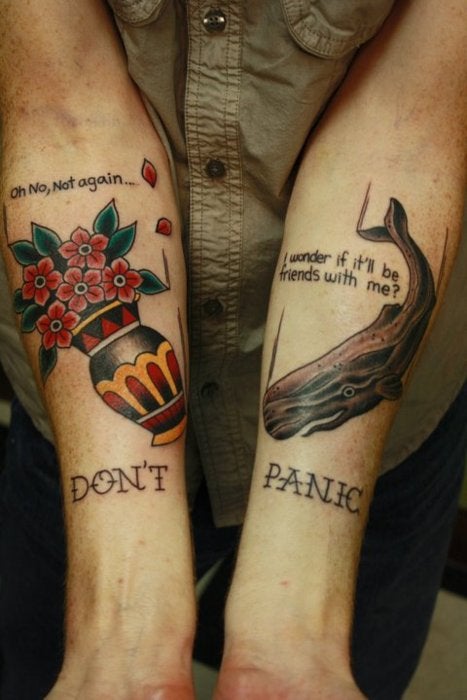 Photo via LiveForFilms 
31) At Any Rate…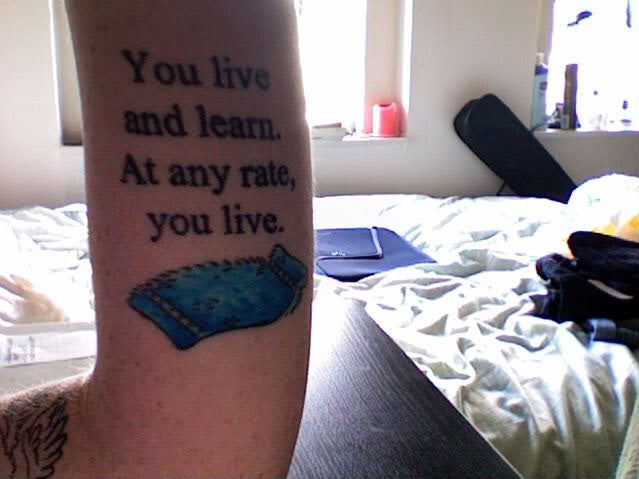 Photo via Faraley/Photobucket
32) The Dolphins' Last Words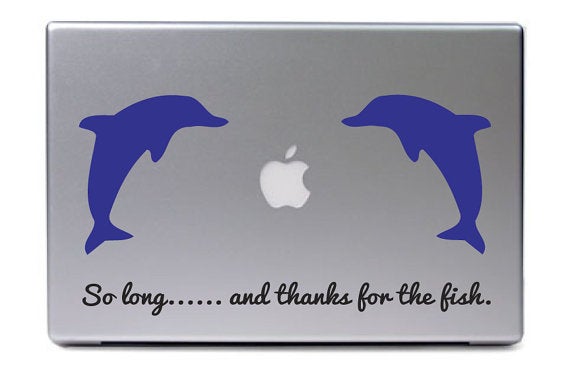 Photo via RJdecalking/Etsy
33) Zaphod Booblebrox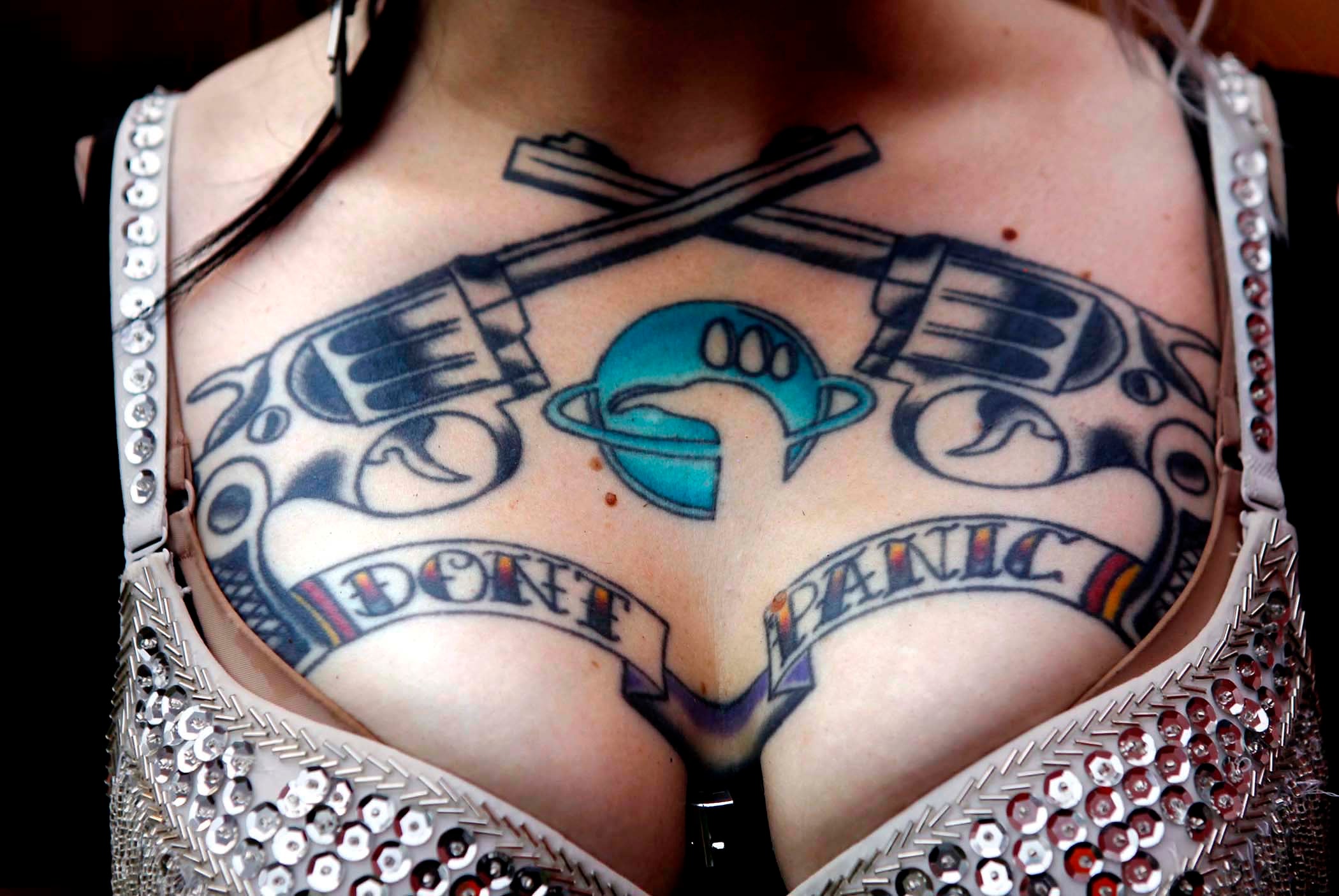 Photo via Palm Beach Post
34) Flying Is Learning How to Throw Yourself at the Ground Wall Decal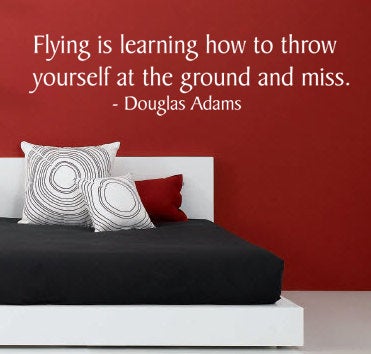 Photo via GreatWallsofFire/Etsy
35) Unhip-ster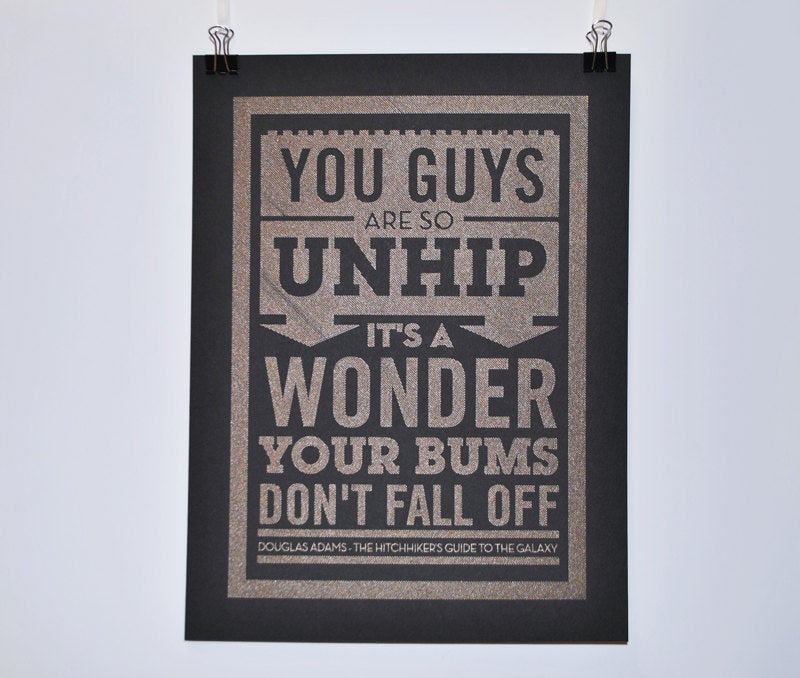 Photo via ChattyNora/Etsy
36) Deadlines Woosh By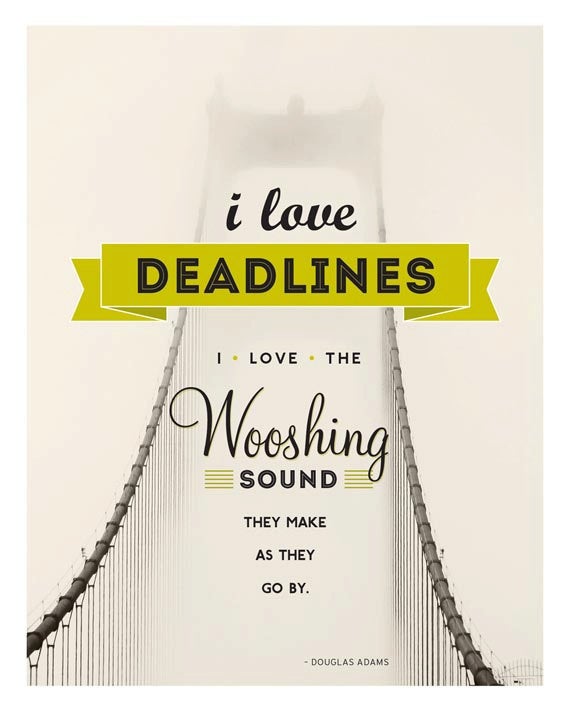 Photo via AlexWijnen/Etsy
37) Glassblown DNA Necklace (Douglas Adams' initials were DNA, which has become a nickname for the beloved author.)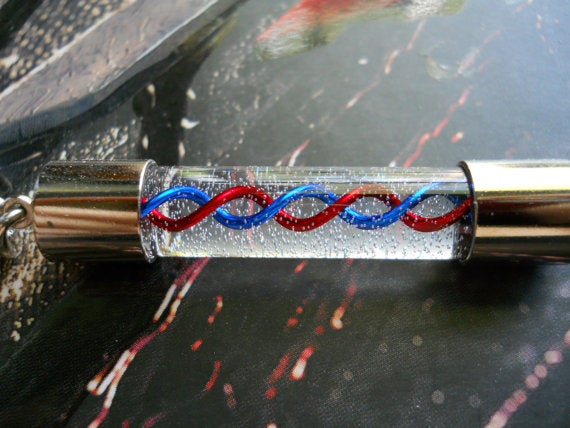 Photo via GeekOUTlet/Etsy
38) This Tattoo Took 42 Hours (JKJK)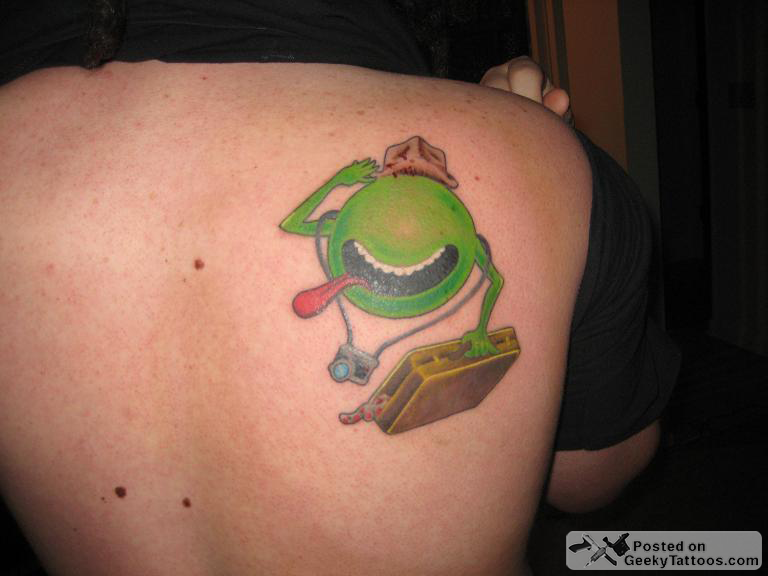 Photo via Geeky Tattoos 
39) Speaking of Tattoo Ideas…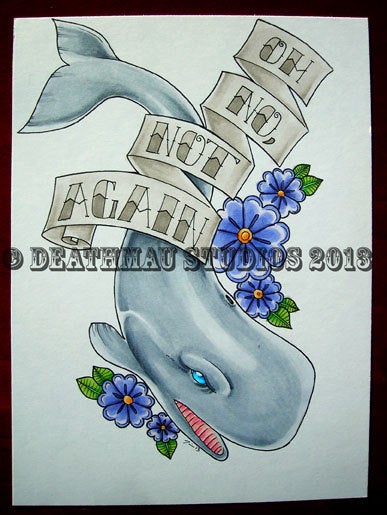 Photo via CatScratchings/Etsy
40) Widely Regarded as a Bad Move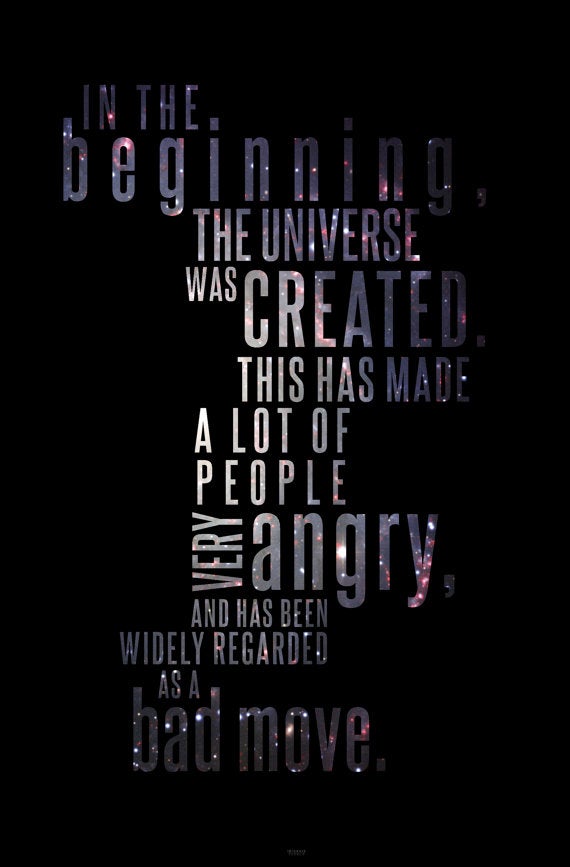 Photo via PaintedDoll/Etsy
41) Cufflinks for Wear at the Restaurant at the End of the Universe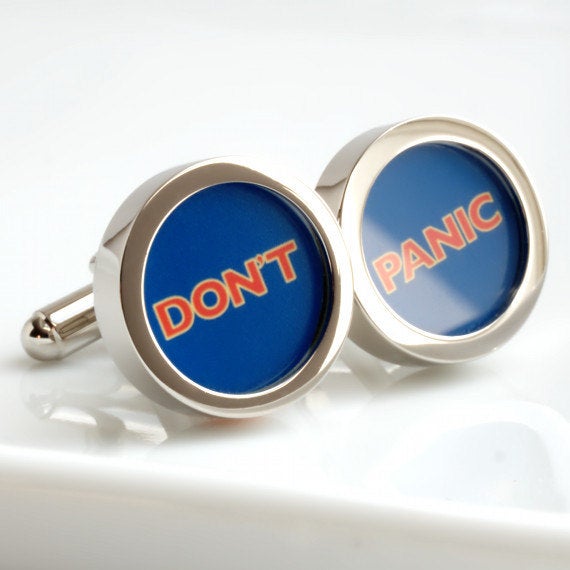 Photo via UrbanEye/Etsy
42) The Answer to Life, the Universe and Everything Is, as We All Suspected, Cookies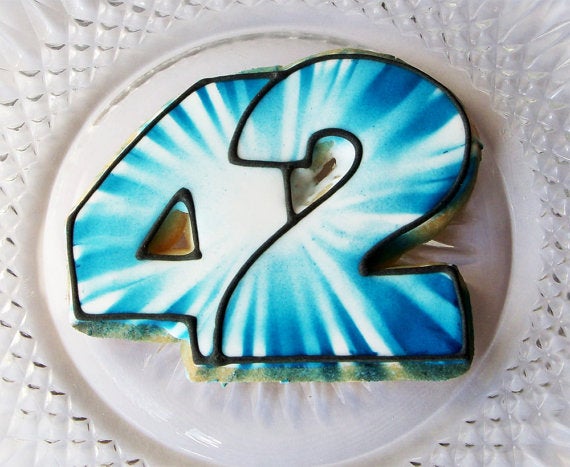 Photo via LindasEdibleArt/Etsy
Illustration by Jason Reed

Correction: An early version of this article misstated the year of Douglas Adams's death.