The dust has barely settled after the release of Disney's most recent smash-hit, Frozen, but fans are already looking forward to their next Disney princess fix. With a release date of Nov. 23, 2016, the Polynesian fantasy musical Moana has already managed to inspire its own very lively fandom.
The animated musical will tell the story of a young Polynesian sea-voyager and navigator, Moana Waialiki, and will be directed by the creators of The Princess and the Frog, Aladdin and The Little Mermaid. It apparently includes Moana going on an epic journey and meeting demi-gods from what the Disney wiki somewhat oxymoronically describes as "real mythology."
Not much else is known about the film, but the fact that Moana will be Disney's first Polynesian sea-voyaging princess is enough for many people to be majorly psyched already.
Only one piece of Moana concept art has been seen online so far, but it was quickly pulled by Disney on the grounds that it wasn't an official release.
(Disney released more information and showed off some art at its D23 event in August 2015.)
Still, that was all fans needed to inspire their own Moana fanworks. Tumblr is already alive with people drawing their own interpretations of the Polynesian princess, from cute, ukulele-playing girly-girl to tough, muscular sailor.
The evolution of the Disney Princess brand has received a lot of attention in recent years, partly thanks to the addition of characters like Merida, the tomboyish heroine of Disney/Pixar's Brave. The Princesses are one of the biggest media franchises aimed specifically at young girls, so many parents were glad to see more forward-thinking characters being introduced, to balance out the passivity of the more traditional princesses like Cinderella and Snow White. When Merida was given a more feminine makeover as part of her official induction into the Disney princess pantheon, there was actual public outcry for her to be returned to her original state.
With its combination of chase sequences, cute ballroom scenes and a focus on the relationship between two sisters, Frozen seemed to strike the perfect balance. Its princesses had agency and power in their own right, but still wore sparkly tiaras that 6-year-olds could then buy from the Disney store.
Of course, the relative feminism of recent Disney princess movies is not the only thing that modern viewers are concerned about. There's also the issue of racial representation in the princess movies—or rather, the glaringly white nature of most of Disney's animated output.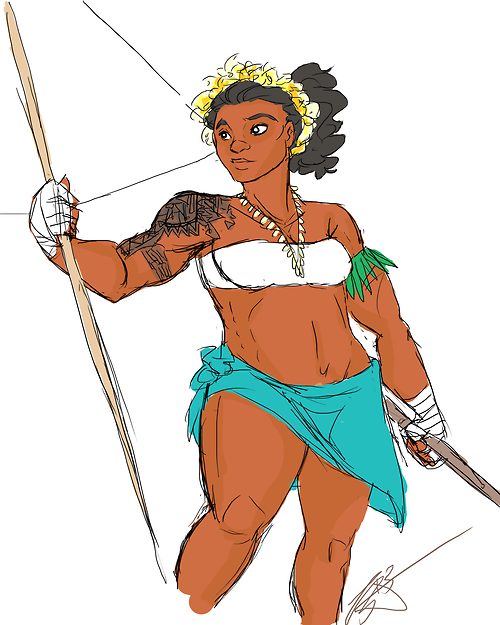 Illustration by Catena Badolato
The Disney Princesses come under a lot more scrutiny than other cartoons because they're directly marketed to be role models for young girls. And because the last four princesses were all white, many fans and parents of young girls began to accuse Disney of failing to represent people of color.
As some critics pointed out when The Princess and the Frog was released in 2009, Tiana may have been Disney's first black princess, but she spent much of the story as a frog, and the movie also contained some pretty unflattering racial stereotypes. Then when Frozen was announced, many fans were disappointed once again because the movie included aspects of indigenous Scandinavian culture such as Sami music and clothing, but no actual Sami characters. Online, the result was a fanart meme where people re-drew Frozen's characters as people of color, sometimes recasting the entire movie with Inuit or Sami characters.
Following Brave and Tangled, Frozen was the third Disney Princess movie in a row to feature an all-white cast, with some fans pointing out the close visual similarities between the blonde lead characters in Frozen, and Tangled's Rapunzel. The controversy only got worse after Frozen's head of animation made some pretty bizarre comments about female characters being "really, really difficult" to animate because they supposedly had a wider range of emotions than men. As explanations go, it was not the best reasoning for why Disney has been producing slim, caucasian princesses with tiny noses and big eyes for the past 60 years.
moopfloop/Tumblr
It's no surprise then, that Moana has already caught the hearts of the type of adult Disney enthusiasts who engage through fanart and discussion on sites like Tumblr and Reddit. Criticism from a small minority of online fans is unlikely to have made much of a difference to Disney's decision when choosing new movie concepts, particularly when Frozen was such a runaway success, but the announcement of another non-white princess is a sign that they are at least aware of their current track record.
With years to go until Moana is released, some of its target audience haven't even been born yet, but that doesn't mean it isn't already bringing happiness to the hearts of Disney fans. As one teenage girl wrote on her Tumblr blog:
"as a person of polynesian descent, i got extremely excited when disney's moana was announced and didn't really know why and then i realised THIS is what representation feels like."