The official Westworld website has updated with a newly glitchy aesthetic, hinting at the direction of season 2.
Season 1 ended with several robot hosts escaping behind the scenes of the park, discovering the truth about their lives. Whatever happens next, it seems to have had an effect on Discover Westworld, the park's official website. It used to be a glossy tourism ad with information about the park, but now the site opens with an animated clip of an enigmatic chat message.
Could this unknown user be an actual guest at the park, or is it one of the Westworld technicians, reaching out to the outside world? One of the many intriguing mysteries of season 1 was what goes on outside Westworld and its sister parks. What does the future really look like out there?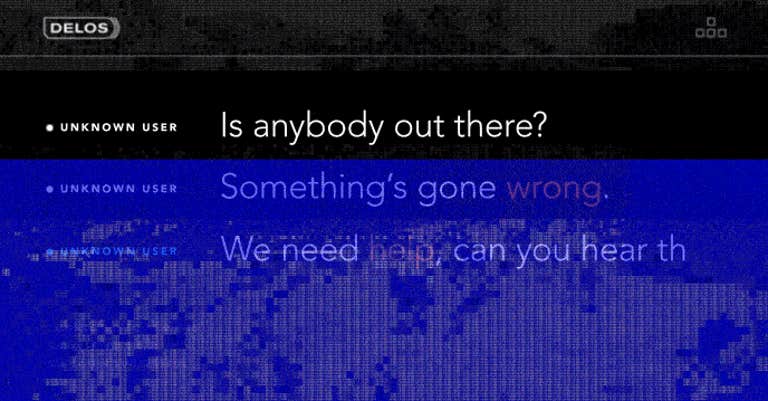 The chat continues with a response from a "registered user," saying, "All is well. Celebrations continue." We also see a loading screen for "Journey Into Night," the new narrative that Westworld creator Robert Ford (Anthony Hopkins) introduced at the end of season 1. Fans are already trying to figure out the code in the background, which may hold a hidden message.
The site's chatbot, Aeden, now advertizes a major Westworld event at San Diego Comic Con, which isn't a huge surprise. Westworld is HBO's next big thing after Game of Thrones, after all. Aeden mentions a "traveling roadshow" that will be "the closest you can get to being inside Westworld without stepping foot in the park," described by HBO as an "Experience Center." For those who can't make it to SDCC's immersive Westworld event, there's also going to be a panel on the main stage at Hall H, in one of the headline slots on Saturday afternoon. The showrunners and most of the main cast will be there, and these panels are typically livestreamed or posted soon after on YouTube.
Westworld is due to return in 2018.