On last night's episode of Game of Thrones, "The Queen's Justice," Daenerys Targaryen and her cadre of advisers debated the relative merits of her riding out on Drogon to do reconnaissance against Euron Greyjoy's Ironborne fleet.
The idea was dismissed as too dangerous, but perhaps she should have taken the risk, as the Unsullied were bombarded at Casterly Rock by Greyjoy at the end of last night's episode.
That looks like it won't happen again, thanks to one particular detail in the teaser for season 7, episode four.
Did you see Drogon? He wasn't merely traipsing about Dragonstone. No, he had a rider.
That's almost certainly Daenerys—but could that also lead to the infamous shot from Bran's vision, of a dragon flying over King's Landing?
That wasn't the only thing presaged in the teaser. Here's Arya, seven seasons later, finally laying eyes on Winterfell, where Sansa is waiting.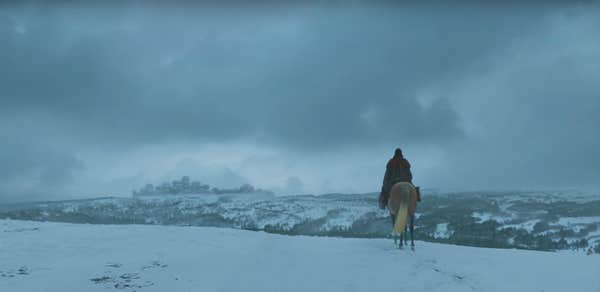 Episode four's name has yet to be revealed.