When Josh Brolin posted a photo of himself as Cable last week, he inspired a flurry of excitement from Marvel fans. The 49-year-old actor had bulked up for his role as the time-traveling mutant, co-starring alongside Ryan Reynolds in Deadpool 2. There was some debate about whether Cable had enough pouches on his costume (the comics involve… a lot of pouches), but eagle-eyed fans noticed something more intriguing: Cable's teddy bear.
On his right-hand side, you can see a bedraggled bear hanging from Cable's belt. Why would a gun-toting mercenary have a child's toy?
If you're a fan of Cable's story in the comics, you'll already have some guesses. As the son of Cyclops and Jean Grey's clone, he travels back in time from a dystopian future. One of his best-known storylines involves him taking care of an important mutant child named Hope Summers, whose role is similar to the female leads of Children of Men and Logan. She's the first mutant to be born after all the other mutants lose their powers, and as a result, she's treated as both a messiah and an apocalyptic threat. Cable helps her escape her enemies by traveling through time, but the two characters get separated. That's where Deadpool 2 (maybe) comes in.
READ MORE: 
The movie hasn't announced any casting for Hope Summers, but if Cable's carrying a teddy bear, it's probably hers. Even in the first teaser trailer, there was an Easter egg hinting at her role. When Deadpool goes into the phone booth to change into his costume, there's graffiti that reads "Nathan Summers coming soon," referring to Cable's birth name. And inside the booth, you can see the word "HOPE."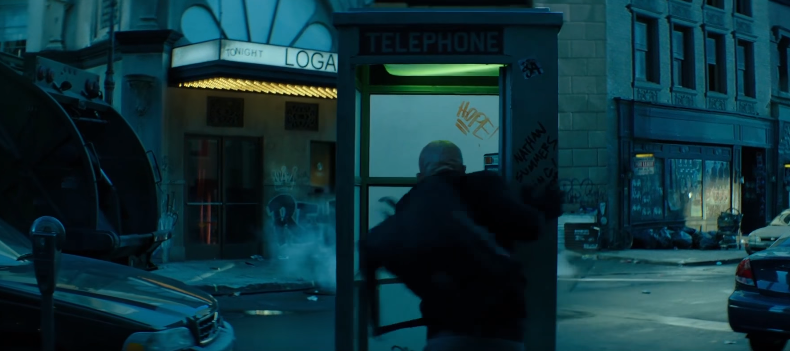 The creators of Deadpool 2 have spent months sharing teasers and photos from the movie, but they've neatly avoided any solid information about the plot. All we really know is the cast, which now includes Cable (obviously) and Zazie Beetz as the mercenary Domino.
Even if Hope Summers doesn't appear onscreen in Deadpool 2, it seems she'll have a role in the story. And since Josh Brolin has signed a four-movie contract, that leaves the door open for more Hope in the future. Cable may even provide a link with the main X-Men franchise because he and Hope Summers share a close connection with Cyclops and Jean Grey, both of whom have a central role in the next X-Men movie, Dark Phoenix.