David Duchovny and Gillian Anderson know a thing or two about conspiracy theories, and they turned us all from casual "wouldn't it be nice" X-Files shippers into raving "omg they're totally together and trying to hide it from the world" tinhats Tuesday night after they got hot and heavy—on Twitter, no less.
The not-actually-a-couple-or-are-they? made the entire X-Files fandom sit up and take notice after this eyebrow-raising public exchange:
Lost on my way to the #TonightShow. Forgot it moved to NY, driving from LA now. See you soon @FallonTonight! pic.twitter.com/PKkJ6belNy

— David Duchovny (@davidduchovny) April 22, 2014
@davidduchovny So babe, you've got the chauffeur for the next 48?

— Gillian Anderson (@GillianA) April 22, 2014
@GillianA yes babe 48 anywhere you need me to be? I can adjust the pedals for ya too always #gillyramp

— David Duchovny (@davidduchovny) April 23, 2014
@davidduchovny There's only one place I need you to be and no ramp required.

— Gillian Anderson (@GillianA) April 23, 2014
In our best Keanu voice, woah.
While Mulder and Scully have steadfastly denied that they're in a relationship, the gossip has been flying for years that they're secretly involved. In 2012, after Anderson's divorce, Celebrity Dirty Laundry insisted the couple was secretly living together. Last year, the X Files' 20th anniversary media blitz saw the two of them turning heads with a series of racy magazine covers. Oh, and then there was this little Reddit AMA photo, apparently taken on a shared hotel bed: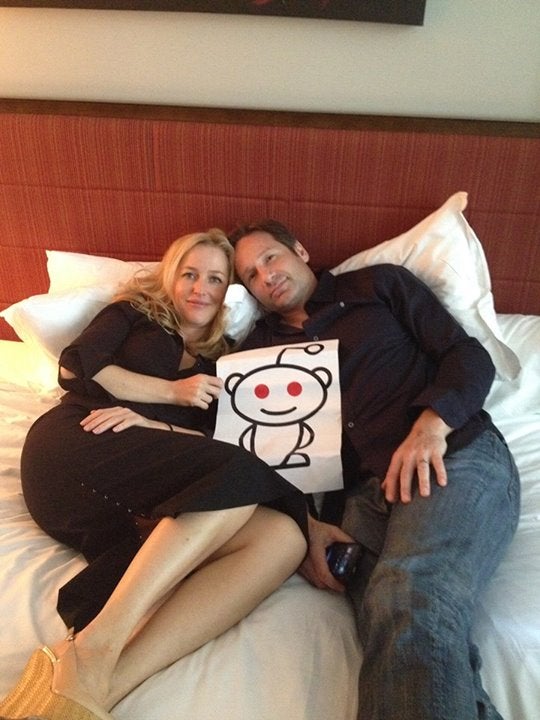 Photo via Facebook
Then there was last year's NY Comic Con appearance, which created a massive buzz among X-Files fans and Gillian/David shippers after the duo reportedly held hands all weekend. Oh, and this happened: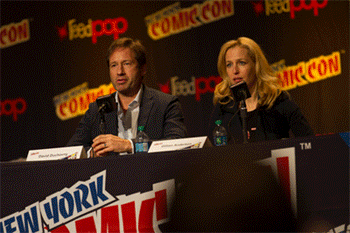 Duchovny is only a recent arrival to Twitter, and true to form he's been unabashed about his er, fondness for Anderson since the beginning:
Hi @GillianA why did you keep twitter a secret from me all these years ? I'm here and I heart scully ;) What's up?

— David Duchovny (@davidduchovny) April 15, 2014
Seriously, if they don't want us to ship them together, they're doing a terrible job of showing it.
When Bree Sharp asked the world's most important question (David Duchovny, why won't you love me?), the answer was clearly: Because Gillian Anderson was there first.
Photo via Wikimedia Commons; CC-BY-SA-3.0