While everyone in the main Guardians of the Galaxy cast has called for James Gunn to be reinstated as director, Drax actor Dave Bautista has been the most outspoken. Now, he's threatening to quit the next movie if Marvel replaces Gunn's screenplay.
The controversy over Gunn's firing has not gone away. Three weeks ago, Disney fired him from Guardians of the Galaxy Vol. 3 for making offensive jokes about taboo topics like rape, AIDS, and pedophilia. However, this situation was complicated by the details of how those jokes came to light. Gunn had posted them on social media years ago, and they only resurfaced thanks to a campaign from alt-right trolls. Essentially, he was fired because those trolls wanted to punish him for expressing anti-Trump views.
Unlike examples where filmmakers and actors were fired for clean-cut crimes like sexual harassment, Gunn's firing inspired widespread support from fans and co-workers. The Guardians cast signed an open letter asking Disney to rehire him, and on Monday, Dave Bautista said Gunn was taken down by "a smear campaign by fascists #cybernazis."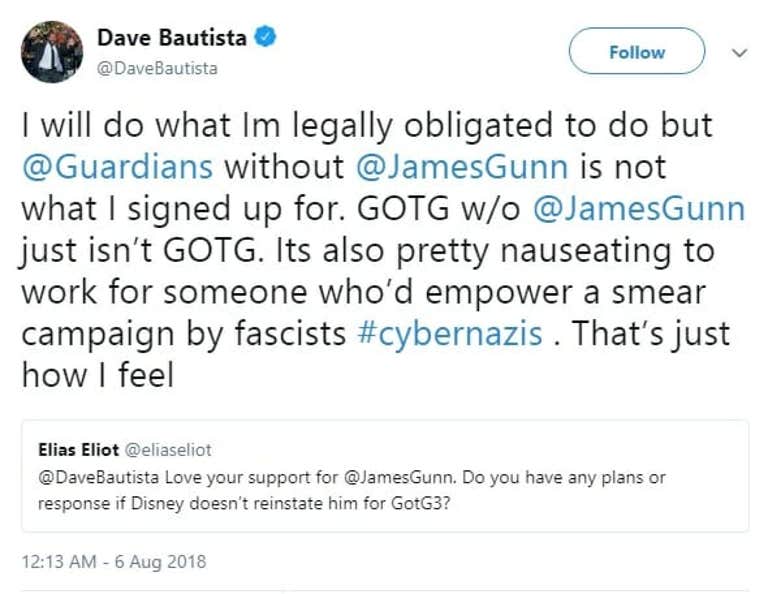 This tweet arrived shortly before an interview with Shortlist, where Bautista confirmed that he'd try to break his contract with Disney if they didn't keep James Gunn on as a writer.
"Where I'm at right now is that if [Marvel] don't use that script, then I'm going to ask them to release me from my contract, cut me out or recast me," he said. "I'd be doing James a disservice if I didn't." He added that he wasn't defending Gunn's tweets, but that Gunn's firing was "a smear campaign on a good man."
READ MORE:
This public show of solidarity is an unusual move in Hollywood. Ordinarily, actors are very reticent to speak up against a powerful studio like Disney, especially if they're still working at that studio. In this case, we've seen everyone from big stars like Kurt Russell to relatively low-level Guardians actors voice their support for Gunn, potentially risking behind-the-scenes repercussions from their employers. Unfortunately for them, there's no sign that Disney is planning to rehire James Gunn as director. A recent Variety report described this as an unlikely outcome, which may be why Bautista is focusing his attention on Gunn's screenplay, which Gunn had already been working on for months.