Daenerys Targaryen will take what is hers with fire and blood—and also, apparently, a lot of money.
Fans and PR firms alike have calculated just about everything on Game of Thrones over the years from the size of Daenerys' dragons to the cost of a Westerosi wedding and the size of its biggest landmarks. With Daenerys' highly anticipated return to Westeros, one company has already figured out how big of a transportation budget the Mother of Dragons would really need to relocate her army and followers. 
The infographic, which comes from the U.K.-based international shipping company 1st Move International, was first published in March (with exchange rates updated as recently as June 30) and recently made its way to r/gameofthrones. Using a variety of sources like Reddit's active Game of Thrones communities, Quora, and A Wiki of Ice and Fire, 1st Move International looked at the needs of the Dothraki and Unsullied forces as well as Daenerys' Royal Council. It calculated the passengers' weights—Khal Drogo was used as the basis for the Dothraki and Grey Worm for the Unsullied—while estimating the size of those armies, the amount of horses needed for Dothraki riders, and the sheer amount of food to feed all of those soldiers.
And boy it's a doozy.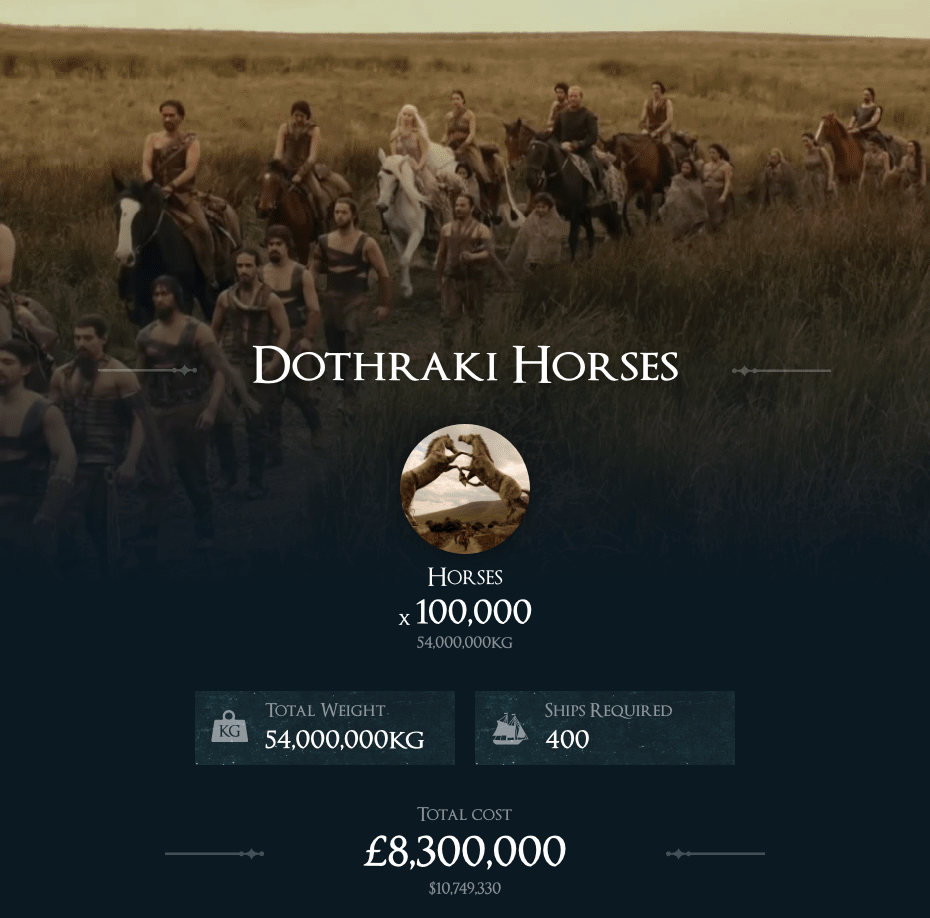 (You can view the full graphic on 1st Move International's website.)
By its estimate, Daenerys would be spending £174,539,250 (or $226,129,561.51) just to get everyone to Westeros, the vast majority of it being food to feed all of the soldiers and their horses. That's a lot of Gold Dragons.
The infographic crunches the numbers, but doesn't necessarily take into account outside circumstances. The Dothraki will likely have more than one horse each, so more space needs to be allotted for them, and many of the forces already have their own weaponry and might not need more. Daenerys could've easily taken the ships with their supplies from Meereen (at least those that weren't destroyed by her three dragons during the Second Siege of Meereen). And, as one redditor pointed out, it's unclear if the final calculation includes Tyrion Lannister's significant alcohol stipend.
The length of the trip, as Quora calculated it, might not be accurate either. George R.R. Martin deliberately made sizes and distances of Westeros and Essos—as well as the Narrow Sea—vague so fans couldn't correct him if it took a character longer to travel somewhere than Martin claimed. The important thing really is that Daenerys left Meereen with Theon and Yara and met up with Varys, Highgarden, and Dorne at the end of season 6. She arrives in Dragonstone in season 7.
As for how Daenerys could pay for it? The Tyrells are the second-richest family in Westeros and Lady Olenna wants revenge on Cersei Lannister for the deaths of her son and her grandchildren after last season. Highgarden could cover part of the cost. And the rest? Cersei wasn't interested in properly dealing with the Iron Bank of Braavos in more peaceful times, so it could ultimately collect its debts from the Iron Throne by backing another one of her rivals. 
H/T Mashable