Little Brother is a critically acclaimed young adult sci-fi dystopia written by Cory Doctorow, one of the Internet's most prominent advocates for open access and free speech. First published in 2008, the novel is about teens rebelling against government surveillance. 
The book has now caused a Florida high school principal to cancel his school's summer reading program over the inclusion of Little Brother. Why? It advocates "questioning authority."
Undaunted, Doctorow and his publisher, Tor, have responded by donating 200 paperback copies of the book to the school. Graphic book poster design store Litographs also donated two Little Brother posters to the school, which feature the entire novel in a framed print.
"I think that the role of an educator is to encourage critical thinking and debate, and that this is a totally inappropriate way to address "controversial" material in schools," he wrote on his blog at BoingBoing Friday.
Citing the book's anti-authoritarian values and love of hacker culture, the principal of Booker T. Washington High School in Pensacola, Fla., rejected Doctorow's work as the school's chosen summer-reading assignment.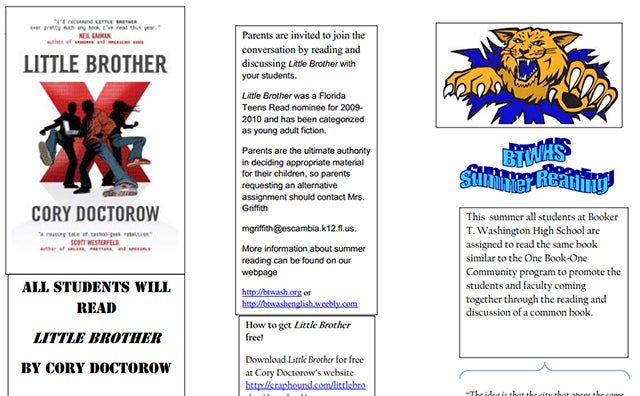 Screengrab via Craphound
Although the school librarian and an English teacher had worked together to create a curriculum around the book, and although the school administration had already approved the assignment, the school's principal, Dr. Michael Roberts, ultimately banned the school's entire summer reading program rather than have students read Doctorow's novel. According to Doctorow, Roberts's objection was clearly political:
In an email conversation with Ms Griffith, the principal cited reviews that emphasized the book's positive view of questioning authority, lauding "hacker culture," and discussing sex and sexuality in passing. He mentioned that a parent had complained about profanity (there's no profanity in the book, though there's a reference to a swear word). In short, he made it clear that the book was being challenged because of its politics and its content.
The Pensacola News Journal reported that Dr. Roberts specifically objected to the book's portrayal of "questioning authority" as "a positive thing." He also said that he objected to "language" and "overtures" in the book after skimming it.
Doctorow cited the novel's track record of critical acclaim in urging the need for reasoned response to teaching books rather than censorship:
Little Brother is recommended by the Florida Library Association for use in schools, and has been chosen as a One School/One Book title in other schools—it's even been a One City/One Book choice for all of San Francisco. I've visited dozens—if not hundreds—of high-school groups around the world to talk about it.
But while it's one thing to freely discuss a book that lives in a different time and era, it's another to bring the political tension of the modern world into the classroom—and Little Brother, which is freely available online under a Creative Commons license, is a book that lives in the here and now.
Little Brother espouses an "outspoken" political ideology of free speech, free Internet, and technology-driven populism. Published in 2007, it both prefigures and is born from the online activist culture that has since given rise to the Occupy movement, Anonymous, WikiLeaks, and the Open Access battleground that cost Aaron Swartz his freedom and ultimately his life.
Its sequel, Homeland, published in March, is even more sharply political, and even features an afterword from Swartz himself. While Doctorow's story has one foot in science-fiction, it has another squarely in the modern world. It seems to be a crossover Roberts found too difficult to teach to students during their unsupervised summer months.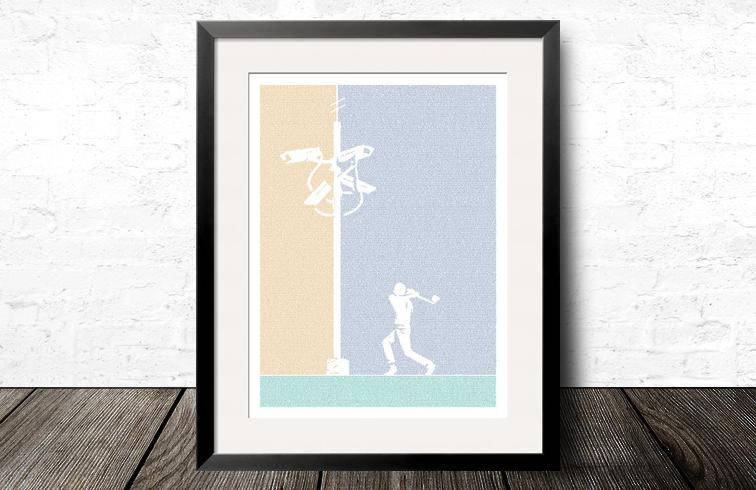 Photo via BoingBoing
Ironically, the stated aim of the One School/One Book program was to "promote the students and faculty coming together through the reading and discussion of a common book." Instead, it's fomented a division: the school's English Department head, Mary Kate Griffith, who helped choose the book for the program, filed a complaint with the National Council Against Censorship. The organization addressed the incident in a letter to the school on Monday, arguing that Roberts' unilateral decision to cancel the program and reject the book "violates basic Constitutional principles."
"(In the book), there's so much history, so much technology and math," Griffith told the Pensacola News Journal. "It's the type of book that would create questions and discussion for students. It has something in it that every student would be able to relate to."
Having been removed from the schoolwide curriculum, the book will only be available as optional reading material in the fall—and only to 11th-grade students in AP English.
Photo via BoingBoing