High-profile comics creators are belatedly reckoning with their industry's version of Gamergate. After the widow of a popular artist was harassed on social media last week, more creators are taking a public stand against Comicsgate—but to many people, this seems like too little, too late.
To anyone who followed the culture wars in sci-fi fandom or video games, Comicsgate will feel very familiar. It's a reactionary movement against diversity in comics, provoking hate campaigns against women, people of color, and creators with progressive political views. Spearheaded by Richard Meyer—not so much a comics "fan" as an organized troll who posts under the pseudonym Diversity & Comics—this movement followed the Gamergate model of targeting specific individuals for harassment.
The past few years saw a surge in this kind of toxic behavior, including Mockingbird writer Chelsea Cain being harassed off Twitter because her character wore a feminist T-shirt, and Marvel editor Heather Antos being targeted for posting a photo with some female co-workers. Ginning up support on Twitter and YouTube, Meyer and former DC/Marvel artist Ethan Van Sciver—the de facto leaders of Comicsgate—began to monetize their notoriety this year, launching a crowdfunded comic called Jawbreakers. Comicsgate is an unavoidable presence in comics fandom, yet for the most part, influential publishers and creators tried not to get involved. Vault Comics is the only publisher to make an explicit statement against this kind of bigoted harassment, and before this weekend, many well-known creators hadn't commented publicly.
As is often (depressingly) the case, the final straw required the right kind of victim. While the comics establishment didn't feel the need to weigh in on more obscure figures being harassed, it was shocked to see Marsha Cooke receiving hateful messages. Cooke is the widow of celebrated DC artist Darwyn Cooke, and she drew Comicsgate's ire by saying her late husband would never support them.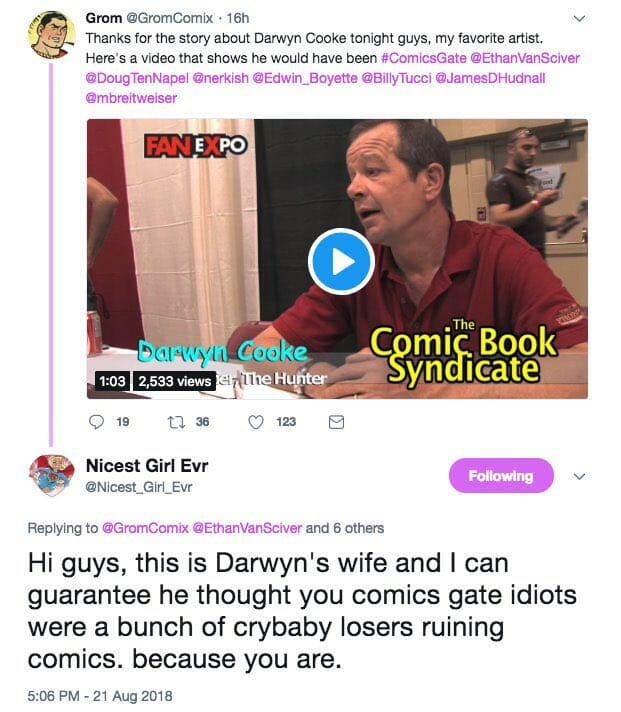 Cooke continued to post about Comicsgate, sharing zingers against her harassers and responding directly to Van Sciver. Darwyn Cooke's fans and former colleagues began to take notice, voicing their support as Marsha Cooke temporarily locked her account to avoid further harassment. Cooke later highlighted the fact that many people spoke up to support her as a victimized "white wife," when others in less privileged positions had been ignored.
Ethan I know you have felt isolated from the general industry but you need to know it is because most people feel you are stoking a dangerous group of fans that hate women, people of colour and all the gay community. that's not ok and Darwyn will not be associated with it.

— Nicest Girl Evr (@Nicest_Girl_Evr) August 22, 2018
Hopefully this is my last comment on the subject but I agree with everyone saying it is annoying that people didn't get on board the reality of what these idiots are doing until it was a white wife attacked.

— Nicest Girl Evr (@Nicest_Girl_Evr) August 26, 2018
Writer Jeff Lemire (Old Man Logan) marked a tipping point for creators speaking out last week, denouncing Comicsgate and asking other creators to stand up for each other. Things really took off on Sunday, when Marvel/DC/Star Wars writer Tom Taylor posted this tweet:
I believe comics are for everyone.
There is no excuse for harassment.
There is no place for homophobia, transphobia, racism or misogyny in comics criticism.

— Tom Taylor (@TomTaylorMade) August 26, 2018
Along with thousands of retweets, numerous creators copied and pasted versions of Taylor's message on their own accounts. Though intended as a show of support, this prompted backlash in itself: First because it seemed like a meaninglessly easy gesture, and second because it linked Comicsgate with comics criticism. And while Comicsgaters may criticize comics and their creators, they're certainly not critics.
This may sound like hair-splitting semantics, but it touched a raw nerve in comics fandom. Compared to the flourishing community of professional and amateur book reviewers for prose fiction, comics critics are a rare breed. Most comics-specific websites focus more on publicity and crowd-pleasing news stories than in-depth reviews. Specialized comics critics tend to be unpaid or self-employed freelancers, and they often face harassment for negative reviews—especially if they focus on political issues like sexism. While comics creators are keen for their medium to be taken seriously, there isn't much support for the kind of critical analysis we see for books or movies. This issue was helpfully illustrated by this weekend's backlash cycle: As soon as people objected to the comparisons between comicsgaters and "critics," others like artist Declan Shalvey interpreted this as a new volley in an imagined war between creators and critics.
https://twitter.com/ales_kot/status/1034210043971788801
Those of us who think comics critics are the enemy believe in a lazy mischaracterization of what critics do and also aren't paying attention to who's organizing harassment campaigns against creators from marginalized backgrounds.

— Trung Lê Capecchi-Nguyễn (@Trungles) August 27, 2018
The similarities with Gamergate are obvious. Gamergate infamously marketed itself as a campaign for "ethics in games journalism," claiming to fight back against corrupt critics. In reality, its followers wanted to silence anyone who didn't fulfil a narrow expectation of how videogames "should" be: big-budget adventure games with no progressive political content, preferably aimed at and created by straight, white men. Neither movement cares about artistic analysis or constructive criticism, and Comicsgate's most prominent figureheads don't even describe themselves as critics. They're a professional artist and an internet troll turned semi-pro writer.
This weekend was a turning point in the sense that mainstream creators are finally confronting Comicsgate head-on. However, there's a huge difference between tweeting supportive messages and actually making systemic changes to the industry.
It's not exactly hard to publicly disapprove of harassing a respected colleague's widow, but many of these creators arguably helped Comicsgate grow to the size it is today, either through apathy or by failing to walk the walk in their professional life. For instance, it's hard to take Marvel's former Editor-in-Chief Axel Alonso seriously when he posts a banal statement like "comics are for everyone," after he promoted the Nazi Captain America storyline and, in a more general sense, faced years of criticism for Marvel's consistent lack of diversity behind the scenes.
Comics are for everyone. Anyone that thinks otherwise is a bigot.

Back to work, everyone.

— axel alonso (@axelalonsomarv) August 27, 2018
Hashtag activism is a start, but this late in the game, we need to see publishers take real action against Comicsgate—and put public, meaningful support behind any employees facing harassment.