Want to embrace your inner geek at a cocktail party or wedding? You might have a hard time finding appropriate and stylish fandom fashion for the occasion. Unfortunately, going to a mainstream store and finding a Wonder Woman-inspired dress that is both chic and reminiscent of the character is rarely possible—yet. Little Petal's Danielle Ward, however, is offering women a solution with her Etsy shop.
Founded in 2012, Little Petal was originally just a custom alternative wedding dress company. Ward focused on making bridal gowns that combined traditional silhouettes with color accents inspired by characters from comics books, anime, TV shows, and more. While she enjoyed creating these gowns, she also wanted to make something girls could wear anytime. The idea for Little Petal's current line of convertible dresses came last spring when the violinist of Ward's favorite band asked her for a solid navy convertible dress that she could wear on her upcoming tour, doing away with the need to bring 10 different types of dresses along.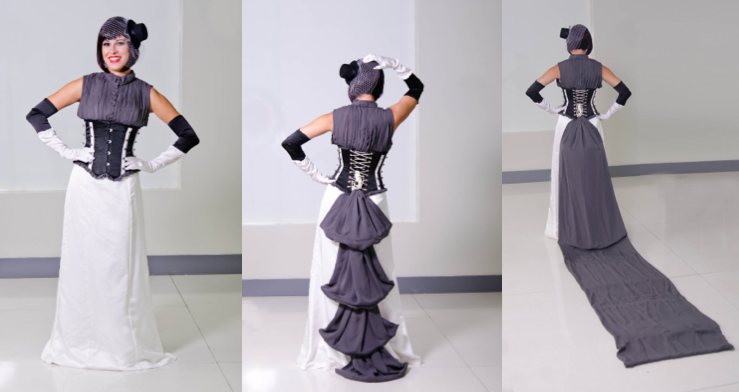 Custom comic book-themed wedding dress inspired by Zatanna.
"I made a couple more solid color ones, then thought how much more interesting these dresses would be if they were multiple colors. There are many companies who sell convertible dresses, but they only really exist as one color or two colors: the skirt being one and the straps being the other," Ward told the Daily Dot. "I decided to utilize color blocking within the skirts and straps to really make the inspiration obvious."
The first dress she designed this way was inspired by Wonder Woman, and almost immediately she discovered a consumer base.
"I asked a friend if she would like the dress, and she was ecstatic. I put up a Facebook status asking if any girls would want dresses based on Batman, Wolverine, a TARDIS, She-Hulk, Sailor Moon, and Harley Quinn for myself, at cost of fabric and all of the characters were taken within hours," Ward said. "I didn't mind making the dresses without being paid for labor because I really just needed to get the designs out of my head and constructed into garments! I was not expecting the level of excitement girls would feel for my company."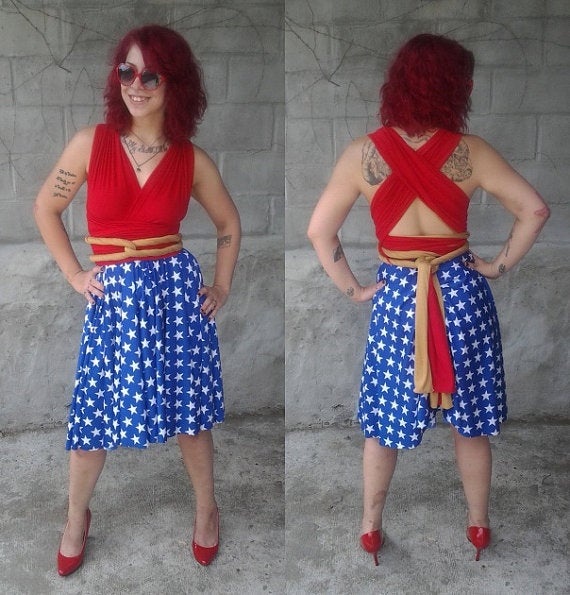 Wonder Woman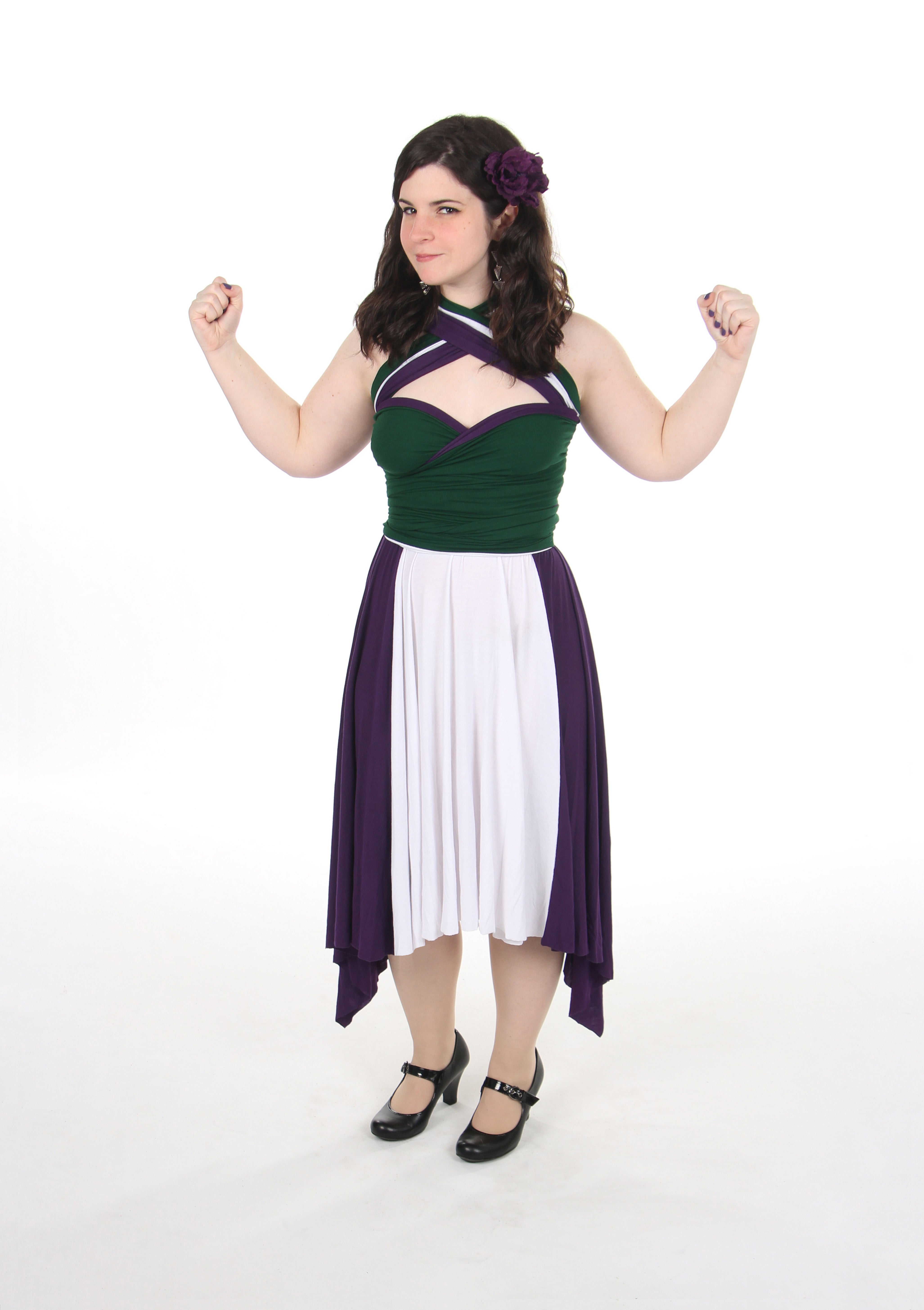 She-Hulk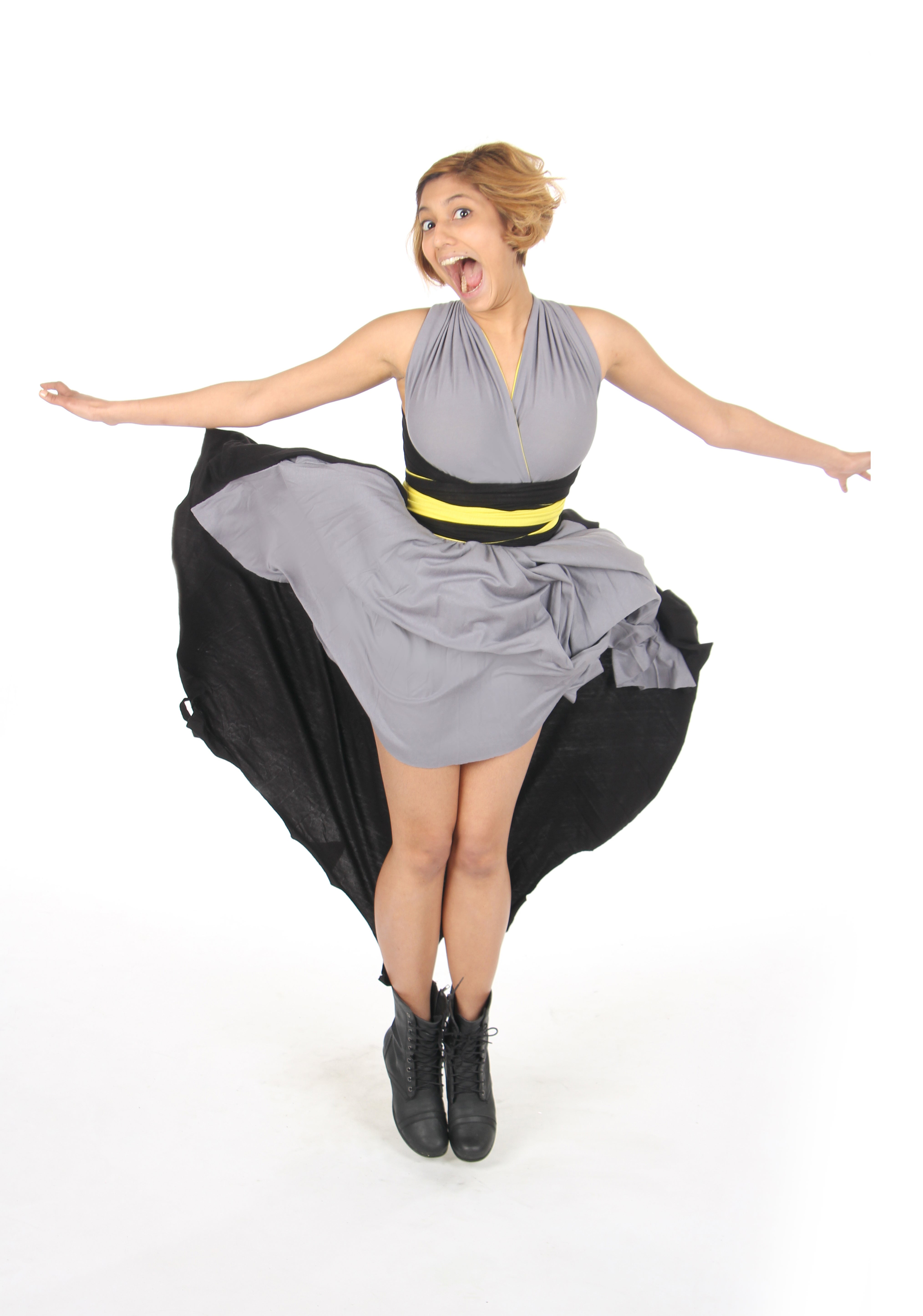 Batman
The overwhelming response to Ward's idea confirms that there is a hungry market for pop culture-themed fashion. Ward believes these characters are great inspiration for dresses because fans identity with them so strongly.
"They see something in them that reminds them of themselves-—whether they like it or not. My company gives women the opportunity to not only feel like these characters, but also look like them-—without feeling like they are wearing a costume," she said.
The number of styles each dress can be converted into is quite impressive. On YouTube Ward and a number of models show the different ways dresses can be worn and offer advice for converting them.
It takes a lot of work to create dresses that not only have many unique ways to wear them, but also keep the colors recognizable in every style. Ward works 12 hours or more a day, seven days a week. Her goal is to get customers their dresses as quickly as she can because she sees how excited they are for the product. A solid color dress can take up to five hours to make while others can take anywhere from 10 to 14 hours.
She receives most of her requests via Etsy. The process for customers differs depending on if they want a dress design that already exists or a new one. Those who choose an existing design place an order and send Ward four measurements. Those who want a new design give their measurements to Ward and then talk to her about the color blocking. The first thing Ward does is consider what the character's costume would look like as a dress. From there, she develops an initial design and sits on it a bit before pushing herself to come up with something even better. Upon request, she'll send customers a sketch of what she has in mind.
"Certain dresses have accents for the characters eye or hair color, or if they wear a shirt under their vest, or if their boots are thigh high. For the Lumpy Space Princess inspired dress, I used a layer of lavender and a layer of yellow and scalloped their hems to look like a cloud," Ward explained. "For the Donatello from TMNT [Teenage Mutant Ninja Turtles] inspired dress, I used an olive green because his skin is a slightly different green than the rest of the turtles. I focus extremely hard on the small details within costumes to make sure what I am creating is very accurate, but not over the top."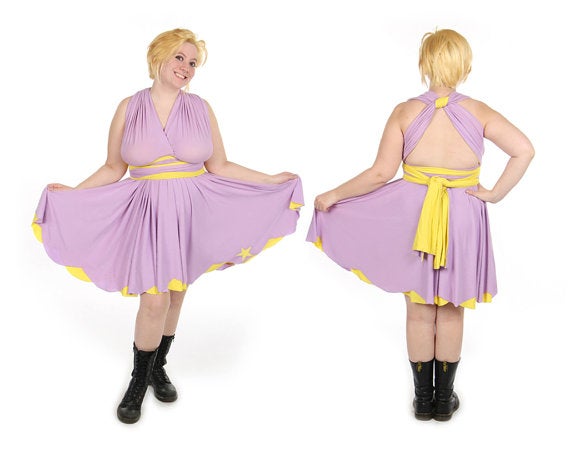 Lumpy Space Princess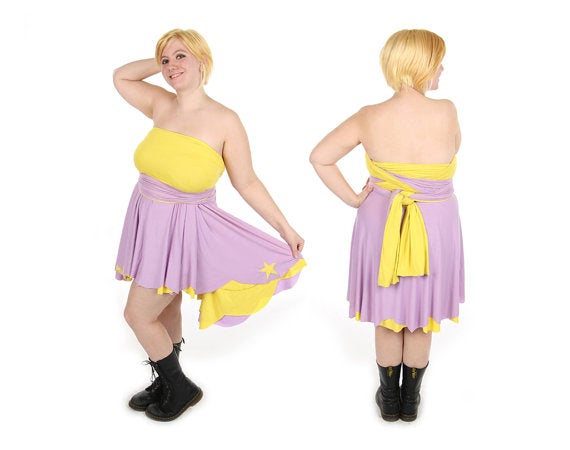 One way to convert the Lumpy Space Princess dress into a new look.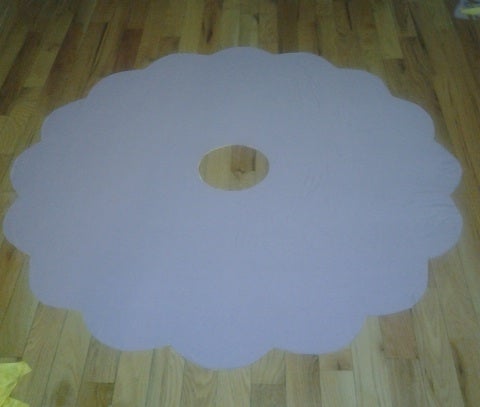 The Lumpy Space Princess dress cloud hem in progress.
Usually Ward tries to keep her prices to $200 per dress, as long as she can finish it in a day, even if it means not making much per hour. She likes to charge the same no matter how complicated a dress is because she doesn't want her customers to ever have to settle as a result of not being able to afford anything more expensive.
"I would rather take the pay cut then have to design a dress I am not totally happy with putting my customer in. I understand that $200 can be a lot of money, so I want to know that my customers really feel like it was money well spent. A couple of my girls told me they just view it as spending $10 on 20 different dresses that are all super comfortable," Ward said.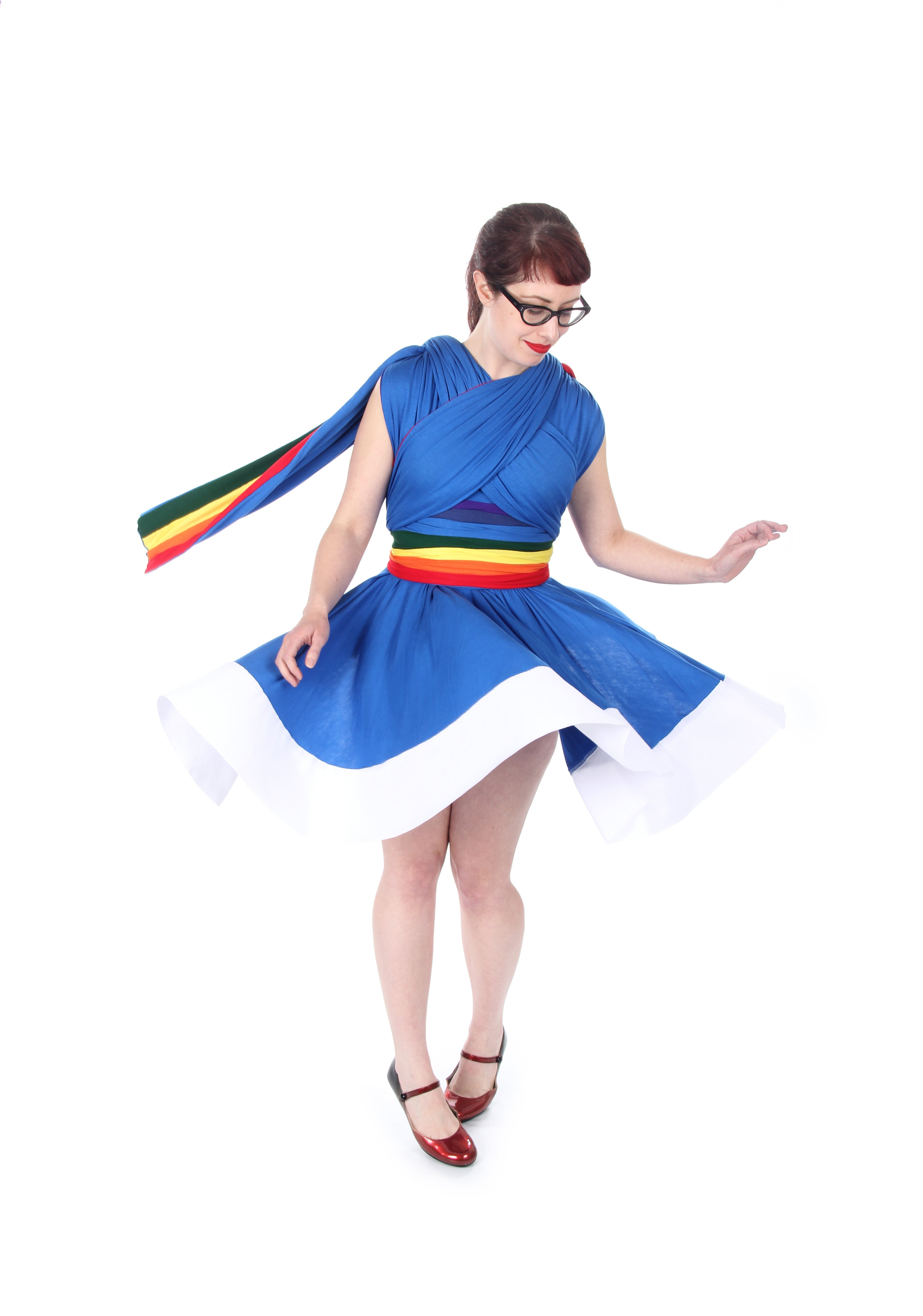 Ward's Rainbow Brite dress is an extra $50 for being time consuming and having eight colors of fabric that cost $130.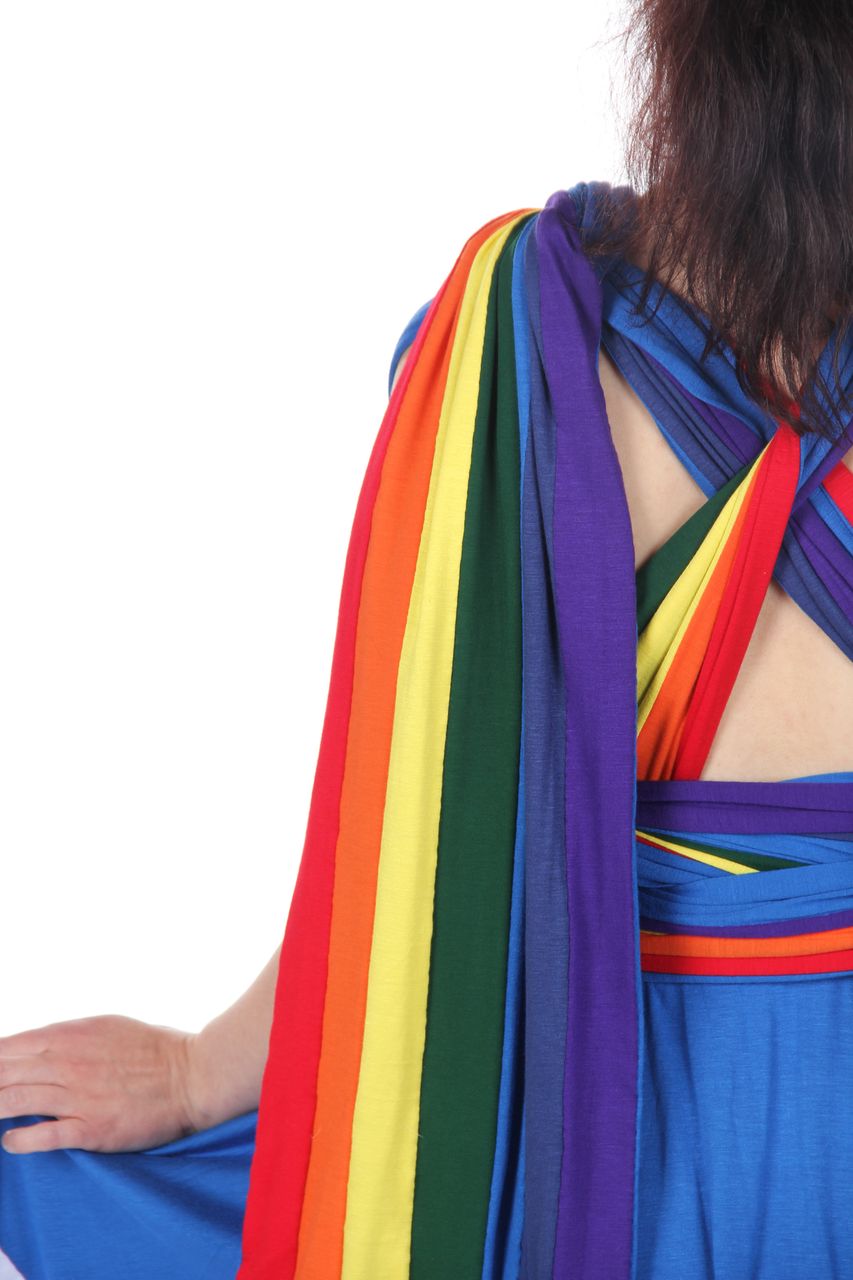 According to Ward, the strap linings "are seven even panels of fabric each that are over one hundred inches in length.'
If it's not a new design, the dress is shipped the morning after it's completed. If it is a new design, Ward will do a photoshoot first. Little Petal is based in Brooklyn, so a customer that lives close enough can model their own dress for the photoshoot. If they live too far away, Ward asks permission to have someone locally model it. This way the customer can see what different convertible styles of the dress look like on a girl with a similar figure. Customers then receive their dresses in two days after Ward ships them priority mail the morning after the shoot.
One of the best aspects of Little Petal's product photos is that the women modeling have a range of body types, showing—unlike many name brands in geek fashion—that there are all kinds of women interested in these pop-culture-inspired looks. It's something larger brands sadly tend to ignore, using models who all have a similar body type.
Ward considers all of her models friends whether she knew them before they placed a dress order or not, and she thinks all her customers, whether voluptuous or petite, are beautiful.
"I really felt that if my models owned their dress, it fit them perfectly and was a character they truly identified with—they would look great even with no modeling experience simply because they would be happy, and I was right…" Ward said. "Every one of them comes to the studio and tells me they don't look good in photos, they've never modeled, and they don't know what to do-—but they're excited anyway and every one of them looks great."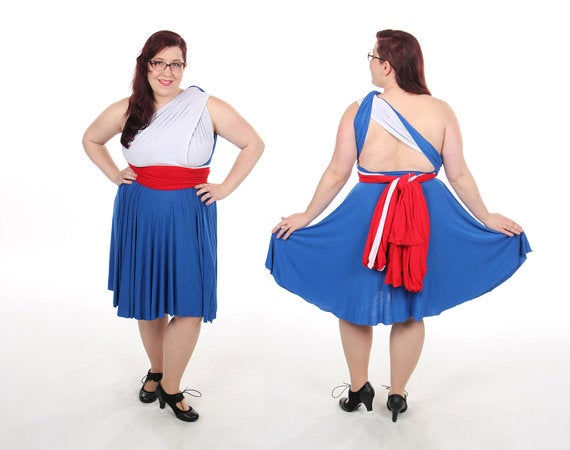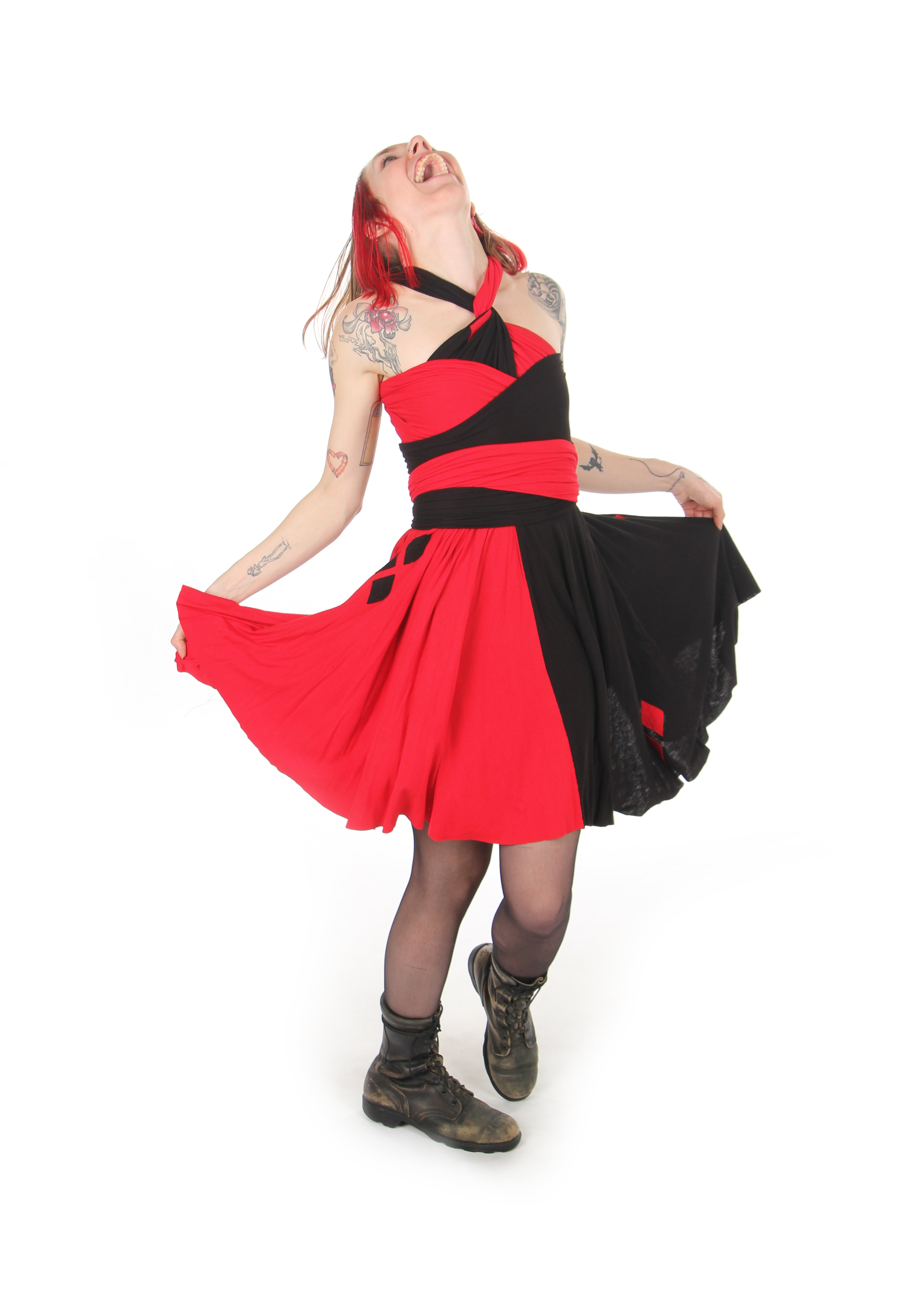 Harley Quinn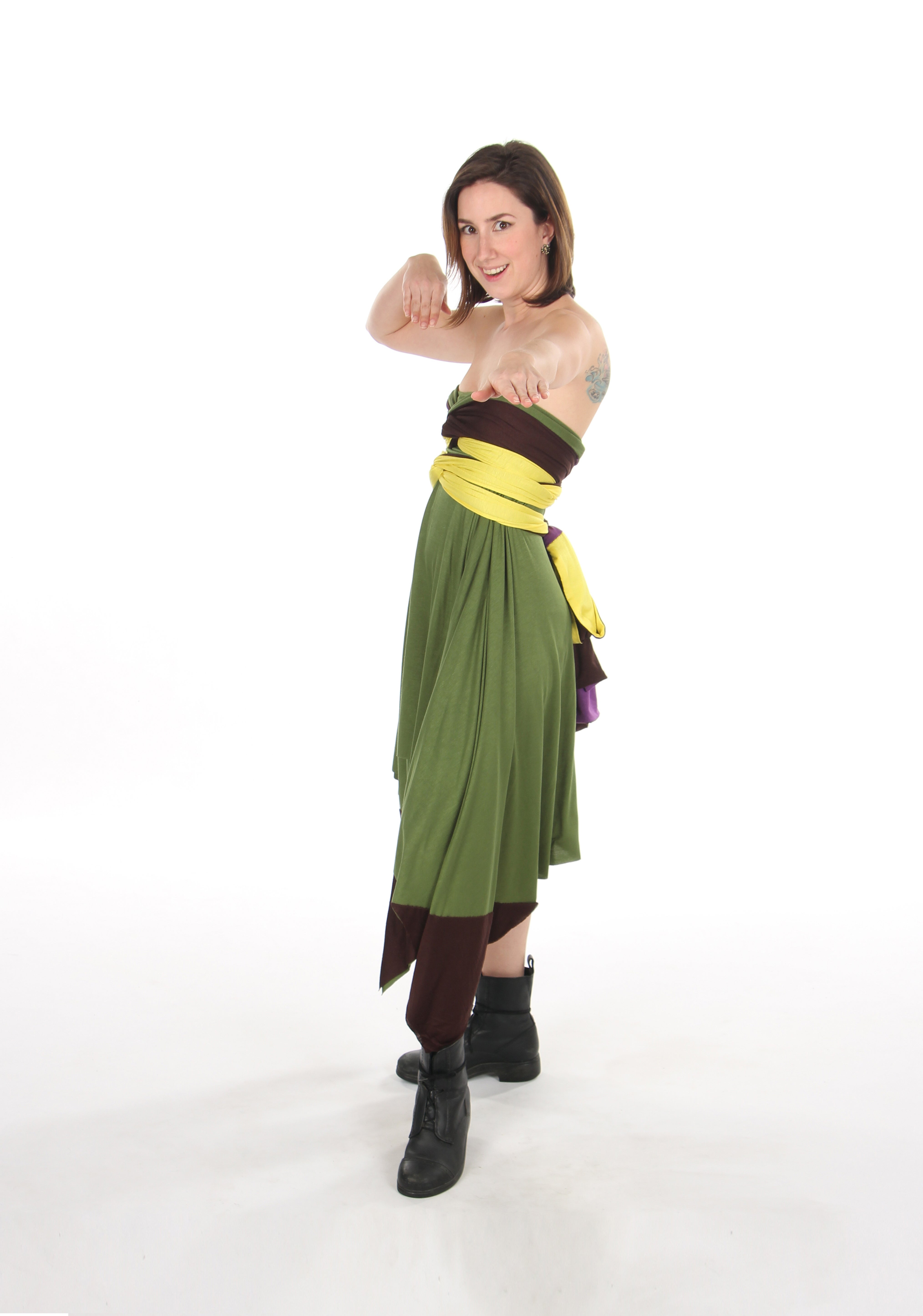 Donatello
Many people have suggested Ward try to mass produce her dresses for a larger audience, but she said she loves the work too much.
"The entire process is very hands-on, from talking one-on-one with the girls to creating their dress for them. Mass-producing them would eliminate this," she said.
From the way Ward talks about her models and the process behind her dresses, it's clear she cares about her customers. The final product is more than the income and recognition she receives from the shop.
"I love all of the people I have met through this and that the garments I have created have the ability to have such a huge effect on people…" Ward said. "All I have ever wanted to do was to create something beautiful based on something I adore. Now I get to, every day. I don't know too many people who get to say that so I consider myself very fortunate."
Photos via Danielle Ward/Little Petal