Fandom has been thorough in exploring the edges of the Marvel Cinematic Universe that we've come to know since 2008's Iron Man. It's the modern world reimagined to include the fictional Marvel comics heroes of yester-year. While Marvel has been pretty meticulous in revamping our world to fit Captain America's World War II-era backstory, there's one thing the franchise overlooked:
If Steve Rogers really had existed, then after his presumed "death" in the 1940s as depicted in Captain America, he would have been the subject of countless ill-advised movies depicting his life story, from Hollywood blockbusters to indie arthouse efforts. 
Fortunately, fandom has come along to do what it does so well, and set the historical record straight with a hilarious and touching look at all the films we could have had if Captain America really had been a celebrity war hero.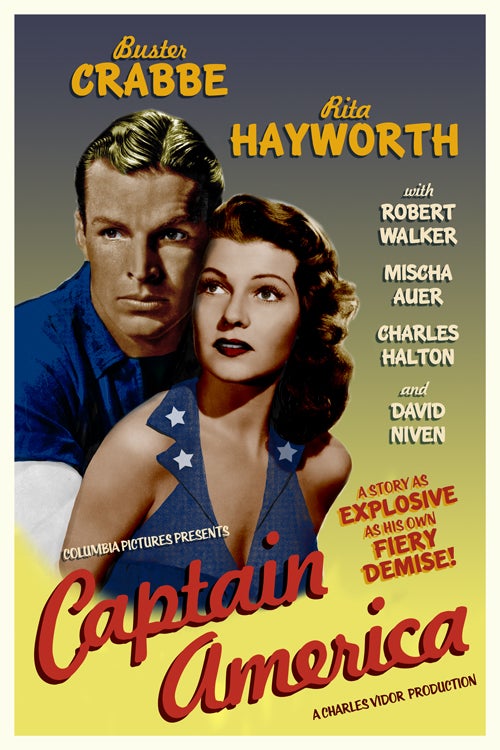 Tumblr artist neenya has created a series of posters that imagine what these fake Captain America movies would look like. The posters were done as illustrations for a collaborative fanfiction effort written by five writers in the Avengers/Marvel-verse fandom—including the Daily Dot contributor Gavia Baker-Whitelaw writing under her fandom pen name. The work, "Steve Rogers at 100: Celebrating Captain America on Film," is less fic than a meta-commentary made up of fake screenplay excerpts, movie reviews, and academic writing on the half-century of films that Steve Rogers bequeathed to the fictional America he left behind.
The posters not only capture the ridiculous (and yet all-too-believable) kinds of movies we could expect from the fake Captain America film canon, but they also chronicle a century of real-world film aesthetics. Take a look: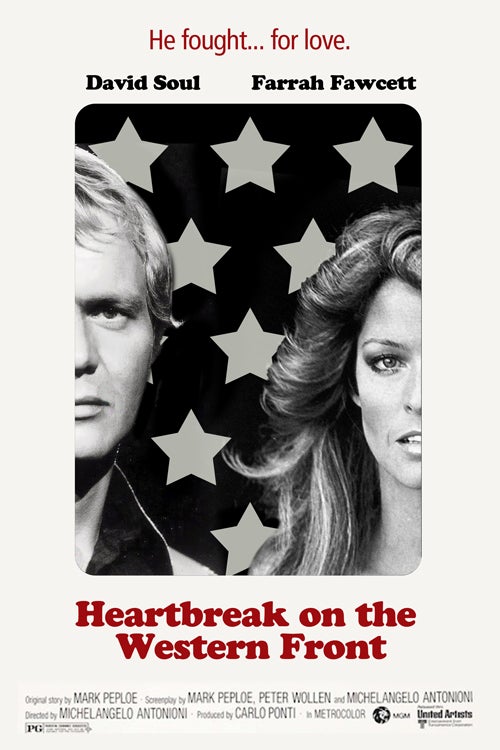 From the vintage '50s and the dizzying possibility of an Antonioni-directed Love Story-esque film starring Farrah Fawcett, we move on to the '80s, and an epic portrayal of Captain America that seems inspired by… well, the '80s: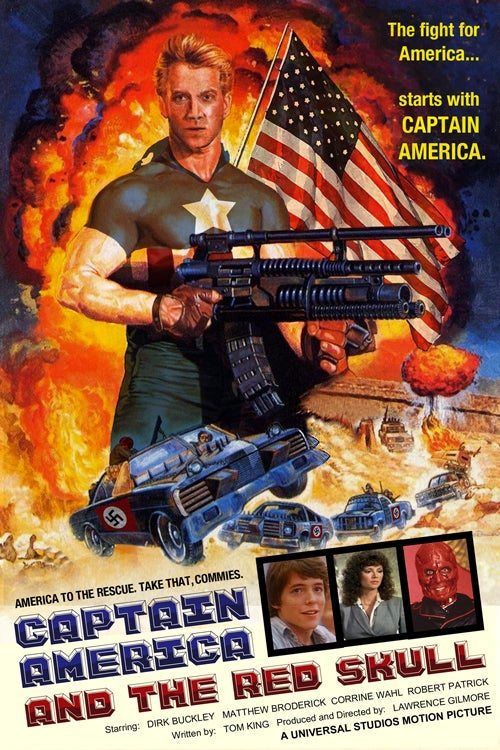 This hypothetical Captain American seems drawn from everything from Big Trouble in Little China to Reb Brown's enlarged supersoldier in Space-Mutiny. (If this is just a coincidence, it's even more impressive since Reb Brown actually played a made-for-TV Captain America in our reality.) Fortunately, not to be outdone, the '90s called, and they're sending in their best weapons: thinly veiled Christian allegories from Mel Gibson…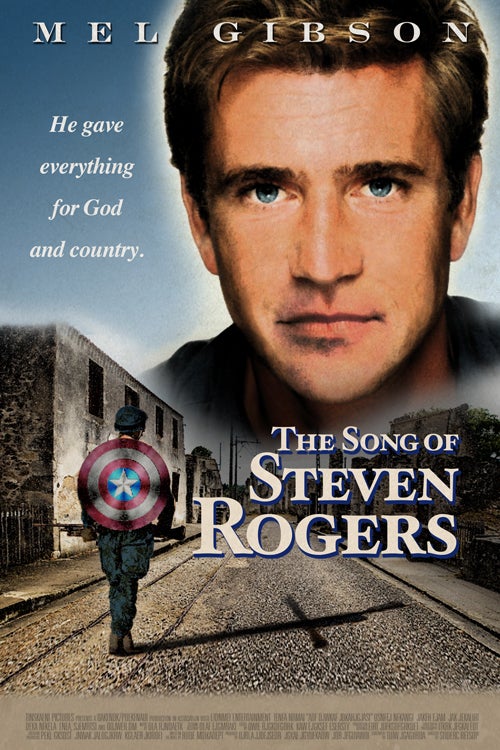 and this…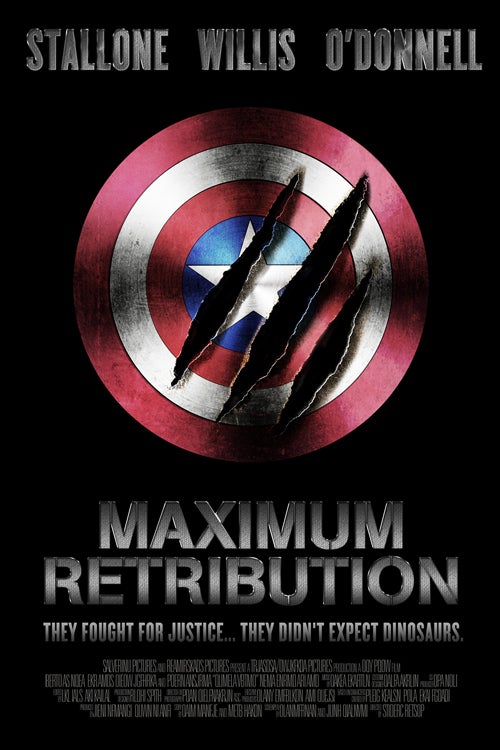 We'll pause while you wrap your head around a star vehicle in which Chris O'Donnell plays a dim-witted Bucky Barnes as Rambo battles a team of velociraptors. We're guessing the velociraptors work together more smoothly than this duo. (What is Bruce Willis doing in this movie? Being Bruce Willis, probs.)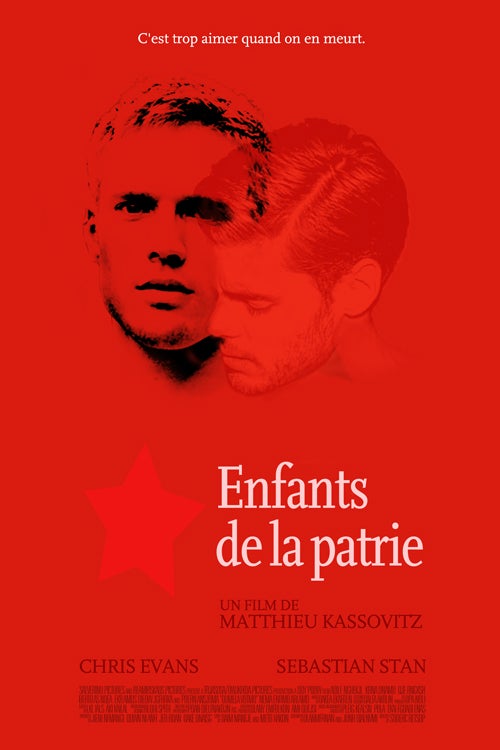 This one needs a little explaining. The fandom's overwhelming love for Bucky/Steve slash ramped up x10,000 after Captain America: Winter Soldier. This poster imagines a young Chris Evans and Sebastian Stan pairing up for a groundbreaking indie French film that explores Steve Rogers' homosexuality. In the fic, Enfants de la patrie (Children of the Fatherland) is envisioned as an outre, scandalous film that's still too shocking for the Hollywood establishment to go near:
So controversial upon its first release that it couldn't find a US distributor, Enfants de la patrie has come to be seen as a groundbreaking piece of historical filmmaking, especially notable for its unapologetic representation of queer desire between two men who happen to be soldiers during wartimer. It's the kind of radical filmmaking that you still wouldn't find in the US today—at least, not with any amount of studio money behind it.
This is why we can't stop talking about how fandom is a transformative, creatively fueled and intelligent playground: because when it's at its best, it not only re-imagines and augments existing canons, but serves as a powerful vehicle for social commentary.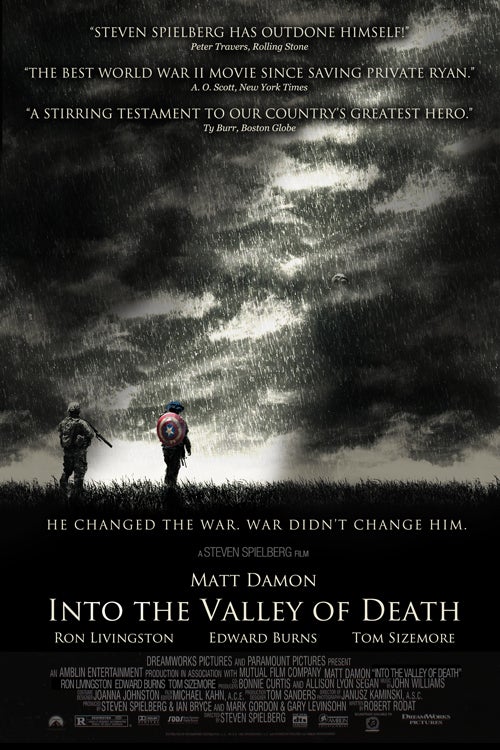 No study in retospective war films would be complete without Steven Spielberg's Band of Brothers Saving Private Barnes. 
And what would Captain America be in the current decade, without Channing Tatum in something probably produced by Michael Bay: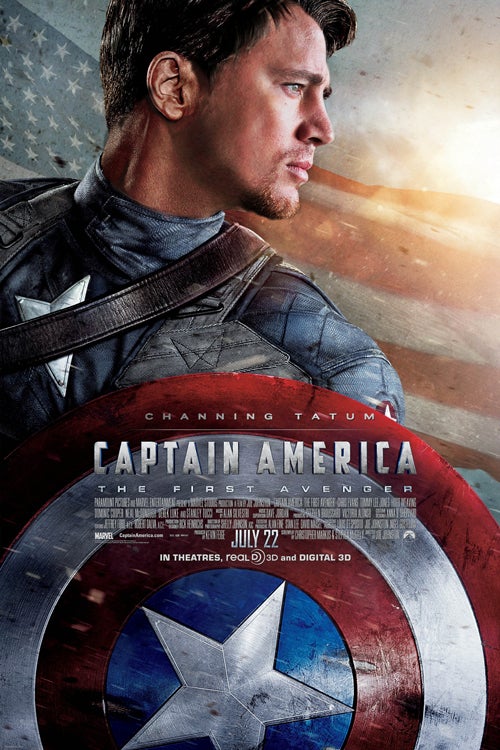 But wait, there's more! The inevitable porn parody. This is the American way, after all: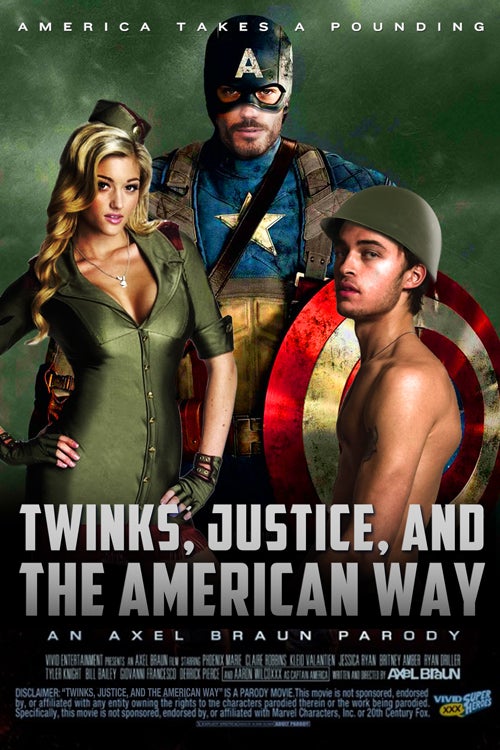 As with all Axel Braun porn parodies, this one still looks more realistic and compelling than its earnest superhero counterparts—looking at you, new trailer for Constantine.
Since "Steve Rogers at 100" debuted last night on the Archive of Our Own it has had an impressive reponse, a testament both to how active the Avengers fandom remains on AO3 and how much fandom loves its meta-commentary.
As for neenya, a professional graphic designer by day, she says she only gave herself about a week to create all nine posters.
Disclosure: Daily Dot contributor Gavia Baker-Whitelaw contributed to the work of fanfiction discussed in this article. Additionally, both Baker-Whitelaw and this reporter have worked professionally with three of the other fans who contributed to the work, whose contributions are not discussed in the article.
Illustrations by neenya via the Archive of Our Own