In an age where the musical adaptation of Sylvester Stallone's decades-old boxing film franchise racks up award nominations, almost any topic is fair game for the Great White Way. And while Bronies: The Musical will debut with just seven performances in Santa Monica this month, there's every reason to suspect that brony fandom will turn it into a bona fide phenomenon.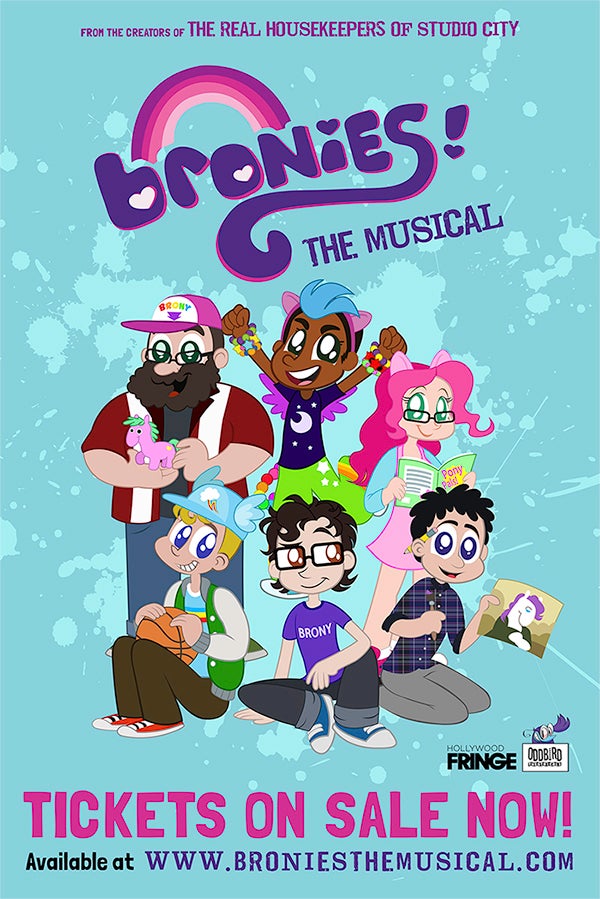 Illustration via broniesthemusical.com
The stage show, with music from Joe Greene and book/lyrics by wife-and-husband team Heidi Powers and Tom Moore, a trio known for the underground hit The Real Housekeepers of Studio City, will feature in the 2014 Hollywood Fringe Festival. It tells "the story of three outsiders who find purpose, meaning, love—and each other—all thanks to cartoon ponies." 
Oddly enough, Powers and Moore are relative newcomers to the My Little Pony universe, whose ideals of whimsy and tolerance have lately struck a chord among Internet-addled adult males. Curious about this bewildering subculture, the couple screened an episode of My Little Pony: Friendship Is Magic with their niece and nephew, both avid fans. They went on to absorb other articles and documentaries on bronies, ultimately finding that as a community, it mirrored their fondly remembered experiences with Buffy the Vampire Slayer.
As Powers explained to Broadway World:
Before we met, we were both going through a tough time, feeling lonely and battling depression. Simultaneously—but on opposite sides of the country—we discovered Buffy in syndication. Buffy made us feel like we weren't alone. While we connected to the wonderfully complex fictional characters, we also began to connect with real people in the online and local communities that sprouted around the show. … I'm continually inspired by how the My Little Pony fandom boldly breaks out of society's conditioned gender norms … but at its heart, bronyhood, like all fandom, is built on friendship and shared love. So BRONIES: THE MUSICAL is about the restorative power of community, and how loving something—and sharing that love with someone else—can bring so much joy into our frequently challenging lives. 
Bronies: The Musical also includes a plotline that fictionalizes the plight of Grayson Bruce, a 9-year-old who was bullied for bringing a My Little Pony backpack to school. The producers invited bronies from around the world to submit messages of support for the Bruce character, which will be revealed in a key scene.
"The response has been beautiful and astounding," Powers said. "We even received a picture from an Air Force pilot in front of the Marine One helicopter, holding a toy pony that accompanied him on missions in 26 countries."
But really, who needs social conscience when you've got a "techno rave finale"? Probably best to order your tickets for this thing well in advance—and get to work on that costume.
H/T Broadway World | Photo by JD Hancock/Flickr (CC BY 2.0)