It's been a long time since Robin appeared in a live-action DC Comics adaptation. Twenty years, to be precise. After Chris O'Donnell's role in the notorious Batman & Robin, Warner Bros. decided to steer clear of Batman's young sidekick. Robin was consigned to an earlier, cheesier era of the franchise, ignored by Christopher Nolan and only briefly hinted at in Batman v Superman.
Robin will finally return in Titans, the live-action TV adaptation of Teen Titans. Played by Australian actor Brenton Thwaites (Pirates of the Caribbean: Dead Men Tell No Tales), this is obviously the Dick Grayson version of the character. Grayson is also getting a solo movie in his later iteration as Nightwing, although the TV and movie franchises will remain separate.
New from DC Comics, here's our first look at Brenton Thwaites in his official Robin costume.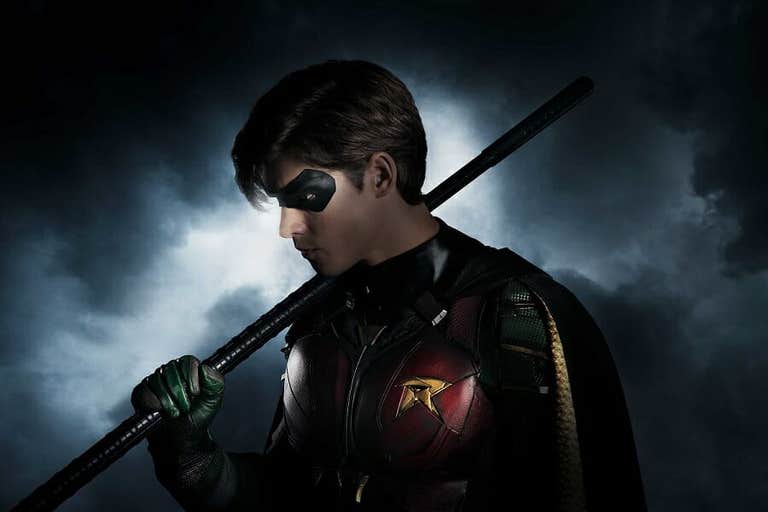 Designed by Laura Jean Shannon (Iron Man, Black Lightning), the new Robin costume is a modern riff on his classic look in the comics. Titans will obviously be a little more mature than its animated counterpart (Thwaites is 28, so the "teen" title would've been a stretch), without going overboard with the dark-and-grittiness. Robin is still wearing a domino mask and a cape, after all.
With a team cast of Dick Grayson, Raven (Teagan Croft), Starfire (Anna Diop), and Beast Boy (Ryan Potter), Titans is due to arrive in 2018. Thanks to the cult popularity of the early-2000s animated series, it's sure to drum up some buzz among millennial DC fans. The bad news is, it's not airing on TV. It's actually the first show to air on DC Entertainment's new streaming service. So, in a similar vein to Star Trek: Discovery, you have to decide whether it's worth paying another subscription fee to watch.