The relaunch of DC's Vertigo Comics imprint is attracting plenty of attention this fall. Kicking off with a raft of Sandman spinoffs, it invites the question of whether 2018-era Vertigo can live up to its '90s heyday of edgy, cult-popular comics. So far the new Sandman material seems like more of a nostalgia trip for longtime fans, but Vertigo's first new original title, Border Town, deserves to be a hit in its own right.
Created by artist Ramon Villalobos, writer Eric M. Esquivel, and colorist Tamra Bonvillain, Border Town is a contemporary fantasy set in a small Arizona town. Issue #1 is an instant attention-grabber, appealing to fans of Stranger Things or American Gods' brand of contemporary folklore. Political without being preachy, it opens with violence on the U.S./Mexico border—and an altogether different conflict brewing nearby, as Mexican supernatural creatures emerge from a gap in the fabric of reality.
Teenager Frank Dominguez is a newcomer to Devil's Fork, Arizona, dragged there by his mom and her boyfriend. Angry about having to move, he combs through Arizona's Wikipedia page for reasons to criticize his new home. But once he reaches his new school, he soon discovers a personal reason to hate Devil's Fork. The border creates an unavoidable cultural divide in everyday life, forcing Frank to pick sides on his first day at school. Does he—a white-passing kid—stay quiet about his Mexican heritage, or does he tell people and allow them to choose his side for him?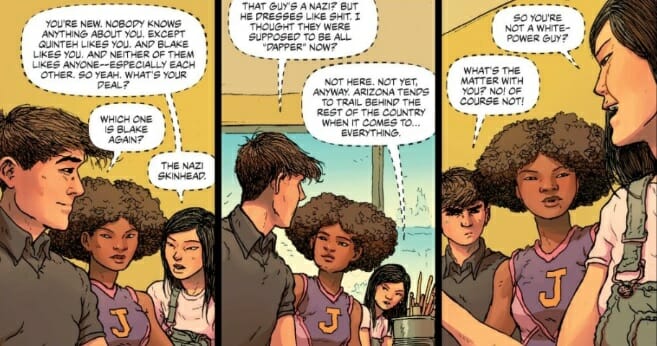 Frank soon falls in with a local gang of teen misfits, whose dialogue (unlike many tone-deaf comics about teenagers) is refreshingly natural. However, this isn't just a story about racial tensions and high school drama. Some kind of monster is roaming the streets of Devil's Fork, preying on people's fears. Its introduction also demonstrates how Tamra Bonvillain's colors play into Border Town's atmosphere, with luminous sunsets hinting at a supernatural world in the distance: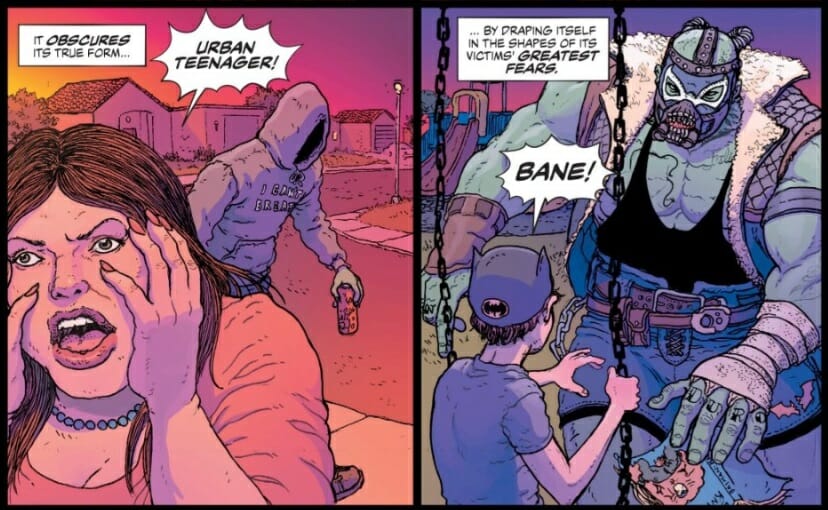 Teens-versus-monsters isn't exactly a fresh subgenre, but Border Town already has a more cohesive concept than most. In shows like Buffy and Teen Wolf, the creators take inspiration from vaguely European folklore that's already been rendered culturally neutral by decades of reboots. They don't engage (or even need to engage) with the origins of werewolf myths, or the symbolism of brandishing a crucifix at a vampire. These ubiquitous European monsters have colonized mainstream American horror, whereas Border Town takes the familiar ingredients of a Teen Wolf-esque drama, and weaves them into a deeper story about Latinx identity and life on the border.
Issue #1 offers a punchy start and an engaging setting, with the combination of grittiness and sly humor we'd hope to see from a Vertigo book. With an intriguing hook in the last few pages, you're left to wonder: How will these new supernatural visitors change life in Devil's Fork?
Border Town is published monthly, with issue #2 out on Oct. 3.