The reviews are in for Black Panther, and not only are they largely positive, they're setting a new record for Marvel.
With 51 reviews tallied in as of press time, Black Panther debuted on Rotten Tomatoes with a perfect score, making it the highest Rotten Tomatoes debut for a Marvel superhero film to date. The score places Black Panther ahead of Iron Man, The Avengers, Thor: Ragnarok (which initially debuted at 95 percent before decreasing by a few points), and Spider-Man: Homecoming as the highest-rated Marvel films on Rotten Tomatoes.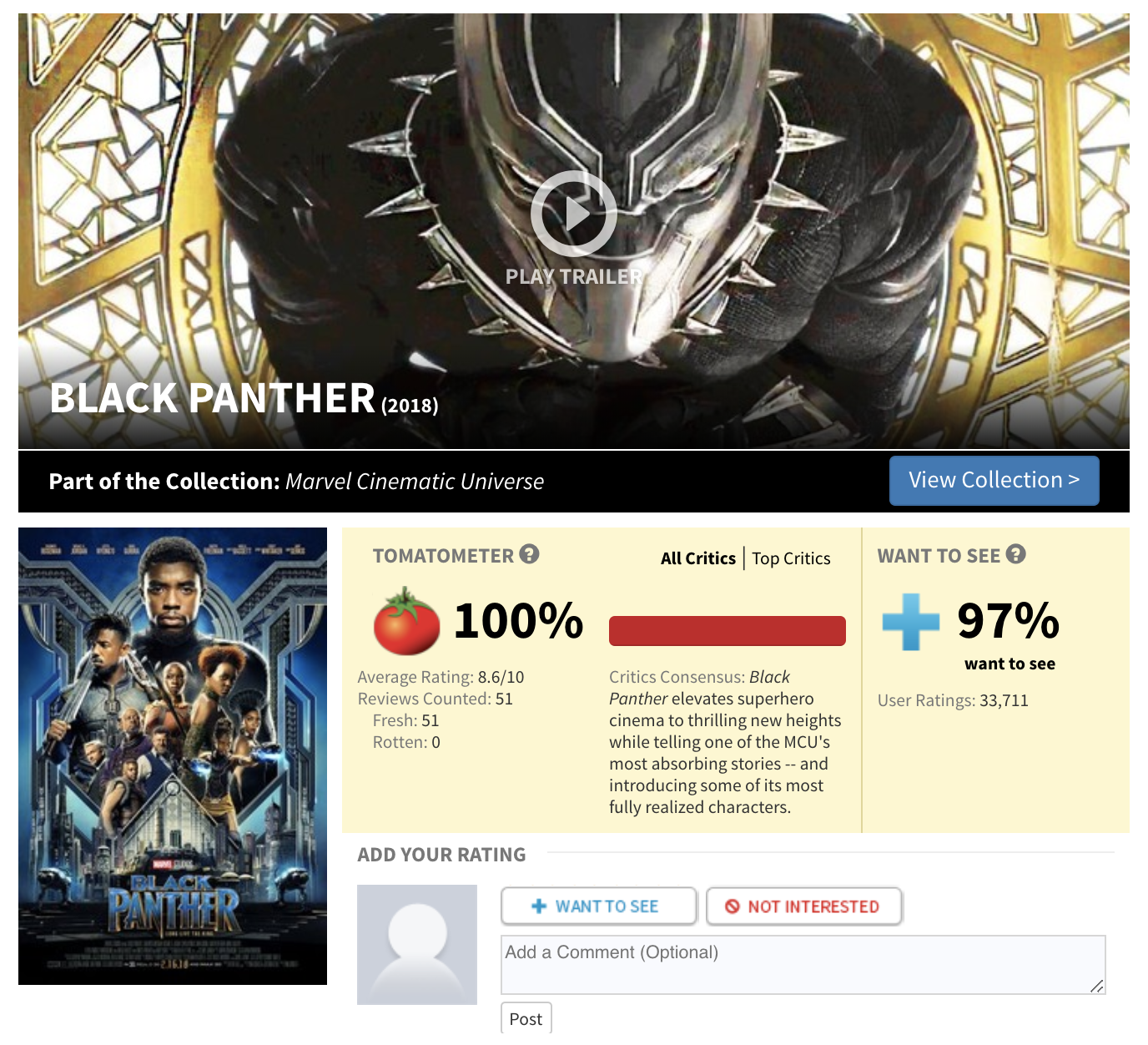 Black Panther's high score isn't exactly a surprise given the near-universal positive reactions from people who saw the film in preview screenings and the world premiere last week. Fans and critics alike have been anticipating Black Panther for months, and many who've seen the movie already consider it one of the best in the MCU.
"At its core, Coogler's film feels like a love letter to every black person who will step into the movie theater to see it, be they be of American or African descent," The Daily Beast's Ira Madison III wrote. "It is a film that honors the history of black bodies on our entire continent, from the kingdoms they built, to the bondage they were shackled in, to the world that has treated them with cruelty at every possible turn."
Reviewers praised the world-building, the production design, characters including the female warriors known as the Dora Milaje, Shuri (Letitia Wright), and the villain Erik Killmonger (Michael B. Jordan), and the themes the film encompasses. Some wanted to see it again and again. But they had their share of criticism too, with Marc Bernardin at Nerdist comparing it to "the most delicious cake you've ever tasted in your entire life, but which isn't quite cooked all the way through."
"I have never cared for a villain the way I care for Michael B. Jordan's Erik Killmonger," Joelle Monique wrote for Polygon.
"If there's a downside to Black Panther, it's that it has to end eventually," Angie Han wrote at Mashable. "Wakanda's setting and characters made for a world that I never wanted to leave, and wanted to return to as soon as the credits started."
Rotten Tomatoes scores are naturally subjective, so "fresh" and "rotten" scores don't always correspond directly with whether a film is good. For example, movies can be still considered "fresh" even when reviewers note issues or flaws, and praise is often offered in "rotten" reviews. And as more critics see the movie, there's a good chance the Rotten Tomatoes score will go down before it settles. Thor: Ragnarok was briefly the previous MCU record-holder before it went down by 3 percent. Lady Bird held the record for Rotten Tomatoes' best-reviewed movie until one rotten review knocked it down to 99 percent, and now Paddington 2 now holds the record for best-reviewed movie.
Review score aside, it's evident that Black Panther is going to be a cinematic event. It's already outselling every other superhero movie, sparked dozens of fundraisers to help children to see the movie, and early box office estimates place the film's opening weekend haul between $100-$140 million—which could potentially be surpassed. Even if it eventually ends up with a Rotten Tomatoes score below Iron Man, Black Panther's theatrical reign has already begun. Long live the king.